Ice Watches have become the latest craze. They are mainly called toy watches as that is what they look like, endorsed by many celebrities it is a watch that has now started to become very popular but with a price tag so in turn there are many fakes being made.
Unfortunately there are many fakes on eBay and it can be very hard to spot unless you actually have the item in your possession. I have been stung by a fake and had to then purchase a genuine one and the price difference was a world away from one another. The old saying is if it looks to good to true then it is too good to be true. Buying a watch like an Ice Watch or any expense designer watch should be done from a reputable authorized dealer. This is not too say that there are some genuine items on eBay but finding them and being able to tell the genuine article is a different matter.
I hope this guide will give you some pointers on being able to spot the genuine Ice Watch from the Fake one.
Numbers on the dial of a genuine Ice watch are slightly raised fake ice watches are flat
There are no Ice names on the inside of the strap on a genuine watch the only place a brand name will be on the strap is on the little loop that holds excess strap. .
A fake Ice watch has the Ice naming on both sides of the straps near the watch face and on the metal clasp.
The fake in the pictures has some obvious signs of being a fake as the holes for the buckle on the strap have not been punched through properly as you can see (see pic to be added)
A genuine Ice watch will be manufactured to the highest quality as this is what your paying for.
A big giveaway if none of the above are present on a fake is on the back of the watch itself, a fake Ice watch will have a lot of engraving on the back of it and if you look closely enough the engraving will say DESIGNED BELGTAM. Now this is quite obviously supposed to say BELGIUM as this where ICE watches started out.
Genuine Ice Watches will have their website, that it's stainless steel, the Ice logo and underneath the logo one line which says MIYOTA JAPAN MOVEMENT. Although it must be said companies do change designs from time to time so bear this in mind.
Genuine Ice watches come in a box shaped like a piece of Lego, instructions and guarantee, a lot of fake Ice watches will not have any packaging and the seller may state they have thrown it away or it was damaged.
Although saying this I have upon researching seen some fakes with full packaging, this may be genuine packaging used for the fake but bear this in mind when purchasing as this is the illusion a faker is trying to create to make you believe what you see is real.
Be very careful when parting with your money on eBay - even some fake Ice watches can still be very expensive it's not just the ones that are fake and cheap. If in doubt do not buy.
Pictures below - please do not worry about the sizing as Ice Watch do 2 sizes a small size and a large size, so this is nothing to do an Ice Watch being fake.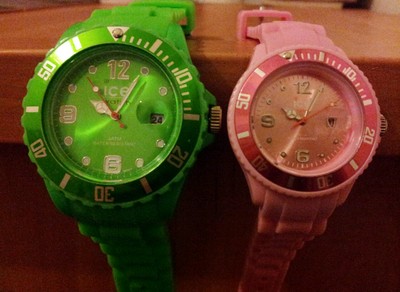 Green is the fake Ice Watch - Pink is the real Ice Watch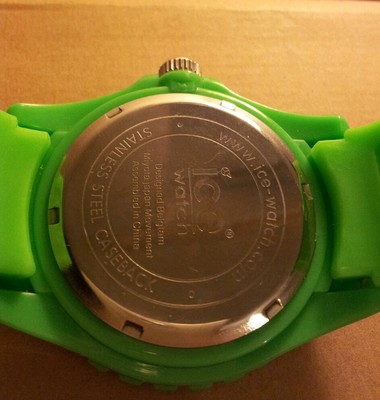 Fake Ice Watch - note the DESIGNED BELGTAM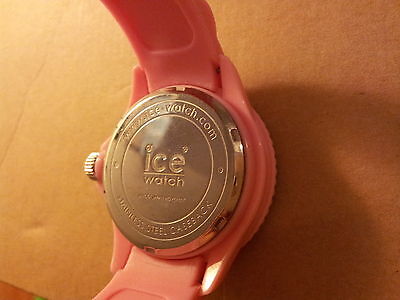 Back of the Real Ice Watch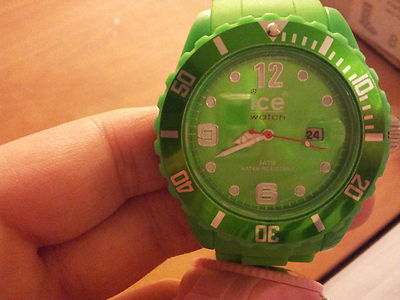 Face of the Fake Ice Watch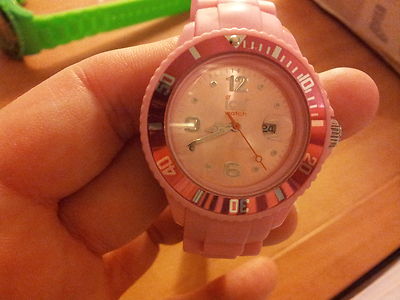 Face of the real Ice Watch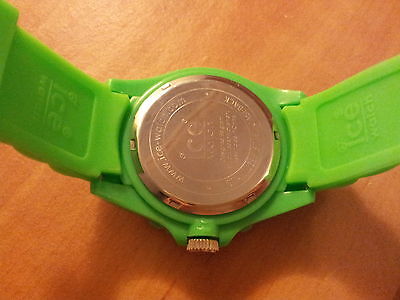 Back of the Fake Ice Watch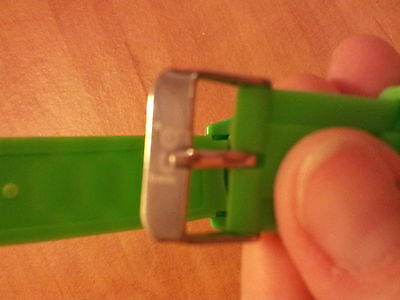 Clasp of the fake Ice Watch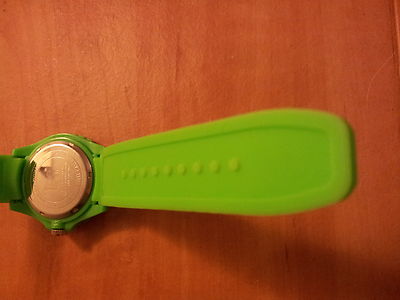 Strap of the fake Ice Watch
Many thanks for reading this guide