Be a shepherd, not a sheep.


As I was a regular visitor to the former SI/CP outlet in Northern Italy I guess I know what I'm on about so hopefully this guide will help you out.

Only pikies, losers and pompey fans wear fakes, as they do not mind looking like fools. To avoid buying a piece of market stall rubbish follow this simple guide regarding SpA/ART numbers and countries of origin. In addition, you're not going to buy a real Raso or Millie for £99.
When looking to buy any Stone Island or CP Company items remember there are safeguards to help you spot fakes such as holograms, SpA numbers, item numbers and country of origin labels.
I have seen a lot of fake Stone Island / Stone Island Denims/Stone Island Compact/CP Company clothes with totally the wrong SpA number. It's not uncommon to see SI jackets with CP numbers and vice versa. Hopefully this guide will help you avoid the fakes as their ART numbers and unique to the range from which it comes.

This is how the Art number appears on the item.
Art.39154n40/1807

The first 2 numbers (39 on this example) indicate the year.
50 = Spring/Summer & 51 = Autumn/ Winter and so on.
The second 2 numbers (15) are the brand. ( 15 = Stone Island, 14 = Stone Island Denims and 18 = CP Company). There is no number for SI Compact as it is a treatment and not a seperate brand.

The next number (4) indicates what the item is. 1=shirts 2=t-shirts 3=trousers 4 = Jacket, 5 = knitwear, 6 = sweatshirts 9=accessories. Occasionally this number is replaced by a letter. This is when its a flagship model.
The letter (n) is the model.
The next 2 (40) are the cloth & the treatment that is used to make the item. The Sportswear Company, ultimate owners of SI & CP own the copy rights to thousands of materials, colours, dye processes and dye techniques. Everything after the / are the dye numbers and colour.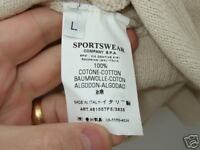 Long gone are the days when all SI/CP clothes were made in Italy, although the cloth still is. However, the country of origin labels always appear on the internal SpA label. Top end items are still made in Italy and will reflect this with a Made in Italy banner label, white on black, below the collar label.
Regardless of if it's made in Italy the country of origin will also be on the SpA label. It will state Italy, Tunisia, Rumania or if a Piuma D'oca, Indonesia with some accessories and SID now made in China, spelt Cina on the label, Mauritius and Portugal. If it does not have the country then it's a fake. Sometimes these labels are dyed the same colour as the item, but you'll still be able to read it.
Hopefully this will make it easier for you to spot a fake. Always ask the seller for pictures on the internal labels. If it doesn't have one then it is a fake. If you're a buyer and you want to see what a real internal label looks like then email me and I will supply one. Just remember you are looking for the ART number and country of origin.
There are plenty of genuine sellers of SI and CP on ebay. If you're in doubt then ask them, they, like me, are sick of all the snide gear.
Ultimately only by asking the right questions, using only sellers who know what they are on about and understanding that you cannot buy a genuine SI or CP coat for £49 or £99 will you avoid disappointment.