A guide on how to convert common halogen spotlights to LED spotlights
Before undertaking any of the alterations below turn off the electricity supply. If unsure, consult a qualified electrician

Step 1 - Establish your lamp type and bulb fitment.
240v input GU10 looks like this (twist fitting)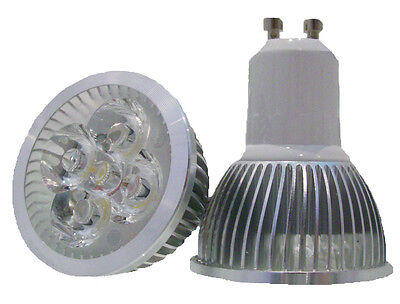 12v input MR16 looks like this (push fitting)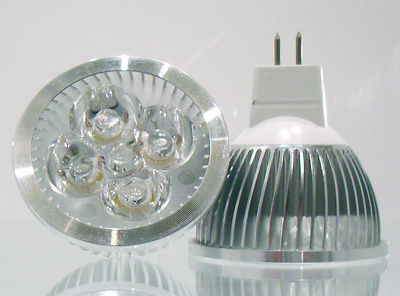 Step 2 - Remove existing bulbs
Step 3A - Installing new GU10 fitment lamps
For GU10 fitment lamps, simply fit the LED replacement, which twist fits into the existing lamp holder.
You should check the dimensions for your choice of LED lamps before you buy as some LED lamps are slightly longer than standard halogen bulbs. Longer LED lamps will often fit fine so long as your lamp holders have flexible GU10 connectors and there is space for the new LED lamp to push up into the fitting.
Flexible GU10 connectors look like this.....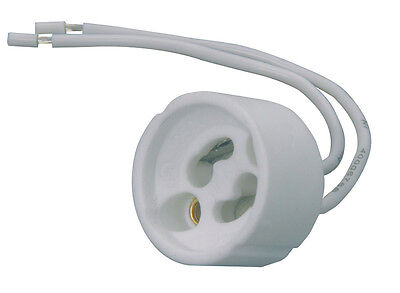 Note that some lamp holders have a fixed GU10 socket (like below), in which case you
will need to ensure your replacement LED lamps are not longer than around 58mm to
avoid them projecting excessively from the light fittings.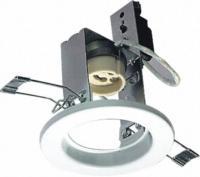 Step 3B - Installing new MR16 fitment LED lamps
Unfortunately converting MR16 halogen lamps to LED is not as straight forward but the potential 90% energy savings are well worth it in the long run. First switch off the electricity supply to the lights before alterations.
There are two methods; both assume each of your existing MR16 halogen lamps has its own 240v to 12 transformer which look like the examples below. You should be able to access the existing transformer by removing the light fitting and gently pulling on the wiring. The transformer should pull out of the hole if there is sufficient excess cable.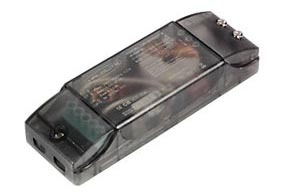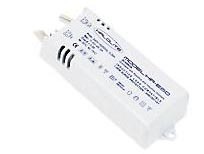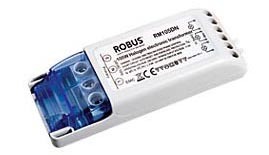 Should each of your lights not have its own 240v-12v transformer, i.e. two or three lights run off each transformer, then you will need to get further specialist advice from an electrician as alterations will likely be needed to the wiring before conversion to LED.
Your existing wiring should look something like the example below assuming each halogen light currently has its own transformer.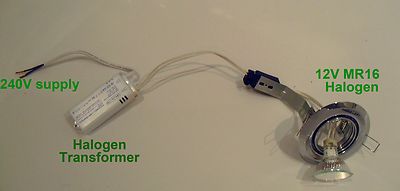 Method 1 – Remove the existing transformer and replace with a 240v-12v LED Driver transformer, which we can supply. The LED Driver transformer provides a constant current supply needed by the LED light. The existing 240v-12v transformers previously used with the halogen lights are not compatible with LED and if used will cause rapid premature LED failure and/or LED flickering. The output of the new LED Driver transformer should be connected to an MR16 lamp holder. Your can now purchase and fit MR16 fitment LED lamps. See example wiring below...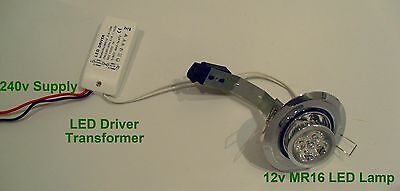 Method 2 – Cheaper Method – Remove the existing MR16 lamp holder and existing 240v-12v transformer. Then fit a new GU10 socket lamp holder onto where the 240v supply cable was used to feed the transformer. Then you can then fit GU10 base led lights. See wiring example below...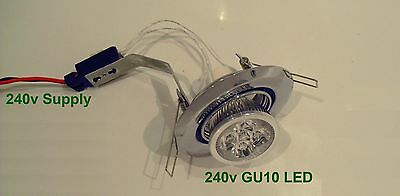 Again, where using MR16 base LED lamps, check the dimensions for your choice lamps before purchasing. Most GU10 and MR16's have a 50mm diameter but the LED lamp length can vary due to the different LED technologies available and varying lamp powers.
This information is for guidance purposes only.

Low Energy Supermarket accepts no responsibility for incorrect lamp choices and does not intend on providing electrical installation advice.
For further advice on how your installation should comply with current electrical regulations you should contact a qualified electrician.