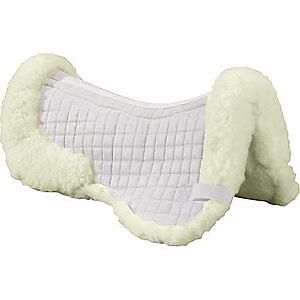 Horse riders know that horse riding brings a great deal of pleasure and enjoyment. It is a great way to see the outdoors, enjoy fresh air and exercise whether on a leisurely trot or a more competitive race or endurance event.
Comfort is essential to an enjoyable ride. A comfortable saddle is of the utmost importance, and comfort is accentuated by a high quality numnah that fits beneath the saddle. A numnah is a pad, usually made from lambs or merino wool, which goes directly under the saddle to keep it clean. A numnah also acts as protection for the horses' back from sweat and friction during a ride. A numnah will cushion the horse's back, prevent pressure sores and acts as a shock absorber for the rider too. Many varieties of numnahs are easily found and purchased on eBay, including the popular brand LeMieux.
The word "numnah" is more familiar to horse riders in the U.K. and Europe, and can also be called a saddle pad or blanket although there are specific differences which set a numnah apart.
Difference Between a Numnah, Saddle Pad, and Saddle Cloth
A numnah is saddle shaped, which is the distinguishing feature between a saddle cloth/pad and blanket. A numnah will, in general, be visible just around the edge of the saddle. A numnah is made of either natural or synthetic wool, and covers the entire area of the saddle that touches the horse. Numnahs tend to suit horses with high withers (the ridge between the shoulder blades of the horse).
Saddle Pad

A saddle pad is fairly thick, and is either square or rectangular in shape. A saddle pad is invariably made of foam although gel is also used for durability.

Saddle pads are used to adjust saddle balance and to enable a good fit. They also act as a protective cushion between the horse, the saddle, and the rider.

Saddle Cloth

A saddle cloth, or blanket, is a much thinner square of material which tends to be folded in half and placed underneath the saddle pad or numnah. The cloth is used to prevent hair, dirt and debris from collecting onto the pad or numnah. Using a saddle cloth is not essential and is a matter of personal preference. However, they are easily washed and can be worth having to protect and maintain your numnah.
Using a saddle pad or numnah is entirely a choice about personal style and preference, as is the choice between a half or full numnah.
LeMieux Numnahs
There are many brands which manufacture equestrian equipment and numnahs, and LeMieux produce a range of high quality, durable and well crafted items. The words "le mieux", literally translated, means "the best". The brand is highly respected among the equestrian community and many LeMieux items are easily found on eBay to buy.
Other LeMieux products include girth covers and sleeves, grooming mitts, noseband covers, and seat savers.
LeMieux manufacture several types of saddles pads; there are a variety of choices dependent on your needs, such as squares with long or short straps, dressage squares, work pads, and numnahs.
Type of LeMieux Numnahs
The different type of numnahs available are:
Jumping half-lined numnah.
Working hunter showing numnah.
Jumping full numnah.
LeMieux numnahs are half lined using Australian Merino lambskin. The wool used in LeMieux Numnahs is more dense than older sheep's wool sometimes used in other brands, and has a soft feel for increased comfort. The swan-neck design of the numnahs allows for efficient airflow, and the shape design allows for stability and endurance under the saddle. LeMieux numnahs also include a strengthened girth protection area with double adjustable velcro straps which enables ease of saddle fitting.
LeMieux numnahs are available in four colour combinations:
Natural wool/White.
Black wool/Black.
Taupe wool/Brown.
Grey wool/Grey.
The Advantages of Using Merino Lambskin for a Numnah
Merino is very good at regulating body temperature when worn against the skin, as the wool will provide warmth without allowing the horse to overheat.
Merino wool draws moisture and sweat away from the skin in a process known as 'wicking', which prevents sweat from cooling on the horse and increases comfort.
Merino lambskin wool is slightly moisture repellent.
Wool absorbs water. It also retains warmth when wet, helping wearers avoid hypothermia after arduous rides.
As with most wools, merino contains lanolin, which has antibacterial properties.
Merino is an incredibly soft wool due to fine fibres.
Caring for a Merino Wool Numnah
A good quality numnah such as a LeMieux numnah requires some time and care to ensure longevity and endurance of use.
| | |
| --- | --- |
| Washing products to use | Specialist numnah care products are available, or choose a washing solution that is recommended for use with wool such as castille soap or wool formulated liquids. Alternatively, conventional washing detergent may be used but must be non-biological to prevent enzyme breakdown of the wool. |
| Before washing | Brush off surplus hair and dirt before washing. Do not use detergent directly on the numnah. Spreading the wool with human hair conditioner prior to a wash can prevent the fibres from damage during the washing cycle |
| Washing a woollen numnah | A merino wool numnah can be machine washed but a low temperature setting of 30 degrees is recommended to prevent damaging the natural fibres. Great care should be taken during the washing process to not overheat or over agitate the wool in case it should start to felt and lose the absorbent properties. |
| Drying | The numnah should be re-shaped while damp and ideally allowed to dry naturally. Alternatively, a hair dryer may be used on a low setting, to speed up the drying process. |
Correct Fitting and Size
If a great deal of leisure time is spent on horseback, the emphasis on a good quality, well fitting numnah is essential. Whether the chosen activity is hacking, dressage, eventing, hunting, endurance or racing, a numnah will make all the difference to the riding experience.Fitting a numnah correctly is very important to ensure comfort for both the rider and the horse.
Be sure that the numnah fits the saddle it will be beneath; it should be the right shape for the saddle flap, and should match the saddle size.
Check the thickness of the numnah, as extra thickness may impede a good fit.
Check that the numnah conforms to the guidelines and specifications for the discipline and any events the rider and horse may be competing in.

New or Second Hand?

Both new and used LeMieux numnahs are available in a wide range to suit an array of budgets, and eBay has thousands of sellers and numnahs available affording a great deal of choice.

A second hand LeMieux numnah can still have a life span with the right care, as merino wool has a long life span.

If buying a used LeMieux numnah, there are a number of factors to be mindful of:

Check the photos of the item carefully and do not be afraid to ask the seller questions.
Look for any areas of damaged wool
Check if the numnah has become misshapen as this may affect the fit of the pad under the saddle and impair the benefits of riding with a numnah.
A seller may choose to sell their numnah for a range of reasons; often changing their saddle means the numnah no longer fits correctly, and it is often possible to bid on numnahs that are in very good condition but are used and available at a reduced cost from a new product.
How to Buy a LeMieux Numnah on eBay
eBay has many sellers offering thousands of LeMieux products, making it simple to shop online from home for the item you want alongside the flexible payment options available by buying on eBay.
To search for LeMieux Numnahs, type in specific searches such as "LeMieux numnah", "LeMieux numnah half pad", "LeMieux Numnah full pad" and available listings that match the criteria will appear. Including a colour choice in the search terms will refine the listings even further, making it easier to find exactly the desired item.
For example, searching for "LeMieux Numnah Taupe" will direct the search results to be listed only for LeMieux Numnahs which are available in that particular colour choice.
Check carefully reviews of the sellers and their activity when considering placing a bid, and check reviews of the product where possible by other horse owners to get an idea of the pros and cons of a particular design or style.
Conclusion
LeMieux Numnahs are high quality merino lambswool linked pads designed to fit under the saddle when riding a horse. Wool has many benefits for both rider and horse in terms of reduced moisture and increased comfort, and a numnah can greatly increase the riding experience for both horse and rider when used correctly.
LeMieux are a highly respected, quality brand who manufacture many equestrian goods. A numnah requires care and attention when choosing the right size, and can either be a full or half numnah depending on personal preference. Budget may dictate whether a pre-won or new LeMieux numnah is chosen, and caution must be taken when checking the quality and condition of a used item from sellers.