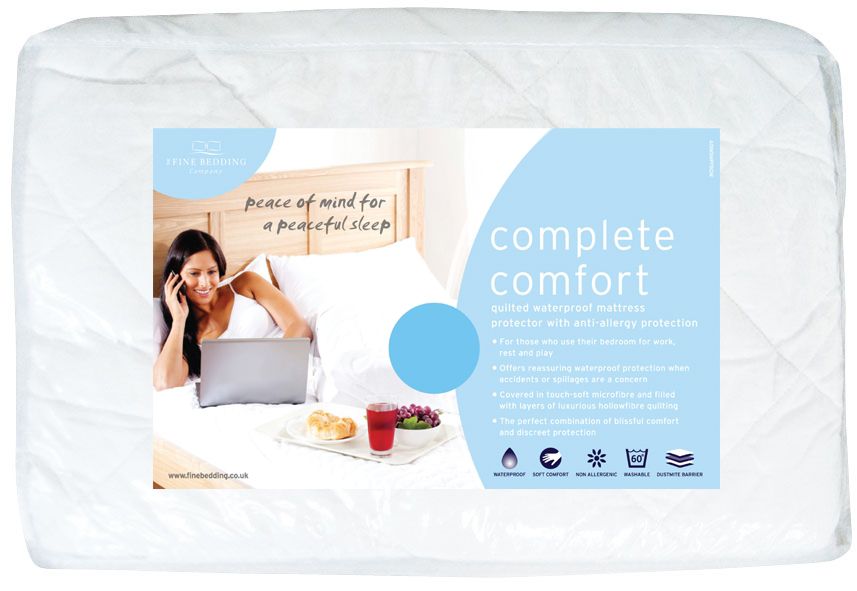 One of the most important, yet often overlooked, aspects of buying bedding is purchasing a mattress protector. A high quality mattress pad guards against stains and wear and tear. They shield the mattress from bed bugs, dust mites, and other unpleasant creatures. In addition, they offer extra support and padding. With so many mattress protectors to choose from, it can be difficult to find the right one.
When purchasing a mattress protector, consider the material it's made from, the type of protector needed, and the user's specific needs. Some protectors offer specific protection from bed bugs or dust mites while others are more suitable to guard against fluids and spills. Many protectors offer all-around protection and comfort. To buy a mattress protector, check in a local department store, home goods shop, or bedding store. Buyers can also head to the online auction site eBay to find great deals on mattress protectors and other bedding.
Learn about Mattress Protectors
A mattress protector is a type of removable bedding that offers an extra layer of protection between the fitted sheet and the mattress. Protectors can be made of many different materials and have varying levels of thicknesses. While protectors offer coverage for a mattress, they also offer allergen and insect protection for the sleeper. There are three main types of mattress protectors, including:
| Type | Description |
| --- | --- |
| | Much like a fitted sheet, a fitted mattress protector slides over the corners and edges of the mattress |
| Elastic strap | The elastic straps on these protectors fit over the four corners of the bed |
| | A zippered protector completely encloses the mattress, acting like a protective glove over both the top and bottom of the mattress |
Which type of protector to buy depends on the user's needs. An elastic strap mattress pad does not protect much against bed bugs and dust mites but does help keep a mattress clean. Zippered mattress pads offer complete protection.
Reasons to Buy a Mattress Protector
Buyers who use a fitted sheet might not think purchasing a mattress protector is necessary. However, mattress protectors serve very important functions. Consumers purchase mattress protectors to:
Prevent stains on a mattress
Keep a mattress clean and dry
Provide extra comfort and support
Protect against bed bugs, dust mites
Increase the lifespan of the mattress
What to Look for in a Mattress Protector
Although every buyer's needs are different, there are some specific features to look for when buying a mattress protector. The most important feature to look for is size. An ill-fitting protector is useless and might not be able to be returned. Others mattress protector features include:
| Feature | | Description |
| --- | --- | --- |
| Size | | Mattress protectors come in king, California king, queen, full, twin, twin XL, or crib size; buy the right one for a specific mattress |
| | | If the sleeper suffers from allergies or sensitivities to certain fabrics, be certain to purchase a hypoallergenic variety |
| Comfort | | Many mattress protectors offer additional support, comfort, and padding |
| Thread count | | The higher the threat count, the more luxurious the mattress protector will feel |
| Pore size | | For the best protection, look for a protector with a pore size of eight microns or less |
| Easy washing | | Be certain the mattress protector is either machine washable or is easily able to be wiped down |
| | | A mattress pad that can breath helps keep the mattress cool |
In addition, consider price when purchasing a mattress protector. Pads can range drastically in price, so consumers should first set a budget before committing to a purchase.
Mattress Protector Materials
Consumers can find mattress protectors in several different fabrics. Each fabric offers various pros and cons. When deciding on a mattress protector fabric, consider the buyer's unique needs, personal preferences, and budget.
Cotton Mattress Protectors
Proving a firm, dense feel, a cotton mattress protector is a popular choice. Cotton protectors are hypoallergenic and consumers can find organic varieties. Additionally, untreated versions with no chemical dyes are available. Look for a cotton protector with woven fabric to guard against dust mites and allergens.
Polyester Mattress Protectors
Polyester mattress protectors are no-fuss, inexpensive options. They can have a polyester shell with polyester fibrefill on the inside or be a blend of fabrics. A simple poly-cotton blend is popular with consumers. A polyester-polypropylene blend with a vinyl layer provides excellent waterproofing. Buyers can find polyester protectors in the zippered, fitted, or elastic strap varieties.
Down Mattress Protectors
Offering the ultimate in softness and luxury, down mattress protectors are very thick. They are generally stuffed with genuine goose down, unless it is a synthetic variety. Down mattress protectors are particularly useful if a mattress is too firm or the springs are wearing down. They generally provide extra comfort in addition to mattress protection. Individuals with allergies should be wary of purchasing goose down, as it is a common allergen.
Vinyl Mattress Protectors
Those with severe moisture problems, such as pets or bed-wetting children, might try a vinyl mattress protector. Vinyl mattress pads offer serious protection and are extremely durable. They help prevent mould and mildew as well. Buyers can generally clean a vinyl protector by simply wiping it down. Consumers can even find hospital-grade vinyl protectors.
Special Types of Mattress Protectors
There are a few special types of mattress protectors for very specific purposes. Consumers looking for protection from dust mites, bed bugs, or fluids should look into a special mattress protector.
Dust Mite Mattress Protectors
Dust mites are tiny creatures that feed on human flakes of human skin. They are a major cause of allergies and asthma and tend to exacerbate existing conditions. Mattress protectors with dust mite protection will often have antimicrobial treatment to shield against mites, but even the most basic mattress pads protect against some dust mites. People with medical conditions will benefit from a zippered, non-membrane mattress protector with antimicrobial treatment for the ultimate dust mite protection. Protectors with pores that are too big might let mites onto the sheets.
Waterproof Mattress Protectors
Many fabric mattress protectors are waterproof, offering protection from bed wetting, bodily fluids, pets, and perspiration. Consumers with young children can especially benefit from a dense waterproof protector with a breathable liner that blocks moisture from reaching the mattress. Frequent bed wetters might benefit from a vinyl mattress protector. Look for a fitted mattress protector that can be easily washed or cleaned if you anticipate lots of spills or fluids.
Bed Bug Mattress Protectors
Bed bug mattress protectors are zippered pads that completely enclose a mattress. They keep bed bugs from penetrating the fabric of a mattress. Consumers that already have bed bugs should also purchase a box spring protector as well. Buying a bed bug mattress protector is a much less expensive alternative than buying a new mattress set if a bed has become infested. These types of pads are usually made of a dense, synthetic material, such as polyester or polypropylene, so the bed bugs cannot bite through fabric.
How to Buy a Mattress Protector on eBay
To find mattress protectors online, try eBay. The world's largest online marketplace, eBay sellers from around the world list a wide variety of mattress protectors for sale. Buyers can even find other bedding accessories on eBay, including sheets, pillows, and even mattresses.
To begin your search, go to the eBay home page and type in related keywords into the top search bar. You can start with typing in "mattress protector", "mattress pad", or more specific keywords like "queen size mattress protector". Mattress pads can also be found under the names "mattress topper" and "mattress cover".
After you have purchased or won your item, pay the seller within three days. The quicker you pay, the faster you'll receive your item. To send money electronically, try using PayPal. PayPal is one of the most trusted ways to send and receive money online. If you are picking up the item, you can pay in cash.
Conclusion
Mattress protectors are invaluable to mattress owners everywhere. Not only do they provide extra comfort and support, mattress protectors shield the bed from dust mites, allergens, stains, and bed bugs. Most mattress protectors are either fitted, zippered, or have elastic straps to fit it around the mattress. When buying a mattress protector, look for the right size, thread count, comfort, hypoallergenic materials, and pore size. Most mattress protectors are made from either cotton, polyester, down, vinyl or a combination of materials. Different materials offer various levels of comfort, hypoallergenic qualities, support, and protection.
Look for a protector that is breathable and machine washable. Special mattress protectors are also available to guard against bed bugs, dust mites, and moisture. Frequent bed wetters will require an extremely waterproof protector that can be easily cleaned. If the buyer has bed bugs, purchase a zippered protector specifically made to be bed bug resistant. Dust mites are big problems for those with allergies and asthma but a heavy duty mattress pad with dust mite protection can ease the effects of dust mites. To shop for mattress protectors, try searching on eBay for easy shopping and low prices.