NISIM FAST HAIR SHAMPOO & CONDITIONER FOR FASTER HAIR GROWTH
I have used Nisim Shampoo & Conditioner for about 6 months now and I can honestly say this stuff works. My hair was a train wreck before I used this shampoo and now I have healthy hair and it has grown roughly about 6" since using it. My hair was just to my shoulders before starting this system and it is now in between my shoulder blades down my back! I now have healthy growth whereas before my hair was very slow in growing. I am not even using this shampoo & conditioner everyday I am only using it every two days!
*SOME PROS* - Can grow hair up to 2" every month if using on a day to day basis. Leaves hair shiny and healthy and it is fortified with amino acids to stimulate healthy hair follicles. Has a lovely fresh scent.

*SOME CONS* - Can be expensive at £24.99 upwards in the UK for a months supply. As this can make your hair grow faster then if you colour your hair you may need to colour it more as you will see more grey or base colour coming through and also more trims to help keep those ends healthy!
Some people have stated that this shampoo can make your hair quite dry, but I have never experienced anything like this, quite the opposite in fact as my hair has never felt healthier and happier since using this shampoo and conditioner. I do always use a leave in conditioner and/or dry ends leave in serum once I have washed my hair, I would advise this as just using a shampoo and conditioner is not the only ingredient to a healthy head of hair.
If you are unsure as to whether to start using this shampoo and conditioner then Nisim do a trial/travel size which usually gives you about 1 weeks supply if you are using it on a daily basis, this usually retails at £9.99 in the UK. It is easier to do this when first trying anything new as you will not be spending so much money and it gives you just enough to decide on whether you wish to purchase the bigger supply. Nisim also do a 3 month supply which can be purchased for around £34.99 upwards in the UK. The travel/trail size comes in at 2.03oz each. The normal month supply is 12oz each. The 3 month supply is 33oz each.
Please remember I am quoting UK prices in this review and prices will vary from country to country.
BELOW IS SOME MORE DETAILS ON FAST FROM THE NISIM WEBSITE....
Faster hair growth shampoo is a great way to get longer hair fast. Fast conditioner and shampoo are fortified with amino acids that can produce faster growing hair at almost double the normal hair growth rate. Longer hair is easy to accomplish with Fast.
F.A.S.T is a two-product system consisting of a faster hair growth shampoo and an amino acid rich conditioner. The system is fast and easy to use. Simply wash your hair every day with F.A.S.T shampoo, rinse well, and REPEAT for faster growing hair. Apply the conditioner and work throughout the hair and into the roots. Allow the conditioner to remain on the hair for 1 minute to encourage healthy hair. Rinse well. If your hair requires more extensive conditioning leave on the hair 3-5 minutes then rinse well. Try using daily for stronger hair.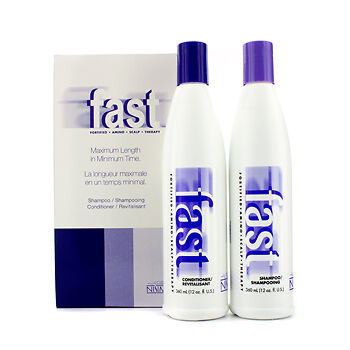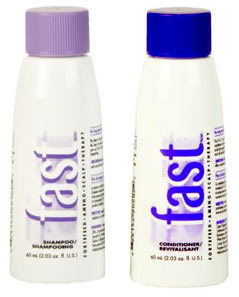 Above is the normal monthly supply 12oz each Above is the trial/travel size 2.03oz each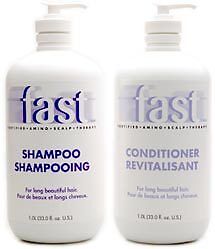 Above is the 3 month supply 33oz each