~ How to select the best length Pandora bracelet & charms to fit ~
For those who are unfamiliar with the Pandora bracelet system, its a gorgeous and modern version of a charm bracelet. But instead of hanging, the charms & beads are drilled with a centre hole which screw or slide onto a (approx) 4mm fine sterling silver or 14k gold snake-chain bracelet. The bracelet is divided into 3 segments, by 2 thicker threads and locks together by either a lobster claw or the Pandora stamped bead clasp


The beads can be left to spin & slide or be pushed tight together together by the use of clips. Fantastic in its simplicity but offers a huge variety of styles, colours, themes & gemstones so you can individualise your bracelet to match your clothes, the occasion, your memories and your budget.
So, ready to start?
~ Whether you initially choose a snug or very loose fitting bracelet, keep in mind if you intend to wear just a couple of beads/charms or eventually fill the bracelet completely, and what size charms; small silver and/or large Murano glass ~ the more charms, the tighter it becomes.
Using a fabric tape measure or even string (to later measure against a ruler) comfortably measure around the widest section of your wrist that you intend to wear the bracelet on. Or if buying a bracelet as a surprise gift for a loved one - try measuring the inside of their wristwatch. Then to that length, add approximately 25-40 mm (1" - 1.5") more for the ideal bracelet size. But do keep in mind if buying for a teenage girl, that even if her wrist is 16 or 17cm, her hand will usually be smaller than that of a woman over 25, and I've found 7" /18cm bracelets with small sized charms offer a nice fit without falling off her hand.
Some retailers warn buyers that the bracelets often stretch so choose a smaller, rather than larger size. However, a genuine Pandora bracelet if looked after well, shouldn't stretch. I've been wearing my 23cm length bracelets for over 2 years, full of beads, and they still exactly 23cm long.
As the Pandora chains are fairly tight & strongly made, if stretching occurs it is usually due to
. wearing a too tight a bracelet for your wrist size & number of charms
. constantly pulling hard on the end of the bracelet to do the clasp up
. if charms are a tight fit, some women will pull on the chain and charm hard in opposite directions
. forcing the bracelet over the hand to take it off, rather than undoing the clasp (beware of friends & daughters wanting to try your bracelet on & doing this!)
The Pandora bracelets shown below have been photographed on my 16cm wrist. If your wrist is 17cm then you know the 20cm length bracelet will be as close fitting on your wrist as the19cm bracelet is on mine. I however wear a Pandora 23cm bracelet, as its sits above my watch, and like to be a able to roll it off over my hand.
Pandora Bracelets displayed on 16cm wrist ~
(if your wrist is 17cm then a 20cm bracelet would have the same fit as the 19cm on mine)




19cm / 7.5" 20cm / 7.9"


21cm / 8.3" 23cm / 9"


If you would like to see the any of the photographs larger & more examples than
these Guides can display (guides have a max of 10 minipics) - please see My Ebay Me Page for more and larger photos on selecting Pandora


Pandora Bracelets & 'Pandora Style' ~

Many buyers have also asked me what the main difference is between the bracelet chains of designer brands and cheaper generic versions.
Apart from price in Designer vs budget, in many examples I've seen and tested, there is a marked difference in the finished quality, weight, strength and density of the bracelet chains. Even when 100% sterling silver, the snake chain twirling links on cheaper bracelets are frequently spaced further apart (see close-up pics of Pandora vs generic), whereas Pandora's & the other main designer chains have smoother, closer snake chain links making the bracelets more flexible and therefore stronger. The wider spaces on the cheap snake chains are more prone to kinking, stretching and breakage.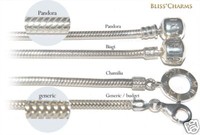 That said however, given that young teen girls fall in and out of what is 'hot', & that their wrists and hands will grow, the cheaper silver bracelets, can be a great starting base, and the charms later switched to a larger bracelet or better still, yours :) Extension chains can also be added to lobster/parrot claw clasp bracelets, lengthening them as required.
Many generic versions sold are just silver plate or gold plate over a base metal. Usually at a budget price so great for a 'fad'. But I wouldn't recommend them for a long term treasured jewellery item. Pandora & European charms are designed to spin and slide. So both bracelets and charms are subject to friction and rubbing. Therefore the plating on the bracelet will eventually wear through, revealing the base metal and green staining.
There are also blatant fake Pandora branded bracelets and charms on the market, usually distributed from China. If you don't wish to pay for what is often just copper plated alloy & tin, study the listing or web page carefully and only buy from a seller you can trust, including studying ebay sellers' feedback comments carefully. Pandora's bead clasp bracelet currently have two different logo styles on the market, the latest features the Pandora crown above the 'O' in the Pandora stamp.
Now for the charms ~ There is a huge variety of European charms on the market by the main charm bracelet designers' such as Pandora, Biagi & Chamilia,- with threaded hole cores, as well as Lovelinks, Troll and generic Asian ranges with smooth hole cores.

Compatibility Most charm/bead brands are interchangeble , however be aware that Lovelinks bracelets require a bigger hole sized bead than Pandora' and that most of the Troll range have smaller sized holes than Pandora. If you have a Lovelinks bracelet but would like to wear Pandora and designer beads/charms on it, consider having the chain ends and dividers filed down to a narrow diameter. I have done this successfully for customers and your local custom jeweler should be able to do the same.

And when placing a charm onto your bracelet, I recommend holding the bracelet still if you can on the very end thread, not the thinner chain, and then twist the charm; not twist the bracelet, because if the charm is a tight fit, twisting the bracelet chain will place undue stress on the silver.

So if browsing ebay for new charms, be sure to check the manufacturer of each piece. Some sellers' listings confusingly state 'Authentic' or 'Genuine' in the auction title referring to the sterling silver, not the authentic Pandora brand - it's correct but misleading.

And on the same note, be sure of exactly what you're buying when beads are listed as gold or silver. For example listings should be clear if the metal used is solid 925 sterling silver, silver plate or just costume silver tone. And of course gold, in what purity - 9, 14, or 18k, and whether plated over brass or vermeil over 925 silver, gold filled (heavy plating) or solid.

Authentic Pandora charms are marked too, not only with 925 (sterling silver) or 585 (gold), but also their hallmark ; ALE. They are also heavier than most of the asian generic variety, due to being solid right to the threaded core. Lower priced generic ranges even in sterling silver, are usually far lighter with hollowed out interiors, so its just the end holes that rest on the chain, but do make it more affordable for the look of a 'full' bracelet whilst saving up or waiting for the special gift of gorgeous gemstone encrusted or solid gold Pandora charms.
And to keep them safe on bracelet, consider adding a Pandora safety chain, or use stopper beads and clips to prevent the charms accidentally sliding off the bracelet when undone or to retain the desired position of other charms on your bracelet.

Murano / Lampwork To add a splash of colour or match your clothing colour, Murano and lampwork beads are perfect. Pandora's range of Murano beads have sterling silver or 14k cores, but across all the European bead range, you can buy them without cores, partial caps, full cores in solid sterling silver or plated base metal. It is a category that you receive what you pay for, and the cheap base metal cap styles are often known to break, but their low price does mean you can completely & quickly change the main colour of your bracelet at a very low cost.
Budget & style, future heirloom or bargain fashion accessories, will of course dictate what you bid/buy - but reading the description carefully first for what isn't said as much what is, is important.

Charm Size Take the time too, to study the listing photograph/s of the charms carefully. Outer sizes of the charms & beads in each range vary greatly, from petite to chunky, so if you wish for your charm collection to be of uniform size collection stick to listings that have photographs of the charm threaded on an actual Pandora bracelet chain for a point of comparison.
Pandora Range New Pandora charm designs enter the market every season, and some former ones-retire, so many retired charms already have become collectors' items & far exceed their original retail price.



Pandora do have matching necklaces, ear-rings and other accessories such as their gorgeous clasp opener inserted into the bead clasp it quickly levers it open - no more chipped nailpolish.

If you're like me & addicted to Pandora and European beads, you may have by now, several bracelets, which you can wear all at once, or even join them together -forming a choker necklace with 2 bracelets or a longer necklace with 3 bracelets joined together
.


I hope this guide has been helpful to you - a vote at the bottom of the page would be much appreciated
& if you have a question or a suggestion , I'm just an email away



All photographs & text are my original work, & protected under
Australian Copyright Laws, as well as Ebay's terms of agreement