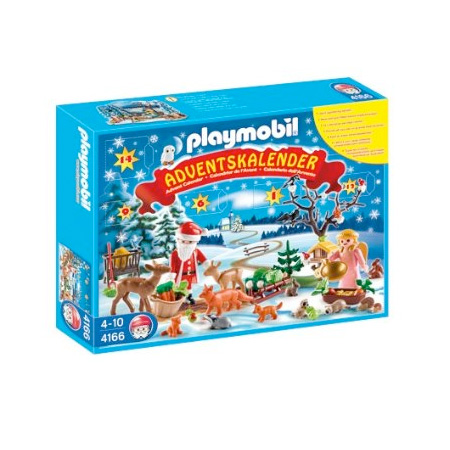 There are many toy outlets on the high street that will stock a Playmobil advent calendar along with many selected children's websites online. eBay has many of the different kinds of calendar on the market too and can provide a good way of finding a better deal than maybe found elsewhere.
This guide will look at the different themes of Playmobil advent calendar and also how to go about acquiring one from eBay in a safe manner.
Playmobil Advent Calendars
Advent calendars are one of the most recognisable features associated with the build-up to Christmas, enjoyed by children and adults alike. It has traditionally come in the form of a confectionary treat, with a piece of chocolate hidden behind each of the twenty-four doors leading up to Christmas day itself which should be revealed daily in turn.
Playmobill have created a less conventional set of advent calendars however, specifically designed for children that don't necessarily stick to the traditional Christmas theme of angels, Santa Claus and presents. In fact, behind each door can lay a Playmobil toy that can be used all year round to help make up a child's complete collection.
Playmobil calendars come in a variety of themes, some more Christmas inspired than others. Below is a quick list of all the different kinds available and those commonly found listed on eBay.
Pony Farm
Police
Princess Wedding
Forest Winter Wonderland
Dinosaur Expedition
Post Office
How Playmobil Advent Calendar's Work
Each kit will contain separate pieces, that when all placed together will be able to create the scene as portrayed on the front of the box. Behind every door of the advent calendar, a new piece will be revealed every day to make up the completed project. Children revel in the excitement of finding out which part will be revealed next and also may learn important skills in remaining patient in not opening all the doors in one go.
Playmobil advent calendars are a fantastic and healthier alternative to the traditional Christmas advent calendar, providing children with an active toy to actually get involved with assembling and playing with in the build up to December 25th. The excitement of finding out the next component of the complete set keeps them interested for long spells at a time. Once assembled, the full Playmobil advent calendar can provide hours of creative fun and be used long after the Christmas period has finished.
Buying Considerations for Playmobil Advent Calendar
It is highly likely that you will be looking to buy one of these advent calendars for children. Remember to look at the specifics of each one especially if buying for a very young or small child. All the calendars in the Playmobil calendar range state that they are not suitable for those under 3 years of age due to the small parts and the risk of choking.
The price of the calendars should not cost higher than £18 for a brand new Playmobil product from the high street or selected online toy outlets. However, eBay can offer the chance to find a better deal if a particular Buy It Now item has been listed for below this amount. Also keep an eye out for the auction listings, where sellers may have started their items at uncommonly low price in the hope this will attract increased bids for the calendar. If these bids don't come then it may be possible to win the item for a potentially notably low amount.
Think of the assembly and whether the child will need help in putting all the parts together. Also consider the space in which it will be fully laid out; the calendars require a flat space to be assembled and enjoyed by the child.
Consider if the child has a particular interest in a certain topic or theme that may appeal to them and keep them interested in the particular calendar. For example, boys are more likely to be more interested in the pirates cove and dinosaur advent calendar's than girls, who themselves will prefer the princess wedding or pony farm ones.
For children who are diabetic, or those who may have an issue with weight, the Playmobil Advent calendar will provide the chance for them to become excited with the build-up to Christmas without the obligation of eating fatty chocolates every day for a nearly a month.
In addition, some of the less Christmassy sets such as the Pirates Treasure Cove or Dinosaur Expedition can be used all year round by children and not necessarily only throughout December.
Using eBay to Buy a Playmobil Advent Calendar
To find these sorts of advent calendar on eBay then it is recommended to simply use the search bar at the top of the eBay home page. By typing in "Playmobil Advent Calendar,," a series of results will emerge that can be individually assessed. Likewise, if the specific make of calendar desired is known – for example the "Playmobil Advent Calendar princess wedding &" set – then this will make the search process much quicker and easier.
The desired advent calendars will most likely have been listed under the 'Toys & Games&' category but there are some sub-categories in which different sellers may have placed their item. Playmobil advent calendars may fall under the:
Pre-School & Young Children
Other Toys & Games
Action Figures
Construction Toys & Kits
Another good way of arranging the listings is by using the 'Sort By' option, which will arrange the items in the most required order. The Playmobil advent calendar listings will automatically be sorted by the 'best match' after the keyword search has been entered. This makes the results relevant to the particular search term input and your location, but can be sorted by other things such as:
Time: ending soonest
Time: newly listed
Price: lowest first
Price: highest first
Distance: nearest first.
Knowing Your Rights on eBay
Users looking to make a purchase of Playmobil advent calendars on eBay should be in tune with knowing their buying rights when using the site. One of the biggest worries for some is that they will part with their money but receive a substandard toy, or not receive anything at all. eBay operates under the understanding that any item sold must meet certain regulations – this means that the Playmobil advent calendar in question must be one of the following things when it arrives at the front door;
Of satisfactory quality
Fit for purpose
Or as described
In this respect, make sure that the calendar is reviewed closely when reviewing it on eBay especially if it has previously been used. Check for any potential problems with the calendar or any of its parts by reading the item's description.
If any of the details in the description appear to be vague or something has not clearly been described by the seller then make sure to ask them a question. It is their responsibility to declare everything about the advent calendar, especially if a second-hand model. To do this then click on their profile and select the 'Contact Member' link on the left-hand side of the page.
eBay Buyer Protection
eBay has a Buyer Protection program available as a way of helping buyers just in case you are not happy with your Playmobil Advent Calendar purchase. If there is something wrong with the item when it arrives then a dispute will have to be opened via eBay with the seller in the Resolution Centre. Here are a few pieces of advice for doing that and some of the stipulations for taking advantage of the Buyer Protection program:
Use PayPal. The recommended payment method by eBay is PayPal, a fast and efficient way of sending and receiving money from other eBayers. It is also necessary to have used PayPal as the payment method in order to reclaim any possible funds under the protection program.
Contact the Seller. Firstly see if the discrepancy can be resolved by making contact with the seller before opening a dispute. Contact them if the item hasn't arrived in the selected time period or if there appears to be a fault with it.
Be patient. Remember not to be too hasty to open up a dispute with the seller. If contacting them hasn't been successful then take into consideration they might have been unable to respond for a number of legitimate reasons. Also allow sufficient time for the calendar's delivery and payment to clear.
Contact eBay. If there can be no reasonable resolution or even contact made with the seller, then get in touch with eBay who will respond accordingly.
Conclusion
When coming to make an advent calendar purchase then evaluate all the possible ways of making a purchase, either in store or online. Remember, that eBay may unearth a much better deal than would be found from other outlets. Stay safe when using the site and become accustomed with more advanced details of buyer's rights which can be found in the eBay Safety Centre..