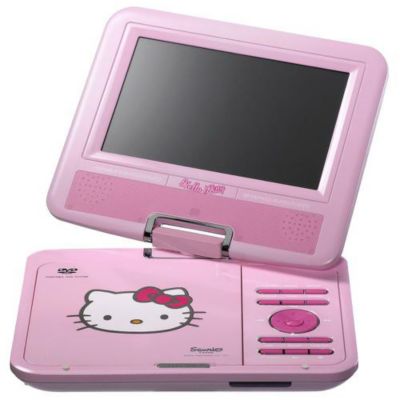 A very popular gadget, especially for parents, is the portable DVD player. They are perfect for keeping children quiet and busy, especially during long road trips by car. Daddy or mummy can concentrate on the road while the children enjoy their favourite movies in the back seat. There are portable DVD players available that are specially made for kids. They are specifically designed to stand up to rough handling by children. Children's portable DVD players come in fold-up or clamshell designs or the more compact tablet design.
There are a number of things a parent must consider when shopping for a portable DVD player for their child. It is very important for the buyer to consider a DVD player's capabilities. They should consider the screen size, connectivity, mounting systems for the car, and parental control features. A versatile portable DVD player can perform multiple functions, doing away with the need to carry multiple devices. While portable DVD players are available at electronics shops on the high street or electronics sections of stores, buyers can find the widest selection of portable DVD players on eBay.
DVD, Video Formats, and More
Portable DVD players come in all sorts and sizes and most of them support multiple playback formats. Next to normal DVDs, many portable DVD players can also play CDs, CD-RWs, Video CDs, MP4, DIVX and AVI files. The latest models can even play Blu-Ray discs. In addition, most of the decent portable DVD players for kids can also play MP3 music files and act as Discman devices. Many kids DVD players can also display JPEG photo files.
The Portable DVD Player's Screen Size
Portable DVD players have either an an LCD or LED screen. The normal size for a portable DVD player screen is around seven inches, but there are models that have screens up to 11 or even 13 inches. Dedicated children's models on the other hand usually come with a smaller screen, ranging from three to six inches. A smaller screen is lighter and is better able to stand up to rough handling.
Operating Time on a Single Charge
Before commencing a long trip, a parent must ensure that their kids' DVD player is capable of playing a feature length film without running out of juice. Therefore, the buyer should look for a DVD player that states its operating time is a minimum of two hours on a single charge. There are some models, however, that can operate for a lot longer than that. Some devices are capable of playing the extended version of a 'Lord of the Rings' film and still keep going. These DVD players can last up to five hours on a single charge. Of course, the longer a player can run on a single charge, the higher the price of the DVD player. Anyway, no matter how long the battery can hold out, it is always a good idea to get a car charger for the DVD player. As a matter of fact, many kids portable DVD players do include a car charger in their standard range of accessories.
Connectivity and Expansion Slots
Some portable DVD players have docking slots for iPods, enabling children to listen to their favourite music. Other expansion slots include those for USB and an SD card reader. Many models can be connected to other devices in the home. Some portable DVD players have audio-video connectors that allow them to be hooked up to TVs. Some of the more sophisticated DVD players come with HDMI connectors, allowing the player to be connected to high-definition displays like HDTV.
A headphone jack on a portable kids DVD players is indispensable, as children often use headphones with their portable DVD players. This way mummy or daddy are not distracted while driving and people on the train, restaurant or playground do not have to listen in on the film a child is watching.
Other Important Features to Consider
Portable DVD players come with a host of different features, some more and some less relevant to children. A buyer should look for a player that boasts a durable construction. They should also consider a DVD player that can be securely mounted in a car. For parents who want control over what their children can watch, most portable DVD players offer parental control features.
Durable Construction
Kids portable DVD players are made to be extra sturdy. They are protected by thick elastic cases and are usually come in a tablet format. This format is less prone to damage should the kid drop their portable DVD player. Many fold-up models have a screen that can swivel around and be folded into a tablet configuration. This makes it also easier to mount the portable DVD player on the back of a car seat.
Virtually all kids portable DVD players are equipped with an anti-skip mechanism. This prevents the DVD from jumping forwards or backwards due to bumps on the road or a child's unsteady hands.
Mounting Systems
A parent can mount a portable DVD on the headrest of the car seat with straps. However, in the case of an accident these straps may come loose and the DVD player could become airborne. Furthermore, the constant strapping and unstrapping of a DVD player in a car can become a nuisance. That is why there are special mounting systems designed for cars. These portable DVD player mounting systems make it possible to securely mount the DVD player in a cradle or envelope.
Parental Control Feature
Most parents are concerned about what their kids watch when they are not around. Fortunately, manufacturers of portable DVD player have thought about this problem and come up with a suitable solution. Almost all kids DVD players come with a parental control function. The parent can specify what what movies their child can watch based on the film's rating. To view films with higher age restriction ratings, a password must be entered. The chart below lists the film rating categories used in the UK.
| Rating | Description |
| --- | --- |
| U | Universal, suitable for all. |
| PG | Parental Guidance is recommended, movies rated 'PG' should not disturb a child of about 8 years of age or older; however, 'parents are advised to consider whether the content may upset young or more sensitive children'. |
| 12 | No one under 12 years of age |
| 15 | No one under 15 years of age |
| 18 | Suitable only for adults. No one under 18 years of age |
The latest DVD technology uses more refined filters to filter out offensive language or even entire scenes of violence, sexual content, or drug use. These features are only available for a limited number of films and only work on some portable DVD players.
The DVD Player's Appearance
Next to being durable and safe, a kids portable DVD player should have an attractive appearance. They come in all kinds of bright colour combinations and have nifty buttons on them. Of course there are all kinds of branded portable DVD players. A kid can get a DVD player with their favourite characters, from Hello Kitty to Disney Cars, and from Disney Princesses to Spongebob Squarepants. The branded models usually come with higher price tags.
How to Buy a Kids Portable DVD Player on eBay
eBay offers a wide variety of kids portable DVD players to choose from. Buying a kids portable DVD player on eBay is very easy. Go to the eBay homepage, and type 'kids portable DVD player' into the search box and then click on the 'Search' button. A results page with listings for DVD players that match the search query appears. You can then refine your search further by filtering the results based on the brand of the DVD player, its screen size, various built-in features, and more. Once you have found what you are looking for you can save your search and repeat it at a later time to find the best deals.
Before purchasing a DVD player, especially if it is a used one, make sure you have a good look at all the specifics posted in the item listings. You should also read up about the the payment and delivery conditions and check on postage costs. To contact a seller directly, just go to their profile page and click on the contact link.
Conclusion
Kids portable DVD players are the perfect gadget for both the kids and their parents. The kids watch their favourite film and stay quiet so that the parents can concentrate on other things. When buying a portable DVD player, it is important to consider what kind of video and audio formats the player can handle. Also, it is very important to consider the size of the screen. A large screen generally makes for better viewing, but the device is heavier. The battery should be able to last more than two hours of operating time but the buyer should play it safe by choosing a portable DVD that can operate for longer on a single charge.
A kids portable DVD player must be sturdy and it is a good idea to choose one with a cradle or purchase an extra cradle so it can be mounted securely onto the seat for use in the car. It is possible to specify what kind of movies the DVD player is allowed to play by using the parental control feature on the device. eBay offers a wide selection of portable DVD players to choose from.