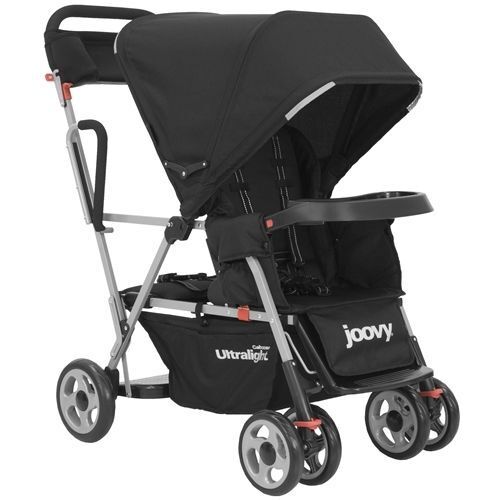 Prams or pushchairs are indispensable in families with babies or young toddlers. For those who travel frequently with their baby whether just to the grocery store or even to the park for a stroll, having a pram to carry their baby is very helpful. Bringing a baby out of the house can be quite a chore sometimes, as the outdoor environment may not be very comfortable for a baby. By using a pram, parents can protect their babies from the hot sun or chilly winds, while having fun outdoors or when running errands.
There are many kinds of prams available on the market, and parents, especially new ones, can sometimes feel overwhelmed when they need to choose the right pram for their baby. To make the pram buying process an easy one, parents must take into account a few things such as their lifestyle, their babies' needs, and the type of pram that they want. Parents can also shop for a pram in the comfort of their own home from online retailers such as eBay.
Getting to Know Prams
The word 'pram' is strictly used to refer to the traditional, coach-built pram, which has a wide hood, as well as a large frame and wheels. These prams are generally very comfortable and sturdy as well. In the past, they were built to last more than a lifetime and were often passed down from a generation to another. However, they were also very expensive and burdensome, so it was difficult to fit them in the car boot or take them on a train, for example. Since then, prams have evolved to include pushchairs and buggies, which are often more lightweight and have some extra features. Although there are many kinds of prams available on the market, manufacturers continue to produce traditional ones as some parents still prefer them.
Types of Prams
There are many options that parents can consider when choosing a pram. Besides the traditional coach-built pram, there are also three-in-one and two-in-one prams, among others. Before choosing a suitable pram for their baby, parents should know what types of prams are available and what are their main features.
Type of Pram

Description

Has a traditional design

Baby lies down, facing the parent

Has a chassis and a seat unit with a hood

Can be fully reclined into a pram position or brought upright into a pushchair position

Has a chassis, a pram unit (separate carrycot), and a separate pushchair

Has the same function as the two-in-one pram

Is often in an upright position, but may have a recline mechanism

More suitable for toddlers than infants

Stroller or buggy

Has a lightweight frame

Is very manoeuvrable

Is not suited for newborns unless there is a recline mechanism

Has a clip-on car seat

May also have a carrycot

Has the best manoeuvrability

Is suitable for use on rough terrain

Can have a fully reclining seat
Each kind of pram has its own pros and cons, and is suitable for use in different situations. Traditional prams for instance, are very sturdy, easy to push, and also offer great comfort to the baby. However, they are very expensive and bulky. Two-in-one and three-in-one prams are very versatile but are also quite expensive and heavy. Since different types of prams have slightly different functions, parents must consider a few other factors before deciding on a type of pram for their baby.
Choosing a Pram
Besides choosing a pram that they like, parents should also consider a few other factors when purchasing a pram such as their lifestyle, their environment, and their baby's needs. Buying a comfortable pram is extremely important especially if parents plan to use it often. Therefore, they need to put in sufficient thought and do some research when choosing a pram.
Considering Parents' Lifestyle and Environment
The parents' lifestyle and environment are essential factors to consider when buying a pram. Those who regularly use public transport should opt for a lightweight pram that can be folded. This is also the case if they have many stairs or steps around the house or neighbourhood. If parents drive often and take their babies with them, they should look for a pram that can be folded and stored in the car boot. A travel system that has a portable car seat is usually a good choice.
Parents who walk a lot with their babies should choose a pram that is sturdy and manoeuvrable. Prams that have swivel wheels are easier to manoeuvre than those with fixed wheels, but are tougher to handle on rough terrain. A good safety feature to have on a pram is the ability to lock the wheels. This way, parents can let go of the pram while they take a break without worrying that the pram will move on its own. For their own comfort, parents should choose a pram with the right handle height and, as an option, with adjustable handle positions.
Sometimes, space at home is limited and it is difficult to store a pram. If this is the case, getting a foldable pram is a good idea. Parents who are out a lot with their baby should also make sure that their pram can be easily folded with one hand.
Considering Baby's Needs
When buying a pram for a newborn, parents should always make sure that their pram can be fully reclined as newborn babies need to lie flat for at least their first three to six months. It is also a good idea for parents to get a pram that has a fully reversible unit so their baby can face them. Another thing to consider is the size of the pram. Since babies grow very quickly and can outgrow their prams in a few months, parents can choose to get a slightly bigger pram so they can use it longer. However, a pram that is too big can also be uncomfortable and dangerous for a baby. Babies need a lot of sleep and if parents plan to bring their baby out with them during their child's nap time, they should have a pram with a comfortable carrycot.
Extra Features to Consider
Prams come with a variety of features including hoods, rain covers, and matching changing bags. Some features are necessary while some are less so. Features that are worth having on a pram are raincovers and cosytoes, which keep babies warm and stay on better than blankets do. A decent sized basket is also a must for parents who travel a lot with their babies since the basket can carry all the baby supplies that they need. For safety, it is a good idea to buy a pram with a five-point safety harness, especially on a pushchair. Because some features can be quite expensive, parents should make a wise decision when choosing additional features for their baby's pram.
How to Buy a Pram on eBay
eBay has a huge selection of prams for sale. To find the right one for your needs, start at the eBay home page and look up the item that you want. Just type in your keyword into the search bar and you can see all available prams on eBay. You can search for whatever pram that you want such as ' travel systems ' or ' pushchairs '. On the product listings, you can view the image and short description of the product, as well as its price. To make your search more specific, choose the features that you want your pram to have by selecting them from the category filters.
After selecting the pram that you like, you can view even more information about it such as the full item description, postage fee, and return policy. A return policy is important as it allows you to return the pram if you find it to be damaged or unsuitable for use. Therefore, it is a good idea to ask the seller about this policy if it is not mentioned on the product page. After you have gone through all the necessary details of your purchase and are satisfied with them, you can proceed to purchase the pram.
Conclusion
Choosing the right pram is crucial for any parent especially if they plan to carry their babies in it regularly. To choose the perfect pram, parents must not only look at the safety and comfort that the pram provides for their baby, but also consider the pram's weight, maneuverability, and size. There are many types of prams that are better suited for a certain task than others. For example, a traditional pram is sturdy and easy to push, but is also very heavy and expensive. It is more suited for parents who take their babies on short walks around the neighbourhood. A three wheeler, on the other hand, is a lightweight and very maneuverable pram, which is perfect for active parents who like to go out for walks or jogs with their baby.
Because there are so many types of prams to choose from, buyers should consider their lifestyle and also their baby's needs when buying a pram. Parents looking for the perfect pram for their baby can take look at eBay as it has a wide variety of prams to choose from.