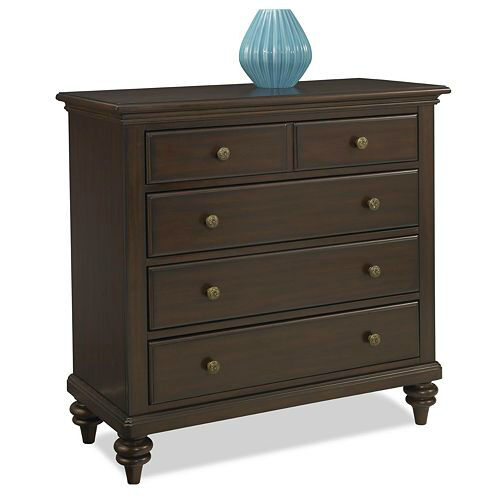 A chest of drawers is a useful piece of furniture that can store a variety of items from clothing and accessories to media devices. A shopper often has to assemble a new chest of drawers themselves. This can be a hassle, especially for those who don't have the time and patience to put all the small pieces together. Purchasing a ready assembled chest of drawers saves the shopper time and money. Additionally, a shopper doesn't have to worry about damaging the furniture or putting it together incorrectly.
Prior to shopping for a ready assembled chest of drawers, a shopper need to measure the room to determine the proper size chest for the space. Learning about the various types and styles of chests of drawers available allows a shopper to find the one that best suits their needs. Shoppers can find great deals for ready assembled chests of drawers by shopping online at sites like eBay.
About Ready Assembled Chests of Drawers
A chest of drawers is similar to a dresser, but they differ in their designs. Both pieces of furniture have several drawers and are typically used to store folded clothing. A dresser is wide and has two or more columns of drawers. A chest of drawers is taller than it is wide and only has one column of drawers. A chest of drawers usually stands at chest or shoulder height so that it takes up less floor space. This piece of furniture is ideal for smaller rooms that don't have a lot of extra floor space to accommodate a dresser. A chest of drawers usually has between six and nine drawers, which means that it offers a comparable amount of storage space as the wider dresser.
Measure the Bedroom
Before heading to the furniture store to choose a chest of drawers, it is important for the shopper to measure the room first. Chest of drawers have varying dimensions, and knowing the size of the room is important to ensure that the chest fits in the available space. Choosing a chest of drawers that is too large can overwhelm the room or limit where it can be placed.
More than just the length and the width of the room are needed when taking measurements. A person needs to measure the wall space between doors and windows. Since a chest of drawers is taller than a dresser, it will likely not be able to fit under a window without blocking it. Measuring how much space is available around other pieces of furniture is also helpful when considering the depth of the chest. Ample space is needed to walk between the furniture as well as to open the drawers comfortably.
Types of Chests of Drawers
Not all chests of drawers are the same. There are actually several types of chests available, and knowing the difference between them helps a shopper find the one that best suits their needs. Some chests of drawers are designed to hold several different types of items so that they can be used to store just about anything. Other types of chests are specially designed to hold specific items. Before shopping for a chest of drawers, shoppers should determine what their storage needs are then determine which type of chest best meets these needs.
Bedroom Chest
A bedroom chest is the standard chest of drawers. They have a single column of drawers that are deep enough to hold several layers of folded clothes. The depth of the drawers is dependent on the number of drawers and the height of the chest. These general purpose storage chests are designed for storing just about anything. People can find chests to accommodate the storage needs of shoes, bed linens, thick winter clothes, and more.
Bachelor's Chest
A bachelor's chest has a unique design. It is much shorter than a standard chest of drawers, and it typically only stands about waist high. These smaller chests are typically more decorative than standard chests and have fewer drawers. This means that there is less storage space available. Designs for a bachelor's chest vary. Some have small cabinets that open to reveal shelves and others have pull-out valet trays. People usually store smaller items in a bachelor's chest, such as socks, underwear, t-shirts, ties, belts, and other small accessories. These types of chests are extremely versatile to provide storage for a wide range of clothing and other items without taking up too much space in the room.
Lingerie Chest
A lingerie chest is a delicate and elegant piece of furniture. These chests are extremely narrow and have smaller drawers. They are designed for holding items such as underwear, bras, nightgowns, and other intimate apparel. Some lingerie chests have small cabinets at the top or specially lined drawers for storing jewellery and accessories as well. Because of the size and limited space in a lingerie chest, it is not ideal for holding regular everyday clothing.
Media Chest
A media chest has a space-saving design that combines two pieces of furniture into one. The top of the chest is sturdy enough to hold a television and an open space below stores a DVD player, satellite box, or VCR. Some media chests have a cabinet to hide the television when not in use. Like the bachelor's chest, a media chest stands waist-high. This places the television at the perfect height for viewing television from bed. Under the media portion of this piece of furniture are three or four drawers for storing clothing and other items.
Choose a Style of Chest of Drawers
In addition to choosing the right size and type of chest of drawers, shoppers should also consider the style or appearance of the piece of furniture. Shoppers will find that designs for chests of drawers vary greatly from how the drawers are laid out, to the type of wood that it is constructed from, to the design of the handles. A shopper should look for chests that are visually appealing and match the design of other pieces of furniture that are already in the room.
Drawer Layout
A chest of drawers typically has a single column of drawers that are all of equal size. Some designs offer a different layout and may have a two columns of small drawers or may have a single column of wide drawers on the bottom with two columns of small drawers on the top. Additionally, some chests have several deep drawers on the bottom and several shallow drawers on the top. These types of chests allow people to store large and small items in a single piece of furniture.
Physical Appearance
The physical appearance of the chest of drawers is another important factor to consider during the shopping process. Chests can be made from several different types of wood and come in a variety of colours. Some have metal handles while others have wooden ones. Designs range from vintage to traditional to modern. While the physical appearance of a chest of drawers is ultimately up to the shopper, people should choose pieces that match the other furniture in their rooms.
How to Buy a Ready Assembled Chest of Drawers on eBay
Buying a ready assembled chest of drawers saves you the time and trouble of having to put it together yourself. Additionally, furniture that is assembled by the manufacturer tends to be sturdier than furniture that is assembled by the user. eBay is an online shop that has several types, styles, and sizes of chests available.
Searching for a Chest of Drawers
You'll find chests of drawers in the furniture section of the eBay site. To begin your search for ready assembled chest of drawers, simply enter a description of what you are looking for into the search bar on the eBay home page. The search engine will populate a results page with potentially thousands of listings for the chest of drawers currently listed for sale. You can browse through the thousands of listings in this section, or you can select different options to narrow down the search. Choose type, material, colour, size, and more to reduce the number of listings that you need to sort through.
Delivery and Pick-Up Options
Ready assembled chests of drawers are large, bulky, and heavy, which means that postage and packaging costs can be quite high. Some sellers offer free delivery and some only allow for local pick-up. Buyers who are able to collect the purchase will save money on postage and receive their new furniture in a timely manner. You can sort listings based on those closest in proximity to your postcode.
Conclusion
A ready assembled chest of drawers is one that has already been put together prior to purchase. This saves buyers time and money because they don't have to take the time to put it together or hire someone else to do it. Additionally, they don't run the risk of damaging the furniture or assembling it incorrectly. A chest of drawers is a versatile piece of furniture that can be used to store clothing, accessories, and media equipment. Finding a stylish piece allows a person to store their items while adding a decorative element to a room.
With so many different types and styles to choose from, finding just the right piece can be a challenge for shoppers who don't know what to look for. To make the process easier, shoppers start by measuring the room, determining the type and size chest needed, then choosing a design that ties in with the rest of the decor of the room. To find a large selection of ready assembled chests of drawers of all sizes, types, and styles, shoppers should consider eBay.