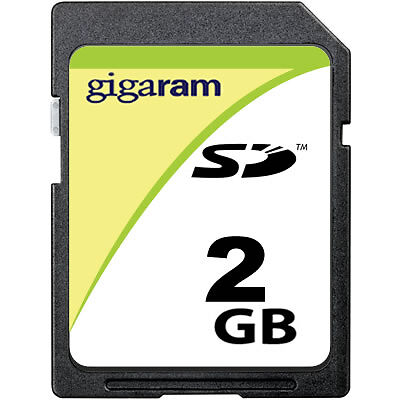 Secure Digital or SD cards are among the world's most popular formats of data storage for digital cameras. Memory cards are an essential piece of any photographer's cache. They are used to save and store photographs and videos. The type of memory card purchased often depends on what format or formats are supported by a digital camera. When purchasing a SD memory card, other factors such as price and how a camera is used also influence the type of card purchased. Whether for professional photography or capturing family milestones, each memory card is designed to meet a wide range of performance and storage needs.
About SD Memory Cards
Secure Digital or SD memory cards are used in a wide variety of devices, including digital cameras. SD cards are a form of non-volatile memory or flash memory that can also be found in mobile phones, tablet computers, and GPS navigation devices. They are used to save and store information without the need for an external power source. SD memory cards are available in a wide variety of formats and variations to meet a range of storage and performance needs.
According to the SD Card Association (SDA), which develops technical standards for Secure Digital technology, SD cards are used by over 400 brands for more than 8,000 different product models. All SD memory cards have a distinct and recognisable logo, which features a stylised SD on the face of every card. Digital cameras that support SD cards also feature a similar logo on the device itself or supporting documentation, such as a user manual.
Types of SD Memory Cards
There are a number of types or formats of SD memory cards. As a general rule, cards that offer high-performance (that is, high transfer speeds) and high-capacity (that is, large amounts of data storage) are relatively more expensive. Standard size cards are typically used for digital cameras, while compact and subcompact cards such as mini and micro formats are used for other devices, including mobile phones, smart phones and tablets. Standard SD cards are 32 x 24 x 2.1 mm and mini SD memory cards are 20 x 21.5 x 1.4 mm. Micro SD memory cards measure 11 x 15 x 1.0 mm. While standard cards feature a write-protect switch, micro, and mini cards do not.
The four main categories of SD memory cards are summarised in the table below.
| | |
| --- | --- |
| Standard-Capacity (SDSC) | The Secure Digital Standard Capacity (SDSC) format uses FAT 12 and 16 file systems. They offer lower transfer speeds and capacities compared to other SD memory card formats, such as SDHC and SDXC. SDSC cards are also available in compact and subcompact formats, which are marketed as miniSD and microSD cards. |
| High-Capacity (SDHC) | The Secure Digital High Capacity (SDHC) format is the 2.0 version of the SD card. Devices that support SDHC cards also support SDSC cards. However, some devices that are designed for SDSC cards may not support SDHC memory cards. SDHC cards use a FAT 32 file system. The SDHC format is also available in mini and micro variations (microSDHC and miniSDHC). |
| eXtended-Capacity (SDXC) | Secure Digital eXtended Capacity (SDXC) memory cards are available with storage capacities of up to 2 terabytes. Certain devices that support SDSC cards may not recognise SDXC cards, although devices designed for SDXC do support other SD formats. SDXC cards use an exFAT file system. SDXC cards are also available in a micro format (microSDXC). |
| Input/Output (SDIO) | Although mainly used for PDAs, laptops, and mobile phones, some digital cameras also support SD's Secure Digital Input Output (SDIO) cards. Devices with SDIO capability offer the ability to use SD slots for more than memory cards, including Wi-Fi, barcode readers, Bluetooth, and GPS. |
Buying SD Memory Cards
Whenever purchasing a memory card, always review the digital camera's user manual to identify the formats supported by the device. Some digital cameras may also identify the supported format on the device itself. If a device is not compatible with a SD memory card format, it will not recognise the card.
In addition to identifying compatible memory cards, it is important to consider the speed and capacity of the card. When purchasing an SD memory card, consider how the digital camera is or will be used. A high-capacity card may be desirable if the camera is being used for a vacation or a special occasion where many photographs will be taken. Cards with lower storage space may be sufficient for infrequent or casual use. Similarly, a high-performance camera used for professional photography or high-definition video will benefit from a high-speed memory card.
Speed
The speed of SD memory cards is measured differently depending on the manufacturer of the unit. Transfer speed can vary depending on the brand and the card itself. Generally, the transfer speed of SD memory cards is measured using two variations of speed indicators or class. Each class identifies the minimum writing performance of the card. Speeds are particularly important if using a digital camera for video recording where smooth writing of content is essential.
| | |
| --- | --- |
| Speed Class | SD memory cards feature four Speed Classes: Class 2 (2 megabytes per second), Class 4 (4 megabytes per second), Class 6 (6 megabytes per second) and Class 10 (10 megabytes per second). Class 2 cards are designed for standard definition video recording, while Class 4 and 6 are used for high definition (HD) recording. Class 10 deliver high-speeds and are designed for full HD video recording. The Speed Class mark is identified with a number within a "C". Speed Classes are used on SD, miniSD, microSD, SDHC, miniSDHC, microSDHC, SDXC and microSDXC cards. |
| UHS Speed Class | The Ultra High Speed (UHS) Speed Class mark is identified with a number "1" within a "U". SD cards using the UHS Speed Class mark are all UHS-I and offer the highest transfer speeds. UHS Speed Classes are used for certain SDHC and SDXC cards. These types of cards are designed for large-size HD videos and deliver high-performance for real-time broadcasting. UHS Speed Class cards can only be used on products designed for UHS (that is, speeds of up to 312 megabytes per second). |

A device that supports a Speed Class 4 SD memory card can also support Speed Class 4, 6, and 10 memory cards. Similarly, a device designed for Speed Class 6 can support Speed Class 6 and 10 memory cards. Class 10 cards can also be used on devices designed for UHS, although UHS-I cards cannot be used in devices designed only for Class 10.
Storage Capacity
The amount of storage space required will often depend on how a digital camera is used. Generally, memory cards with 2GB or 4GB of storage space is sufficient for most users and uses. A high-capacity memory card is convenient when taking high-definition photographs or making high-definition videos with the camera. Having a high-capacity memory card will also avoid the need to purchase or carry multiple cards. High-capacity memory cards are particularly convenient for users who take many photographers often.
SD standard cards feature up to 2GB of memory, while miniSD and microSD offer storage of up to 4GB. SDHC, miniSDHC, and microSDHC cards have greater capacity and transfer speeds, with between 2GB to 32GB capacity. SDXC and microSDXC cards feature capacities of over 32GB up to 2 terabytes.
Buying SD Memory Cards on eBay
To purchase a SD memory card, visit eBay's homepage. From the All Categories tab, select the Cameras & Photography link. On the Cameras & Photography page, click on Memory Cards from the All Categories tab. To view SD memory cards, select SD under Format from the left side menu.
To narrow search results, select specific formats of SD cards from the left side menu (for example, microSD, SDXC and SDHC) or combine search specifications. For example, select SD under format and the desired data storage amount under Storage Capacity. Alternatively, use the search bar on any eBay page to enter keywords. For example, type "new SDXC 64GB" to find unused SDXC memory cards with a capacity of 64GB.
When purchasing a SD memory card, also check to see the stylised SD logo on the face of the card. All SD cards feature the same standard logo. Different formats also have additional identifiers, with HC or XC underneath the SD logo. Ensuring that the card has the SD mark will help identify legitimate SD memory cards.
Conclusion
Selecting a SD memory card will depend on the number of photographs taken, how often a digital camera is used, and the quality of videos taken with the camera. High-capacity and high-speed memory cards are ideal for high-definition videos and professional photographers. More affordable lower-capacity SD memory cards should be sufficient for most everyday users.