A COMMON SENSE guide to successful clothes selling on EBAY
I have sold on ebay for over 7 years ( last 18 months as a business seller ) and I love it! It is not easy at times -lol- but following a few simple rules makes the experience for both yourself and your buyer more enjoyable.
EBAY is all about communication and managing your buyers expectations
1 - Check the garment CAREFULLY before listing - are there any marks? holes? stains? does the zip still work? any buttons missing etc etc . I f there is a fault with the garment, it doesnt mean that it wont sell, but you need to be HONEST when listing, as disappointing a buyer is not what you want to do. List the fault honestly, and a buyer is more likely to buy from you. Ebayers appreciate honesty and you may find that you will get more for a garment where there is a fault, rather than omit it from your listing in the hope that the buyer doesnt notice it. I have bought many many items off ebay that are listed as immaculate, only to find that it is in a DIRE condition upon arrival
for example I had 2 identical wheels & dollbaby dresses - one perfect and one with a dirt mark and pull at the hem. I started the perfect dress at £30 and after 7 days , it went for £35.
At the same time, the other dress was also being sold, with all details re imperfections ; it started at 99p and finished at £53!!
so sometimes better to be honest! lol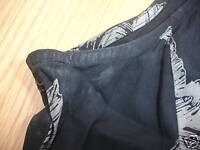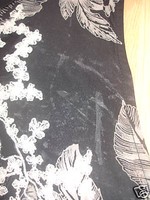 The above dress was listed as ready to wear and was described as immaculate condition! now i may be picky, but to me, it looks more than ready to go to the dry cleaners. There is multiple staining over the dress and deodorant marks underneath the armpits. As a buyer, naturally, you will be extremely disappointed when this arrives. You then have the hassle of either a) trying to get a refund from your seller or b) incurring additional costs for a dry clean. NOT A POSITIVE EBAY BUYING EXPERIENCE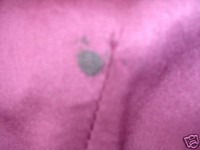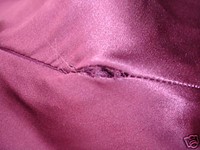 another dress (pics above) described as worn once only and freshly dry cleaned - large black stain on bust and hole at zip. The dress also had deodorant staining under the armpits.
Dont send shoddy/damaged goods to your customers and hope for the best - this is unfair to your customer and other ebayers
2 - Answer any questions from prospective buyers, quickly and honestly. If a buyer asks for your opinion on 'fit' ,I always give measurements for them to compare to a 'favourite' dress that they already own. If you really think that it wont be suitable for them, then tell them. Answering a question quickly, can be the difference in just getting your starting bid or achieving a fab price! buyers like sellers who respond quickly to their questions.
3 - When auction has ended, send them an invoice for their purchases, and again answer any questions quickly
4 - As soon as payment has been received, I believe the garment should be on the way to the buyer. Work commitments may prevent smaller sellers from doing this, but again,. manage your buyers expectations. Send them an email to explain exactly when their item is to be posted. I also send a note to thank my buyers for their fast payment and send them the tracking information for their item.
5 - When wrapping garments, consider your packaging carefully. If a buyer has spent considerable money on a purchase, then I personally would not send it in a black bin bag with brown parcel paper. You need to ensure that the garment your buyer has paid for reaches them in a satisfactory condition. If you do send the item in brown parcel paper, consider the damage to the item if it was to come into contact with water(RAIN!!). I strongly believe that it is up to the seller to wrap correctly so that the buyer receives it in perfect condition. I generally wrap in tissue paper and place in a waterproof mailing bag. These bags are available all over Ebay and are often a lot cheaper than brown paper from the post office. If you send items special delivery, then the post office can supply you with free packaging ( ask at the counter)
6 - If a buyer emails upon receipt of garment to say they are unhappy, avoid getting defensive and sending negative emails - this doesnt benefit either yourself and definitely not your buyer. To be succesful on Ebay you need to maintan a good feedback record and this means providing excellent customer service. If a customer of mine is unhappy , and this has only happened a few times( generally because of fit), then I ask my customer what they would like me to do in order to resolve the issue for them. This is easier , as the customer then can tell you exactly what would make the experience positive for them. Swallow any pride, defensiveness, need to bite back etc etc Think long term and protect your reputation as this is what will increase your sales in the future.
If you follow all the rules 1-5 above, then number 6 should rarely happen.
HAPPY SELLING AND IF YOU NEED ANY ADVICE AT ALL ON ANY ASPECTS OF EBAY - JUST EMAIL ME!