Saddle fitting guide. To all buying and selling saddles on eBay.
I have had a few problems buying the correct sized saddles from eBay and would like to share a few tips Ive picked up from my saddle fitter.
Measuring the seat
The seat measurement is important for you as well as the horse. You need to be able to fit your bum in the seat, and ideally the saddle should not come past the last rib on your horses back.
The correct way to take this measurement is from the rivet on the side of the pommel to the centre of the cantle at the back of the saddle (see pic 1)

Pic 1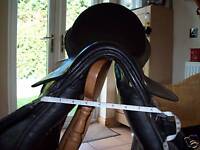 Pic 2

Pic 3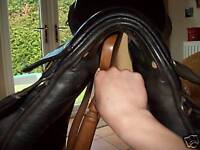 Pic 4
Width measurement
This is harder to get corret, I have noticed on lots of auctions and adverts people using and asking for D ring to D ring sizes(see pic 2).
This is not a good way to measure a saddle for a few reasons:
1) The D rings give you an outside measurement, it does not indicate how much flocking (padding along the tree) the saddle has, in some cases this can be quite alot and will make the saddle a narrow fit even if the d ring size given is 7" for example.
2) The D rings can also be in different places on the saddle according to the make. Stubben are one of the only saddles witch have a standardised sizing across their range.
As the inside is the part that actually touches the horse it is far more important you get an idea as to what size this is. I have been told that a cleched fist will give a good indication as to how wide the gap is.
As a rough guide a tight fit would be a narrow, a fist and an inch or 2 medium, and anything over a wide. (see pic 4) This is of course a very rough guide as all hands are different.
I would recommend you ask a professional to give you a guide as to how wide your saddle is if you are unsure.
On most new saddles Synthetic and leather the width size is stamped on the stirrup bar (see pic 3).
It is also good practise to mention any adjustments you or someone else might have made to the width of the tree, as this can affect the stability of it if too many adjustments are made.
I hope this has been helpful to all who read it and i hope it saves you a lot of time and bother in finding your perfect saddle....
Happy bidding tasha.allee and Hooray Henry