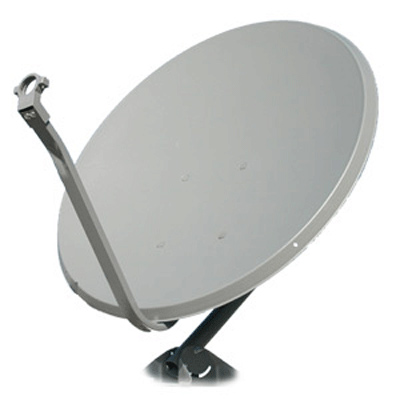 Satellite dishes allow users to watch many channels, providing access to a plethora of television programmes. There are a variety of free to air channels on dishes, as well as subscriber channels that require a monthly fee. Buyers considering a satellite dish should start by deciding which satellite dish best suits their needs. Two important decisions buyers must make when picking out a satellite dish are 1) the type of dish, and 2) the size of the dish. Other considerations that affect the decision include the type of receiver, the LNB, the number of channels desired, and how many satellite signals the dish is able to receive. Different locations fall into particular zones, with Zone 1 comprised primarily of England, and Zone 2 comprised of other areas in the United Kingdom. Be sure to purchase a satellite dish with the correct zone compatibility. Buyers should decide whether they intend to view free to air channels, or to subscribe to a service. This decision has some impact on which dish to buy.
Satellite dishes are sold in many types of brick and mortar stores, including electronics retailers and specialty video stores. They are also available online. eBay has a large number of zone-specific dishes available for a variety of needs.
Different Types of Satellite Dishes
There are several types of satellite dishes available. Some common types are the stationary satellite dish, the motorised dish, and the portable dish. Each has different functions and uses.
Stationary Satellite Dish
Stationary satellite dishes do not rotate electronically,and must be physically aligned with a geosynchronous satellite in order to receive the signal. They come in a variety of sizes, with larger dishes able to pick up a greater number of signals. Stationary dishes can only pick up satellites that are located relatively close together, without being manually adjusted.
Motorised Satellite Dish
Motorised dishes have a motor inside that allows them to rotate and pick up different satellite signals. Rotation is controlled electronically by a remote. This enables the dish to pick up thousands of channels, approximately one thousand of which are free. Most receivers are able to utilise motorised dishes. Motorised dishes tend to be larger than other satellite dishes, making them inconvenient for individuals with limited space. The minimum diameter for a motorised satellite is 80 cm, and diameters of 90 cm to 1 metre provide optimum results.
Motorised dishes feature one of two different types of motors: a 36 volt motor, designed for larger dishes, and the Diseqc motors, which are suitable for dishes up to 90 cm.
Satellite Dish Sizes
The size of a satellite dish is the most important factor governing the number of channels a system can receive. This is because the surface area largely impacts the number of satellites the dish can communicate with. The minimum radius required to pick up signals from two or more satellites is 80 cm. Larger dishes are also able to withstand harsher weather, making them a good option for windy, stormy, or snowy locations.
Information on the LNB
The type of LNB, or low noise block downconverter, chosen for a satellite dish impacts what functions the dish has. The LNB is the little arm that comes off of the dish. The dish focuses the signals it receives into the LNB, which then converts the signals, and sends them down the cable. The table below provides more information on the type of LNBs available, as well as their uses.
LNB Type

LNB Features

Sky "universal" LNB

Designed for Sky dishes

Zone 1/Zone 2 compatibility

Single-line LNB

Receives one satellite signal

Sends signal to one receiver only

Dual Band LNB

Receives multiple satellite signals

Multi-LNB

Sends output to multiple receives through coaxial cable
The LNB desired depends on the receiver and channel needs of the user. If the user only has one television set, a single-line LNB is suitable. On the other hand, if multiple televisions and receivers are dependent on one dish, a multi-LNB is recommended.
Zone Designations for Satellite Dishes
Different areas have more of a satellite footprint, or coverage, than others. Satellite dishes used in areas with less of a satellite footprint need more surface area to capture the satellite signals than those in heavier covered areas. Because of this, zones have been established to allow users to know the size of satellite dish they may require.
Zone 1
Zone 1 satellite dishes are smaller as they do not need as much surface area to pick up the signal, because they are in a heavily covered satellite. Sky satellites are focused primarily on England, so a Zone 1 satellite dish is suitable for this area. Zone 1 dishes typically have a 45 cm diameter.
Zone 2
Zone 2 satellites have more surface area, and are thus effective even in areas with weaker signals. For example, most of Scotland, Ireland, and northern England are areas that may need a Zone 2 satellite. Zone 2 satellites typically have a 60 cm diameter.
Satellite Broadcasting Services
Some satellite signals, called free to air channels, do not have a charge associated with them. The dish just needs to be oriented correctly. Other channel signals are not available to watch unless they are paid for. The sections below discuss the most common service types.
Sky
Sky is a brand name of satellite television and radio service. Sky utilises Astra satellites, located at 28.2 degrees east, and Eulesat's satellites at 28.5 degrees east. Sky has three different television receiver boxes: the Sky digibox, Sky+, and Sky+ HD. The Sky+ box can record programmes for later viewing, and can pause live TV. Sky is the largest pay-TV broadcaster in the United Kingdom.
Freesat
Freesat use the same satellites as Sky, but operates entirely differently. It is run jointly by the BBC and ITV, and is free to view. Note that, although Freesat does not cost a monthly fee, viewers must purchase a receiver. Either a Sky box or a Freesat box will work with Freesat.
Satellite Dish Appearance
A satellite dish is sometimes a visually unappealing addition to a building or neighbourhood. However, there are placement strategies and other methods of keeping them from being overly obtrusive. Some dishes look better on certain houses or flats than on others. Satellite dishes do not come in a wide variety of colours. Buyers are basically limited to darker dishes, white dishes, and mesh or transparent dishes. Because few colour options are available, proper placement of the dish is important, to keep it from being an eyesore. To disguise the dish, buyers can mount it on a rear wall of the building, near shrubs, or near a chimney. Be sure not to mount it where the the satellite signal might be blocked.
How to Buy a Satellite Dish on eBay
eBay has a large selection of satellite dishes to choose from. First, decide on your satellite dish and LNB needs, then begin the search. Enter "satellite dish" into the search box on the eBay homepage. This should return a lot of results. You can produce zone-specific results by including your zone as a keyword. This returns more relevant results. Other descriptive keywords, such as brand name, size, etc., also help to narrow the search results.
Be sure to read the entire item listing to understand the important features of the satellite dish. Message the seller if you have questions. Effective communication can clear up any confusion, and helps you to make sure that you are buying the correct product.
Because satellite dishes can be quite large, you may want to limit the search results to sellers in your area. To do this, type your postcode into the box under the "Distance" tab. From there, if the seller and buyer are agreeable, arrangements may be made to pick-up the dish, which may decrease the postage cost. This also limits the number of search results, dramatically. If you would like to see more listings, use broader search terms. Check to see if the seller has any other items that may be useful, or check to see if they have a satellite bundle available. Either option can save you shipping costs.
Conclusion
Satellite dishes let viewers watch many channels, making the satellite dish a good option for those who enjoy television. Important considerations when purchasing a satellite dish include the type and size. The size impacts the number of satellite signals the dish receives, and also makes it more weather durable. The type of dish affects the number of signals it receives, as well. Stationary dishes must be manually moved and pointed towards a satellite, whereas motorised dishes are remotely adjusted from inside. Motorised dishes are able to pick-up signals from satellites located in different parts of the sky.
The LNB, which looks like a small arm coming off the dish, impacts reception, as well. It also determines how many cables and receivers the signal is carried to.
When shopping for a dish, make certain it matches your zone. Also, make sure that the satellite is positioned towards the appropriate satellite. There are a variety of free to air channels and paid channels available, as long as you use the right equipment and orient the dish properly.
Dishes are sometimes an unsightly addition to a building, but there are ways to make it less conspicuous. Whether it is is unsightly or not, however, a satellite dish can be an important communications tool. They are sold in electronic stores, both brick and mortar and online. eBay has a large selection of dishes available, and makes shopping quick and convenient.