The whole idea behind the Snap Circuits games is to give children the chance to learn about electronic components and how the components work together in a circuit. The kits come with electronic grids and various components and relays they must put together to build complete circuits. The components are mostly on blocks that connect to the circuit boards. Each Snap Circuit game varies in difficulty and comes with a specific number of fun projects for kids.
Snap Circuits Jr. SC-100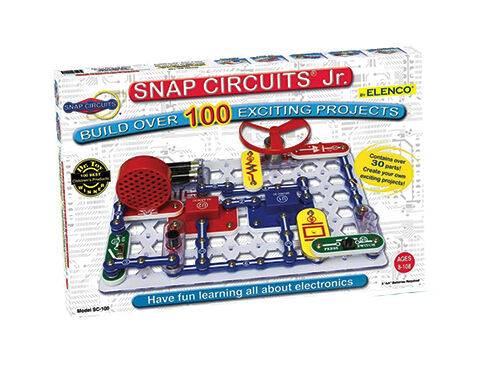 The easiest game is the Snap Circuits Jr. SC-100 kit. It has won several awards and received a nomination as one of the 100 Best Children's Products in the United States. The game comes with 100 building projects as well as detailed instructions with illustrations for each project. It includes 30 pieces that snap together, a circuit board, and kid-friendly building projects, such as a doorbell and a burglar alarm.
Snap Circuits SC-300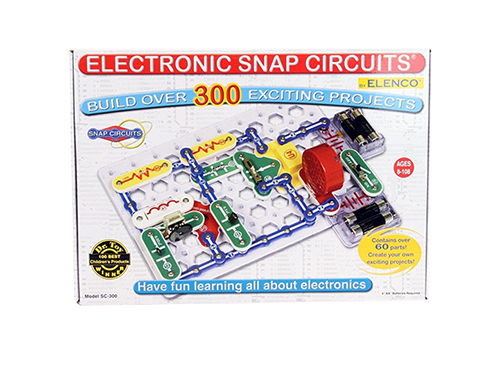 The Snap Circuits SC-300 comes with the 100 projects included in the Jr. version, plus 200 more. It contains 60 colour-coded circuit pieces, components, resistors, a microphone, switches, and wires that connect together on the circuit board. No soldering or extra tools are necessary, and the pieces include colour coding and numbers. Additionally, the illustrated instruction manual starts with the easiest project first and then increases in difficulty with each project so that kids learn about electronic circuits as they go. Some of the projects include a lamp, fan, doorbell, laser gun, race game, lie detector, motion detector, and flood alarm. The company recommends this version for children 8 and over, and it requires two AA batteries.
Snap Circuits Pro SC-500
Things get more advanced with the Snap Circuits Pro SC-500. It includes 70 total pieces and 500 electronic projects to build. The kit includes slide switches, resistors, an FM radio module, voice recorder, wires, an LED display, and more. Again, each piece includes colour coding and numbering to correspond with the illustrated instructions included with the game. Children progress as they build each of the projects and gradually learn how electronics power the things they use on a daily basis. Once kids complete the SC-500 projects, they can then progress to designing their own circuits and upgrade to the SCM-400 or the SC-750, which include even more intricate projects. Rather than purchasing new sets, parents can also find the UC-80 and UC-100 upgrade kits with additional pieces.