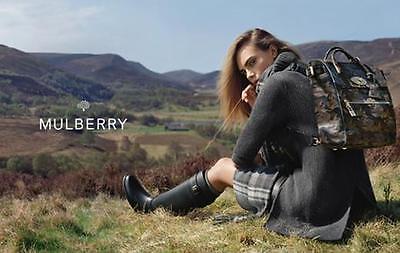 How To Authenticate Mulberry Handbags
Mulberry has established itself as a British lifestyle brand specializing in leather goods since it was founded in 1971 by a young entrepreneur named Roger Saul and his mother Joan. Today, Mulberry houses a full range of products including menswear, womens wear, leather goods and footwear.
In 2007, designer Emma Hill was appointed as the creative director of Mulberry. She is credited with turning the Somerset-based brand into an international fashion powerhouse. With the introduction of new handbag styles named after modern fashion icons like Alexa Chung and Cara Delevingne, Mulberry has cemented itself as the go-to label for a quintessential British "It-Girl" look.

Although Mulberry is fairly new to the luxury market, counterfeit handbags are frequently produced. This fact, in tandem with the rise in popularity of luxury resale, can make shopping for an authentic designer bag seem daunting. Below are some tips to guide you through authenticating Mulberry handbags.

1. Leather and Lining

Many Mulberry bags are made from grained, thick calf leather that makes them sturdy, durable, and structured. A calf leather Mulberry bag should be able to stand up on its own. Contrary to the belief that luxury handbags should always be lined, Mulberry bags can come lined or unlined. Some will have a plain canvas lining, while others may have a fabric lining that is printed with the mulberry tree logo.

2. Inside Heat Stamps and Brass Discs

Every Mulberry bag comes with a leather tab heat-stamped with its logo as well as an attached metal disc engraved with the iconic Mulberry tree. The font of the heat stamp on the inside of the handbag will always be sans serif. You will also notice a difference in the stamped mulberry tree on the metal disc: The tree should be stamped very delicately with negative space between the leaves.

3. Serial Numbers

Not all Mulberry bags come with serial numbers - for example, if they are an older style or come from an outlet. Though Mulberry uses a unique serial number for each bag, there are certain serial numbers that are red flags and often times used in counterfeits. In addition, a counterfeit disc is deeply engraved, rather than lightly laser etched like the authentic one.

4. Hardware

Mulberry handbags will always have stamped buckles (if the handbag style has buckles), and the font should be consistent with that of Mulberry's branding. The counterfeit Mulberry handbag has stamped buckles, but the font is thinner and slightly askew. On the authentic Mulberry handbag the branded stamp is thick, straight and even.

Note: Mulberry also stamps rivets and other round small hardware with the mulberry tree logo. This stamp should be consistent with that of the mulberry tree on the inner metal disc .

5. Stitching and Trim

Stitching on Mulberry handbags can also be an indicator of authenticity. Oftentimes, counterfeit handbags will have uneven stitching and the casing around the edges of the leather is painted carelessly. On the authentic Mulberry handbag, you will notice that the stitching is extremely straight and that each stitch is the same size throughout. The casing around the edges of the leather is neat and there is no sloppy edge.

6. Country of Origin

It is also important to note that Mulberry used to produce all of its leather goods in England, but in recent years has started outsourcing some of its production to places like China and Turkey. Today, only about 30% of Mulberry bags are actually produced in England and it is not out of the ordinary to find a "made in china" tag inside a newer Mulberry bag.