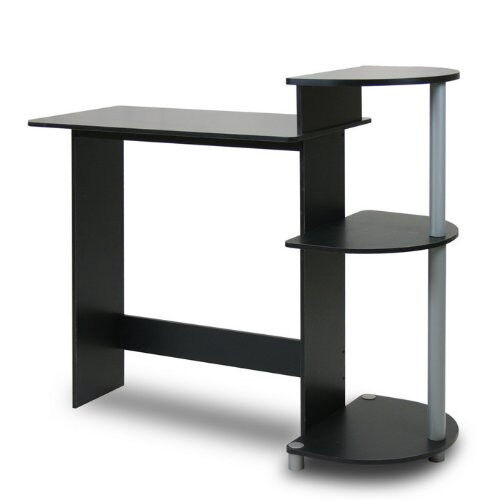 Standing desks are ideal for use in a variety of situations. For some people with medical conditions, such as Scheuermann's disease or scoliosis, a standing desk is a comfortable alternative to a traditional desk. In some industries, such as food service or customer service, standing desks facilitate easy movement from computer-based tasks to other tasks.
No matter what the reason a person has for needing a standing desk, finding the most suitable one becomes a priority. Because there are mobile standing desks and stationary standing desks, it is possible to find one for any need. Anyone considering buying a standing desk should consider a few points before making the purchase.

Types of Standing Desks
There are several types of standing desks to choose from. When trying to find one to purchase, consider the purpose of the desk. Tabletop, height adjustable, and fixed are three basic types of standing desks. Each of these types has a use that it is best suited for, so figuring out the main use for the desk is the first step to choosing the most suitable standing desk.

Type of Standing Desk

Ideal Industry or Purpose

Small offices or rooms with another desk

Conference rooms

Retail applications

Larger offices or rooms

Fixed

Retail applications

Public speaking

Time clocks

Training computers

It is possible to use any of these three types for any purpose, but each is best suited for a specific purpose. It is important to know how these types vary from one to another. This helps ensure the most suitable standing desk is chosen from the start.
Tabletop Standing Desks
Tabletop standing desks are ideal for people who need to supplement a current desk or table. They work well when space is at a premium and having two types of desks is not possible. Generally, the desks can be stored under a table or in a cabinet when they are not on the desktop. They usually have protective pads on the legs so they do not scratch the desktop or tabletop they are placed on.
Height Adjustable Standing Desks
Height adjustable standing desks are a suitable option when more than one person uses the desk, or when the height of the potential users is not known. Retail stores can use the desks for cash stations. They are also ideal for larger offices or conference rooms where there is room for multiple desks. Height adjustable standing desks can also be used as the only type of desk in a smaller office that is unable to accommodate a larger desk. Adding a tall stool to the room can provide a place to sit when standing is not ideal.
Fixed Standing Desks
Fixed standing desks are available in a variety of height options. The desks are ideal when the height of the user is known. They are also a suitable choice to use with time clocks or training computers. Some standing desks are used for public speaking when the speaker needs more room than a standard podium, such as when a laptop is necessary.

Standing Desk Accessories
Many standing desks have accessories that enable the desk work in a wider variety of applications. Cash drawer mounts, sliding keyboard trays, rolling casters, and cord management systems are a few of the most common accessories.
Cash Drawers and Keyboard Trays
When trying to determine which accessories are necessary, consider all possible uses of the desk. For example, if a standing desk is used in a training room for a retail center, cash drawer mounts are necessary if actual cash drawers are used in training or if the desk might be moved to the sales floor at some point. Sliding keyboard trays are ideal for office use, so if the standing desk is used with a desktop computer, the tray would be a good accessory for the desk.
Some standing desks have more than one accessory option, but some accessories might not be compatible with others. In most cases, cash drawer mounts are not compatible with sliding keyboard trays because both are usually housed in the same space under the desktop. The exception to this is if the cash drawer mounts are fixed on the legs of the standing desk instead of under the desktop.
Cord Management and Rolling Casters
Rolling casters and cord management systems are usually compatible with other accessories because neither takes up space that other accessories require. Rolling casters are housed on the bottom of the legs to facilitate easy movement. Cord management systems are usually located on a corner of the desk or along the back of the desk.

How to Buy a Standing Desk on eBay
Whether you need a new standing desk or a used one, you can find what you need on eBay. Choosing a standing desk from a seller that is nearby ensures a timely delivery and enables you to get started with your work as soon as possible. It can also save you money in shipping costs if the desk does not have to be shipped cross-country. You can search by desk size, color, material, or manufacturer to make it easy to find the desk that best suits your needs. Once you choose the specifics of the desk you desire, check current listings to find the desk you need.

Conclusion
Standing desks are a suitable alternative to traditional desks in several situations. With under-desk mounting for cash drawers, sliding keyboard trays, rolling casters, or cord management systems, standing desks include a variety of features that make them suitable for almost any industry or use. The key to finding a suitable standing desk is to think about the necessary features, and then looking for a desk that is priced affordably. With the vast array of colors, materials, and sizes available, standing desks to suit any need and to fit into any decor are available. Whether a person is trying to replace or supplement a traditional desk, standing desks are usually a viable option.