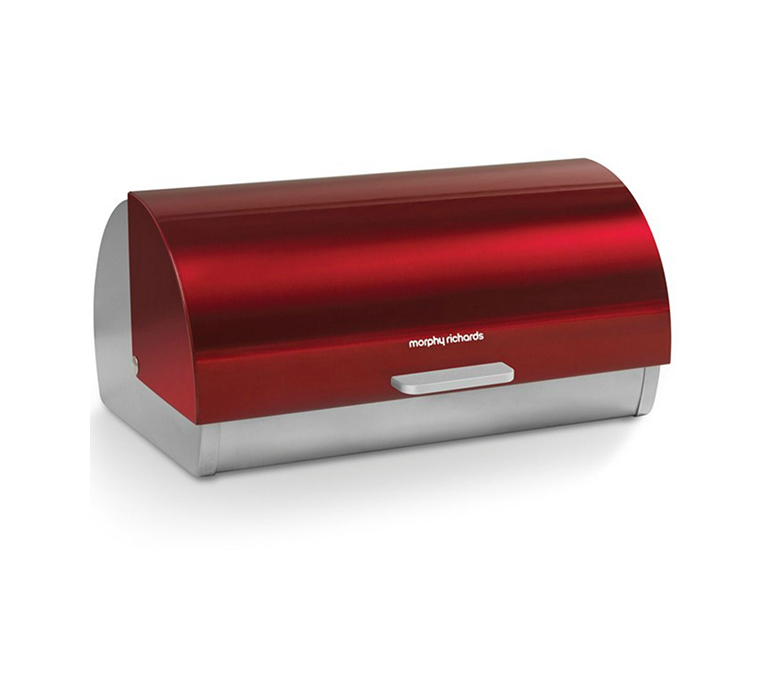 Although the bread bin is one of the influential parts of a kitchen's make-up, it is often a commodity ignored by respective buyers when coming to style out the room. However, the countless selection of bread bin designs on the market means that a diverse range of tastes can be catered for.
Before committing to buy, it is advisable to check out auction website eBay which will have plenty of models for sale within its listings. For plentiful items such as bread bins, eBay is a sensible place to search as listings can be narrowed down by personal preference and examined next to each other in respect to their condition and price.
Use of Bread Bins
· The popularity and sometimes reliance on bread as a foodstuff in the UK gave birth to the invention of the bread bin; a holding container designed to keep it fresh. Designed to make access easy, it comes in a varying degree of styles.
· Bread goes stale when it comes into contact with oxygen over an extended period of time; this is because bread contains high amounts of starch, a substance which reacts with the bacteria in oxygen.
· Starch will crystallise quickly if bread is left unattended in varying types of air. It makes the bread harder and trickier to bite into, starting from the crusts and working inwards. Contrary to popular belief, this is why placing it in the refrigerator actually speeds up the moulding process as the air is colder.
· However, keeping bread in a freezer will keep it usable for longer as the starch reaction with the air is suffocated. This isn't a practical solution for some households however as space may be limited and bread is often needed on hand.
· This is where bread bins come in handy; they are designed with a lid to prevent bread from being exposed from too much hot or cold oxygen. They can't actually do anything about mould in the long run but simply help store it at the right humidity to help preserve.
· If pests are a problem in the home, such as mice or various insects, then the bread bin will also provide an element of protection. In addition, some homemakers and housewives in particular simply like to have a particular place for all of their kitchen supplies. Bread bins add neatness to the room and mean that bread won't be left out on kitchen surfaces every time it has been used.
Material of Bread Bins
There is no real precedent for which material bread bins should be constructed out of. They can simply depend on the personal preference of the buyer. The table below looks at some of the most widely-used bread bin materials in more detail:
| | |
| --- | --- |
| Material | Description |
| Ceramic | Ceramic materials such as earthenware and porcelain have been used for many years for household equipment, including bread bins. They add a simple but traditional look to the kitchen and are easy to wipe clean. |
| Enamel | Another long-established type of bread bins are ones coated with enamel paint that dries to a hard and glossy finish. They are generally made from metal, but with the enamel texture applied on top. It gives them an extended life-span and a robust exterior. |
| Metal | Steel is the predominant metal used for contemporary bread bins and can become a feature of the modern kitchen. Their shiny and minimalist appearance can come with a range of innovative design enhancements which are not possible with other materials. |
| Wood | Some homemakers choose a wooden design of bread bin, often to tie in with the existing style of the kitchen. They give off a more natural feel to the room and can be designed in many shapes to suit personal tastes. |
Do's and Don'ts of Buying a Bread Bin
* DO have an idea of which style will suit your kitchen before coming to buy. This makes the buying process much easier, especially if using a site such as eBay, as the wide selection of bread bins can be narrowed down significantly.
* DON'T over compensate style for practical use. Think in terms of how big the bread bin should be as well as how it looks. Larger families may be using two loaves of bread at a time. Both white and wholemeal bread may be purchased also. This means that the bread bin must be big enough to hold more than one loaf, as well as any other foodstuffs such as crumpets or bread buns which may be stored in there.
* DO consider buying more than one bread bin if necessary. As just mentioned, many items can be stored in a bread bin, not just bread. If a particular model is desired but on the small side, then buying two could be a practical solution.
* DON'T buy a bread bin without knowing its size dimensions. In all probability, a space will already have been set out for where the bread bin will be positioned. Consider the necessary length and width, along with the height, and evaluate which size of bread bin will be most suitable.
* DO evaluate the mechanism of the bread bin, i.e. how access to the bread is managed. Some models, most often made from ceramic materials, may have a simple lid on top of the bread which is removed to provide access. A lot of modern versions incorporate roll top designs which can be easily slid open.
* DON'T feel pressure to over spend on a bread bin as many can be found for low amounts, especially if looking on eBay. Some basic and smaller models can be found for as little as £10. Some newer, stainless steel designs can fetch over £100 and although an accessible and attractive bread bin is preferable, there is no need to spend this amount in reality unless you can easily afford it.
* DO consider the current fittings and colour scheme of the kitchen. Think of which material will best be suited to the existing design, along with a certain colour if necessary. Searching forwhite or red bread bins is possible, made easier if searching on eBay for example. Wooden finishes can fit nicely into a kitchen to coincide with other wooden cupboards and drawers.
* DON'T position the bread bin in areas susceptible to sunlight. In hotter temperatures, bread is more likely to go mouldy if left for long periods of time. Some steel models actually conduct heat, making this more of a worry. Also, consider the bread bin being placed next to certain kitchen appliances which also generate heat.
* DO bear in mind that the bread bin will need to be cleaned from time to time to uphold its appearance and for hygienic reasons. Of course, many breadcrumbs will scatter the area where bread is being handled, often a nuisance to clean up time after time.
* DO look at whole storage sets and not just singular bread bins. Manufacturers often produce matching containers for items such as tea bags, coffee beans, sugar and different bread-types. This provides a fantastic symmetry in the kitchen meaning that different items will complement each other.
Where to Buy a Bread Bin From
Many home décor shops will sell different types of bread bins for customers to look through and purchase. However, they will only stock a limited amount and those only in line with the current batch on the market. Shopping online however will provide much more choice and if the particular bread bin is evaluated efficiently enough, the purchase will be a successful one.
It is common knowledge that eBay provides users with the chance to find items for less than the market average, notably by using the auction facility and be prepared to buy second-hand items. There will be many brand new bread bins available to purchase immediately also. There are plenty of ways to search on the site also, something very useful in trimming down the different types of bread bins to find the perfect one for you and your home.
Using eBay
To begin a search, then simply typing in "bread bin" on the eBay home page will bring up all the results listed by numerous amounts of sellers. A set of results will appear alongside a menu on the left hand side of the page. This menu will initially include different categories for which sellers may have listed their bread bin; these include 'Cookware, Dining & Bar,' 'Kitchenalia' and ' Home Décor.'
After selecting one of the main categories, the list can be narrowed down even further in line with the required material, style and colour as well as the condition and price range. By clicking on an individual item, more information will be presented about the bread bin and also the postage and payment information. Read this carefully and also check out the seller before placing a bid or committing to buy.
Conclusion
Bread is one of the most common foodstuffs bought and used by households all over the UK. To keep it fresh and provide a certain place for it to be stored, bread bins have been designed in a variety of styles and colours to suit any type of existing kitchen décor.
Searching online and specifically on eBay is advisable as plenty of designs from past and present ranges can be evaluated in the same place. Before committing to buy, set a budget and browse as many listings as possible to find the best deal.