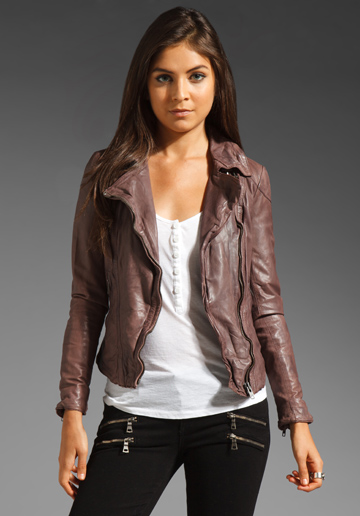 Biker jackets, whether for protection or for fashion, can be very expensive, so it pays to be armed with a little knowledge in order to make a wise purchase decision when it comes to these items. Buyers should be aware of the specific things to look for when buying a biker jacket for fashion or for riding. When it comes to fabrics, buyers should take into consideration the various options and be aware of the differences in quality, protection, and price. The chic girl looking for a biker jacket is advised to buy a jacket that offers her the proper fit, regardless of the purpose that the jacket may serve.
Depending on the type of biker jacket a girl wants purchase, she can head to various clothing stores or to specialty motorcycle stores. Biker jackets are also available at select second-hand stores, where buyers can find top-quality jackets at reasonable prices. Buyers also have the opportunity to head online to eBay to purchase new or used biker jackets. This auction website offers a wide selection of jackets at competitive prices.
The Chic Girl's Biker Jacket for Fashion
The biker jacket has always been a classic fashion item for both men and women. But for the chic girl looking for that perfectly styled jacket to complement virtually any outfit in her wardrobe, she needs to know what to look for when buying this article of clothing. Fashion biker jackets are designed with quality, comfort, and style in mind. They are not the same as riding biker jackets, as they do not necessarily offer safety and protection from elements, unlike a riding jacket. Instead, the fashion biker jacket is designed to be worn with a range of outfits, from lovely summer maxi dresses through to tight jeans and high heels. Fashion biker jackets range significantly in price. Depending on the budget, a woman has a range of options when it comes to quality and fabrics. Once she has found her brand, type, and style of jacket, the chic girl should then get the sized jacket that offers the right fit.
What to Look for in a Fashion Biker Jacket
There are three important aspects to consider when buying a biker jacket for fashion purposes. A buyer should consider quality, fabric, and fit. Personal preference and budget are two factors that often directly influence her range of biker jacket options.
Quality
Top quality biker jackets are very expensive to purchase. However, a top quality jacket can, if properly cared for, provide the wearer with years of enjoyment and comfort. It is more likely to continue to look and feel as great as the day it was purchased, even after many years of wear. Choosing a classic style biker jacket can help to ensure it does not go out of fashion, an ideal benefit when buying a high priced item of clothing. The best quality jackets are made from leather. Designer leather biker jackets from well known brands such as Animal, Armani, DKNY, or Ted Baker offer the chic girl both top quality and the latest in fashion style.
Fabric
When it comes to fabric options, leather is more popular. Leather biker jackets offer durability, breathability, comfort, and warmth. They also look stylish and sit well on the body. Leather biker jackets tend to be among the expensive jackets one can buy.
For the chic girl on a budget who still wants a fashionable and stylish biker jacket to wear, she can opt for faux leather, a fabric designed to look and feel like leather. Artificial leather may be made from various cotton materials that have been treated to look like leather or from various plastics. Faux leather biker jackets are ideal for those on a budget. Faux leather is inexpensive to produce, meaning one can buy a realistic leather-look biker jacket at a fraction of the cost of buying a genuine leather jacket. However, faux leather is not as durable as genuine leather, nor is it as breathable or as warm.
Fit
The chic girl looking for a fashion biker jacket wants to ensure she gets the right fit of jacket. A biker jacket is designed to sit snug against the body. Biker jackets tend to sit short on the waist, with a tight, yet comfortable fit across the chest, shoulders, and down the arms. A well-fitted biker jacket offers enough movement and flexibility for the wearer to be comfortable in, without being baggy. When trying a jacket on, the woman should zip it up, move about in it, stretch her arms forward, and lift her arms above the head to ensure the correct fit. A biker jacket is not designed to be worn over lots of thick layers. It is advisable to try the jacket on with the type of outfit one plans to wear with the jacket.
The Chic Girl's Biker Jacket for Riding
A girl looking to purchase a biker jacket for safety and protection while on her motorcycle has some very different considerations compared to the woman looking for a fashion biker jacket. A riding biker jacket, or motorcycle jacket, is designed with the utmost safety measures in mind. How it looks from a fashion point of view is not as important. Any chic girl who chooses to ride a motorcycle should wear protective gear. In the event of an accident, it is the protective layers, including the jacket, which may be the difference between the rider receiving minor injuries or major injuries.
What to Look for in a Motorcycle Biker Jacket
The important considerations when looking for a motorcycle biker jacket include its fit, the level of protection it offers, and comfort and breathability.
Proper Fit
A motorcycle jacket is designed to fit the wearer when she is on her motorcycle. Proper fit of a motorcycle jacket is therefore an important consideration. For this reason, the fit of the jacket is different from that of a fashion biker jacket. An ideal motorcycle jacket should offer more room through the shoulders, have a longer arm length so that it covers the wrists, and sit longer at the back to cover the top of the wearer's pants. A motorcycle jacket should offer enough room so that it does not restrict the wearer's movements. For this reason, one should look for a biker jacket that has adjustable closures around the neck, waist, and wrists. This ensures the jacket sits flat against the body, without flapping about in the wind. These closures also keep the wearer warm in cool weather.
Protection
A motorcycle biker jacket is designed to offer protection for the rider should she fall from her bike. Reinforcement with metal plates, plastic, or extra padding can help to protect the elbows, back, and shoulders. A jacket that features some reflective material offers added safety, especially when riding at night. The girl looking for a chic and stylish motorcycle jacket need not be concerned. Many manufacturers make attractive jackets that still feature reflective piping down the sleeves or across the back, without compromising on fashion.
Comfort and Breathability
Any rider understands the importance of having a motorcycle jacket that is comfortable to wear. When it comes to comfort, a girl wants her jacket to be breathable in warmer weather and waterproof during cold wet weather. Some jackets feature removable liners, enabling one to wear her jacket all year round. Underarm vents and shoulder vents are ideal for keeping cool and comfortable. These vents are usually zip closures that are easily opened and closed as needed.
Waterproof motorcycle jackets may be made from strong synthetic materials. These materials are designed to be lightweight, tough, and offer protection from the elements as well as from potential harm should the rider suffer a fall. High density Nylon or Kevlar fabrics are often used as they offer everything a rider needs to feel comfortable and safe while on her bike.
Finding the Right Size Biker Jacket
When it comes to finding the right fit for a biker jacket, sizing and design vary between a jacket designed for fashion purposes and a jacket designed for motorcycle riding. When buying a fashion biker jacket, women simply go with the fit that they feel comfortable with and look good in. However, when it comes to buying a motorcycle biker jacket for protection and safety while riding, one needs to take a little more care when sizing up the right jacket. The following table provides a list of jacket sizes and corresponding measurements in centimetres.
| Jacket Size | Small | Medium | Large | X-Large |
| --- | --- | --- | --- | --- |
| Bust | 84-86 | 89-91 | 94-99 | 102-107 |
| Waist | 66-69 | 71-74 | 76-79 | 81-86 |
| Hip | 94-97 | 99-102 | 104-107 | 109-112 |
Buyers should note that measurements may vary between different brands. It is recommended that the buyer try on a jacket or verify size with seller before buying it to ensure accurate fit for optimal safety, protection, and comfort while riding.
Buying a Biker Jacket on eBay
Buyers can take advantage of all the benefits that eBay has to offer. Those looking to buy a women's biker jacket may take advantage of eBay's many user-friendly features, including simple search methods, secure payment options and mobile phone applications. The auction website also lists top-rated sellers to increase confidence in the buying process.
To find girl's biker jackets, you simply need to type "women's biker jackets" into the search bar on eBay's homepage. You are then presented with a long list of the items for sale on the website. In order to refine this search, you may use the available search category options, which include searching by size, condition, material, price, style, or brand. Alternatively, you may use the search bar to search for a specific type or style of jacket. For example, if you are looking for a size 10 black leather biker jacket or a faux white leather biker jacket, you simply need to type the specific term into the search bar to get the appropriate listings.
Conclusion
A biker jacket is not only an item that increases safety for those who ride motorcycles, but it is also a popular and fashionable item of clothing that enhances a chic girl's wardrobe. With the right style and fit, a biker jacket can look ultra stylish on the wearer. A woman who needs a biker jacket as a fashion statement may have different considerations compared to the woman who is looking for a jacket to wear while riding a motorcycle. She has a choice of fabrics to choose from, including leather and faux leather, and the fabrics differ in quality, price, and the level of protection they offer. Getting the right fit can ensure that a jacket looks great and feels comfortable. With its user-friendly functionalities, eBay enables buyers to find different types of biker jackets from sellers in varied locations. The website makes it easy for a woman to add a chic biker jacket to the wardrobe from the comfort of her home.