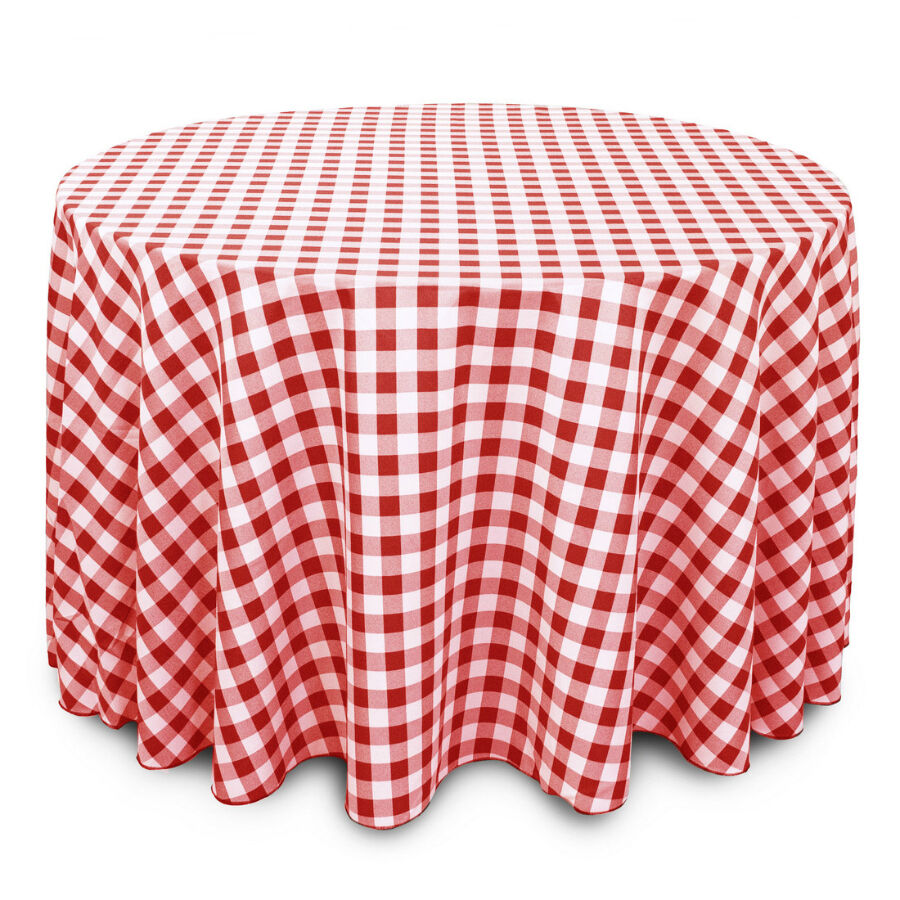 Tablecloths add interest and style to a dining table as well as protecting it from food and drink spillages which could cause damage. Different types of material are used to make tablecloths and they are available in various dimensions to suit different sizes and shapes of dining or kitchen table.
Choosing a Tablecloth
Choosing a tablecloth depends extensively upon personal taste and style of current decor, but there are also practical considerations to factor in, such as the size and shape of table, placement of tablecloth and required overhang, frequency of use and likelihood of spillages, ease of washing, and required durability.
Size, Shape, and Overhang
Tablecloths are available not just in rectangular shapes, but also in squares, ovals, and circular shapes, to suit the four basic shapes of table. Choosing the right shape will ensure the tablecloth sits neatly on the table with no bunching or creasing. Rectangular tablecloths are by far the most common and there is the most choice available for this shape. There are some standard sizes of tablecloth, but some sellers will also sell made to measure products. These may be completely made to measure or they may specify a standard width. For standard tablecloth sizes, sellers will often specify which size table is suitable or how many people the tablecloth will seat. The table below gives an approximate indication of these sizes and guidelines on how to measure a table to calculate optimum tablecloth size. The guidelines can also be used to measure larger tables.
Measure length and width of table and allow approximately 20 cm – 25 cm overhang each side

5 - 8 people

Table size 90 – 120 cm x 170 – 280 cm

Tablecloth size 140 – 160 cm x 220 – 320 cm

2 – 4 people

Table size 70 cm – 100 cm x 110 cm - 140 cm

Tablecloth size 120 – 140 cm x 160 cm - 180 cm

Measure length of table, allowing about 40 cm – 50 cm extra or 20 cm – 25 cm overhang each side

5 - 8 people

Table size 110 cm – 140 cm x 110 cm x 140 cm

Tablecloth size 160 cm – 180 cm x 160 cm – 180 cm

2 – 4 people

Table size 80 cm – 100 cm x 80 cm – 100 cm

Tablecloth size 130 cm – 140 cm x 130 cm – 140 cm

Measure length of table at longest point and width of table at widest point, allowing about 40 cm – 50 cm extra for overhang

5 – 8 people

Table size 100 cm – 130 cm x 170 cm – 190 cm

Tablecloth size 150 cm – 170 cm x 210 cm – 230 cm

2 – 4 people

Table size 80 cm – 110 cm x 120 cm – 150 cm

Tablecloth size 120 cm – 160 cm x 160 cm – 200 cm

Measure diameter of table and add 40 cm – 50 cm to allow for adequate overhang

5 – 8 people

Table size 120 cm – 140 cm diameter

Tablecloth size 170 cm – 180 cm diameter

2 – 4 people

Table size 80 cm – 100 cm diameter

Tablecloth size 130 cm – 150 cm diameter
Bear in mind that the general way to place tablecloths on a square or rectangular table is with the edges of the tablecloth parallel to those of the table. However, tablecloths can also be placed diagonally. This can be an interesting way to place them and can also save space if the tablecloth is slightly too small, though some sections of the table may be exposed. If the table is especially valuable, it is best to place the tablecloth covering the entire area with a generous overhang. For floor drop lengths for stunning effect add the appropriate overhang by measuring table height, usually about 75 cm. Banquet tables have an intermediate overhang of about 40 cm.
Location and Function
Tablecloths are generally used for dining room tables, but they may also be used in the kitchen or other rooms. Tablecloths are generally taken out for meals and then put away or washed afterwards before their next use, but some are left out semi-permanently on tables. When purchasing a tablecloth, bear in mind how frequently it will be used. If it is to be used regularly, a tougher, more durable and easier to clean tablecloth will be required than one that is only used every now and then. One that is only used for special occasions may call for higher quality material and more intricate patterning.
Material
The material selected will largely depend upon practical considerations such as durability and ease of washing. Tablecloths for everyday use generally need to be tougher and more stain resistant than those brought out for special occasions. Tablecloths are manufactured from a variety of materials both natural and synthetic, or from blends of different materials.
| Material | Description |
| --- | --- |
| Polyester | Easy to clean, machine washable at 40 degrees, tough and resilient to creasing and stains. Care should be taken when ironing – use a cool iron. Crisp appearance. |
| Polyester cotton blend/Polycotton | Combines advantages of both polyester and cotton to provide a fabric that is machine washable and durable with a soft, smooth appearance. Blends are often around 50 – 70per cent polyester and 30 – 50per cent cotton, but this should be specified by the manufacturer. |
| Cotton | Easy to clean, machine washable at 40 degrees and durable. Can be ironed with warm iron. Soft texture and smooth appearance. |
| Linen | Simple to clean and machine washable. Allow for slight shrinkage. Durable. Tends to wrinkle easily but can be ironed with a hot iron. Slightly rough texture and crisp appearance. "Linen" is sometimes used as a general term for fabric – if in doubt check the fibre content which may describe the item as cotton or polyester. Real linen is obtained from the flax plant. |
| Polyester linen blend/Polylinen | Combines advantages of both polyester and linen to provide a fabric that is less prone to wrinkling but has the attractive appearance of linen. |
| Faux silk | A type of polyester that has the appearance of silk. It has the qualities and care requirements of polyester. |
| Lace | Often used for tablecloths for special occasions and found in vintage and antique tablecloths. It allows the underlying table to be seen which can be an advantage. Lace looks beautiful but is not generally suitable in large sections for an everyday tablecloth. It is fragile and also does not provide full protection for the table. Many tablecloths may have lace edging. |
| PVC | Can be easily wiped clean without the need to wash or iron. Durable and resistant to fraying. Gives full protection to the table and resistant to stains. Suitable for children's parties, picnics, and similar occasions. |
| Vinyl | Can be wiped clean. Washing and ironing are not necessary. Tough and will not fray. Protects the underlying table. Stain resistant. A good option for children's parties and can be used outdoors for picnics. |
| Acrylic | Durable and resistant to stains. Can resemble cotton in appearance. Machine washable. |
| Paper | Not as durable as other materials but good for parties and similar events. Often come in novelty and seasonal designs. Easy to wipe clean. |
| Wipe clean cotton | Cotton that has been treated to enable it to be hardwearing, water and generally stain resistant. Most spillages can be easily wiped away. The cotton is coated with resin. Wipe clean cotton is not generally heat resistant. It can be ironed on the reverse with a cool iron. |
Tablecloths described as "fabric" could be any type of material as it simply refers to a woven material. Check with the seller if the product description does not give further information. Disposable tablecloths are a good alternative to traditional tablecloths for parties and similar occasions.
Find Tablecloths on eBay
There are many varieties of size, shape, and type of tablecloth available on eBay. To search for them begin at the eBay home page. To the left of the screen are tabs with the first titled All Categories. Select the Home & Garden tab and click on the Home & Garden link that appears in the drop down selection. From the tabs select Furniture & Living and click on the Cookware, Dining & Bar link from the drop down selection. Select Tableware, Serving & Linen followed by Tablecloths. Tablecloths can then be selected based on various criteria such as material, shape, pattern, colour and price. Tablecloths can also be searched for in the search tab to the top of the screen. Try terms such as "round tablecloth", "cotton wipe clean tablecloth" or "Christmas tablecloth" to bring up relevant results.
Conclusion
Tablecloths are available in various shapes and sizes to suit different tables and numbers of seats. Which type of tablecloth is chosen will depend upon personal tastes and practical considerations such as frequency of use and ease of washing. Certain materials, such as vinyl and polyester, are more suitable for frequent use as they are resistant to spillages and easy to clean. Other materials, such as lace, are more suited to tablecloths reserved for special occasions as they are relatively fragile and difficult to care for. With such a variety of tablecloths available, there is something to suit all tastes, tables, rooms and events. Research product descriptions to be sure the tablecloth is the appropriate size and material. The perfect tablecloth will complement and add interest and style to the room in which it is placed.