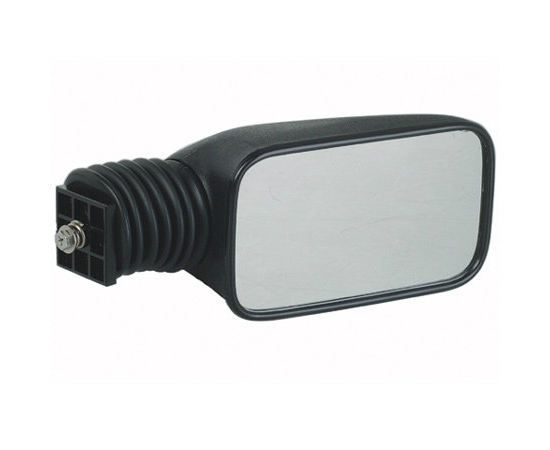 As any driver knows, a rear view mirror is not enough when it comes to keeping an eye on the road. Cars approaching on either side or driving behind a vehicle are often difficult to see without the aid of a wing mirror. The wing mirror, also known as a side mirror, door mirror, or even fender mirror, displays items that may otherwise fall outside a driver's peripheral vision. With the clearer view of surrounding traffic provided by a wing mirror, drivers can be safer on the roads, a benefit not only to themselves but also to other travellers.
A basic understanding of the purpose of wing mirrors as well as the various features and replacement options can serve a prospective buyer well before he or she visits eBay to browse products. Once consumers have gained familiarity with wing mirrors and identified that products that ideally accommodate their needs, they are ready to make informed purchasing decisions via shopping on eBay.
A Brief History of Wing Mirrors
Wing mirrors got their name from their early mounting position near the "wings": small windows on the auto's front doors that could be opened independent of the main window glass on a vehicle. Despite the fact that these wing windows disappeared from automobile production in the 1970s, the name "wing mirror" stuck around. The use of wing mirrors extends beyond automobiles, reaching to motorcycles, race cars, and even World War II fighter planes.
Wing Mirror Operation
Wing mirrors are located at the front of the driver and passenger doors, flush with the bottom of the windows. Drivers should position the mirrors according to their height, seat position, and sight line. All wing mirrors are adjustable vertically, horizontally, and diagonally; this is accomplished either electronically, as with newer cars, or manually, in older ones. Another luxury feature is electrochromic dimming, which draws upon electrical heating to reduce headlight glare from following vehicles. It is not uncommon for a wing mirror apparatus to incorporate turning signal lights as well.
Because of the distance from which the driver views the passenger side wing mirror, the proper field of view is achieved only with the use of convex, or aspheric, mirrors. Since this convexing has the added effect of minimising the reflected image, passenger-side wing mirrors may warn that objects in the mirror appear further than they actually are.
On larger vehicles, including four-wheel drive models and full-size pickup trucks, wing mirrors may be of the fold-in variety. In this case, they may be electronically or manually tucked against the vehicle when parked, to prevent parking lot damage. eBay has for sale wing mirrors for many vehicles and styles, making it easy for buyers to match the products they wish to replace.
In Europe, the European ECE Regulation 46 allows for aspheric, convex, and/or planar wing mirrors. However, researchers recommend non-planar wing mirrors to reduce crashes. Another requirement of ECE Reg. 46 is that wing mirrors must swing away in the event of contact, such as when a pedestrian is struck.
Power Wing Mirrors
Whether factory or aftermarket, original or replacement, two basic types of wing mirrors are available on eBay: the manual and power types. With old-fashioned manual models, the driver must first roll down the window and then adjust the vertical and horizontal positioning by hand. While this works relatively well on the driver side, adjusting the passenger-side wing mirror may take a bit of back and forth. An improved version of manual operation is called "manual remote", in which a small, non-electrical joystick inside the car moves the mirror.
These days, the majority of the cars on the road comes equipped with power wing mirrors. More commonly, the mirrors are adjusted with the use of a four-directional, square-shaped button. Beyond mere positioning, however, power mirrors may offer added features. Whether a driver plans to perform the installation himself or hire a professional mechanic to do the work, eBay offers wing mirrors to meet every need.
Auto-Dimming Feature on Wing Mirrors
When bright headlights are reflected in car mirrors, they can prove somewhat blinding. Anything that obstructs the line of vision is a potential danger, especially when one is travelling at speeds up to 100 kmh. Wing mirrors with auto dimming darken when splashed with light.
Defrost Feature on Wing Mirrors
This feature is important for when dew or frost is a factor. When frost is an issue, a wing mirror's built-in heating system works to defog the glass and keep the driver's vision clear.
Electric Folding Feature on Wing Mirrors
As mentioned, some wing mirrors are foldable, meaning they can rest against the auto body when the car is parked. Whereas this motion is often manual, some power wing mirrors include the ability to fold in at the press of a button.
Memory Feature on Wing Mirrors
Many cars have more than one driver, especially those owned by couples or families. As each person slides behind the wheel, he or she must reposition the seat and mirrors before taking the car onto the road. A wing mirror with memory enables drivers to program their desired positions and then easily recall these settings with one touch.
Light Features on Wing Mirrors
Some wing mirrors include small, white lights that illuminate the ground when the car door is opened. These lights are called security lights.
Some wing mirrors may also include signal lights. Studies have shown that turn signal lights on wing mirrors may be more visible than those located at the rear of the car, by the tail lights.
Positioning of Wing Mirrors
Following the purchase of wing mirrors on eBay and their successful installation, if wing mirrors are to work correctly, they must be positioned properly on the vehicle. It is important to note that the same settings may not be ideal from one driver to the next. Instead, after getting behind the wheel, a driver should check all mirrors, rear view and wing, for proper placement. The correct angles are essential for drivers to be fully cognisant of the road they are travelling on as well as the drivers around them.
In many cases, drivers may not need to roll down windows to adjust side mirrors. Wing mirror movements are typically powered via buttons or small joysticks. The driver should lean slightly to the right until his head lightly touches the window. From this position, he should adjust the wing mirror position until the car's edge and fender appear in the bottom corner; the remainder of the mirror should reflect the surrounding space.
Adjusting the passenger mirror is the same process, only in reverse. Tilting the head to the left in the same angle as to the right, the driver needs to make the same adjustments so that the edge of the fender just barely appears in reflected glass. The two wing mirrors, when used in tandem with the rear view mirror, can provide drivers with a comprehensive view of the road around them.
Replacing Wing Mirrors
In shopping for wing mirrors on eBay, a driver has the choice of four components: the full wing mirror, a wing mirror cover, wing mirror glass, or stick-on mirror glass. When replacing a full wing mirror or wing mirror cover, drivers should select one that is compatible with the car's make and model. If the replacement wing mirror cover does not match the car's paint colour, a quality auto paint shop can match the shade.
If just the mirror glass needs to be replaced, an automobile owner has two choices: replacement car wing mirror glass or stick-on wing mirror glass. The replacement mirror glass provides a more professional appearance and is readily attached to the cover via an included backing plate. Should the broken mirror glass prove difficult to remove, or the owner not feel comfortable performing the task, then adhesive replacement mirror glass can be applied directly on top of the old mirror.
The chart below summarises the requirements that are associated with the different types of replacement associated with wing mirrors.
| | Wing Mirror Required | Wing Mirror Cover Required | Paint Colour Match Required | Tools Required | Door Panel Removal Required |
| --- | --- | --- | --- | --- | --- |
| Full wing mirror replacement | x | x | x | x | x |
| Wing mirror cover replacement | | x | x | x | x |
| Wing mirror glass replacement | x | | | x | |
| Stick-on mirror glass replacement | x | | | | |
The process of replacing a wing mirror is relatively similar from one vehicle to the next: Remove the door panel; disconnect the broken mirror; connect the replacement mirror; and replace the door panel. A do-it-yourselfer should allocate 20 to 30 minutes for the task, which includes removing screws and bolts as well as disconnecting rods and connectors. To assist those new to the process, detailed how-to instructions and helpful videos abound on the Internet. Of course, installation by a professional mechanic is an option too.
Buying Wing Mirrors on eBay
Prior to buying replacement wing mirrors on eBay, you should first to identify the needs. After making a thorough review of available parts, styles, and features, you should have a good picture of the requirements for the wing mirrors you are looking for. You have your choice of four products: a full wing mirror, a wing mirror cover, wing mirror glass, or stick-on glass. Depending on the level of repair needed or the replacement features you desire, you can quickly pinpoint your needs and create your shopping list.
eBay has a wide range of vehicle parts and accessories for sale, including wing mirrors. You can begin a search on the website by entering a basic term, such as "wing mirrors", or a more specific one such as "BMW wing mirror glass", if that is exactly what you are looking for. A review of the site's offerings returns both manual and electric models, complete with photographs and illustrations, descriptions, condition, location, and price. Shipping costs and terms are clearly spelled out, including estimated delivery time and even local pickup options, if available. You should also note the seller's return policy. On eBay, you can easily compare products side by side and ultimately make an informed purchase.
Conclusion
Anything a driver cannot see while on the road is a potential hazard. As any car operator knows, the rear view mirror only tells part of the story; while it is nice to see what is coming up from behind, what happens on either side of the vehicle is important too. Mounted outside the front driver and passenger doors, an automobile's wing mirrors reveal much of what may otherwise fall into a driver's blind spot. By knowing more about their surroundings, travellers are able to make smarter choices and reach their destinations safely.
When it comes to car parts, eBay is a shopper's mecca. This digital marketplace boasts a hearty inventory of wing mirrors, from full replacement units to covers, mirror glass to stick-on mirrors. If buyers intend to install the wing mirrors themselves, they may also wish to assess their tools, as they can purchase any necessary items on eBay as well. With the proper positioning, wing mirrors can play an important part in a driver's on-the-road safety.