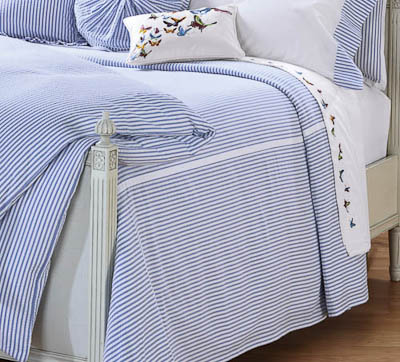 For many people, a bedspread serves the simple purpose of providing warmth, but it also provides an easy way to dress up bedrooms by adding a pop of colour or a pattern that ties in with the rest of the room's decor. Bedspreads are not always thought of as a means of decorating a bedroom, but rather as a decorative fabric that provides cover for the bed and the person sleeping in it. Bedspreads are actually a full group of bed covers that include different fabric weaves, various fillers, and a variety of thicknesses and weights.
Learning about the differences in different types of bedspreads enables buyers to purchase products that add to the overall appeal of the bedroom in addition to providing comfort for the bed itself. Buyers can also learn some valuable lessons about the long-term care of the bedspreads they choose. From measuring the bed to caring for the covers, buyers can easily choose the the perfect bed covers to meet their needs.
Understanding the Labels on Bedspreads
As the bedspread is part of most people's nightly ritual, they are often made from soft materials, such as cotton, polyester, wool, or rayon. They may also be created from synthetic fabrics, such as polyester or acrylic, which helps them resist wrinkling.
One key piece of information that is present on bedding labels is the thread count. Loosely translated, this number is the total number of threads woven into a square inch of the fabric. The threads are woven to create the fabric, and they may be single woven or multiple woven. The old-school way of thinking dictated that higher thread counts always meant better, softer sheets, but that analogy has been proven to be false in recent years.
Weave of the Fabric
The current standard for determining the long-term comfort and quality of linens is the weave of the fabrics. Plain weaves make up approximately 80 per cent of the bedding that is available on the market today, and this includes most gingham, voile, percale, and cambric fabrics, which are all strong and even fabrics. Twill weaves create stronger fabrics that allow for a gentler drape in the bedding, but they are more expensive than plain weaves. For the sateen weave, the result is a higher thread count that is shiny and smooth to the touch. Examples of patterned weaves include the dobby and the jacquard weaves, both of which are expensive and difficult to make. This type of weave includes damask, tapestry, and brocade fabrics.
Mercerising and Shrinkage Control
Other key bits of information that may be found on bedspread labels include mercerising and shrinkage control information. Mercerising is a process that helps cotton fibres maintain their shape, and it may also add lustre and strength to bedspreads. Shrinkage control allows for only 1 per cent to 2 per cent shrinkage when the fabric is laundered. If a product is sanforised, it means that is has been chemically treated for shrinkage control.
To purchase the perfect bedspread, buyer needs to understand the different terminology associated with bedding. The following table outlines the different types of bed coverings and their characteristics.
Type of Bed Covering

Characteristics

Pre-filled, semi-thick bed covering

Used as top layer of bedding

Not usually reversible

Pre-filled, thick bed covering

Stitched or quilted

Used as top layer of bedding

Reversible

Made of three layers of materials

Woven top layer

Middle layer of batting

Woven back layer

Stitched and quilted

Not usually reversible

Soft bag filled with down, feathers, or synthetic material

Cover usually has buttons or ties on one end.

Used without sheets

Lightweight

Not reversible

Quilted or woven

May be used alone or over another bedspread
Knowing the size of the mattress on the bed assists buyers in purchasing the correct size bedspreads for their beds. From twin bedding to king bedding, having the correct size bedspread helps ensure a comfortable night's sleep. Typically, bedspreads are designed to cover the entire bed and fall to the floor. The following table outlines the different size beds and their coordinating bedding sizes.
| Bed | Duvets/Quilts (cm) | Duvet covers (cm) | Flat sheets (cm) | Fitted sheets (cm) |
| --- | --- | --- | --- | --- |
| | 135 x 200 | 135 x 200 | 180 x 260 | 90 x 185 |
| | 200 x 200 | 200 x 200 | 229 x 259 | 137 x 190 |
| | 225 x 220 | 225 x 220 | 274 x 264 | 150 x 200 |
| | 260 x 220 | 260 x 220 | 305 x 280 | 200 x 185 |
As the chart shows, the comforter is measured a little smaller than a typical bedspread because it only extends about halfway to the floor instead of touching the floor. The sizes noted in the chart are for common U.S. sizes and may not be accurate for sizes in other parts of the world.
How to Measure a Bedspread
While beds are standard sizes with standard measurements, some mattresses may be thicker than others, and this can affect the fit of bedding. Additionally, if a mattress topper is added, that too changes the thickness of the bed and causes it to need a larger bedspread to provide full coverage. The following instructions are very useful in helping buyers determine the correct fit. First, buyers should measure the width and length of the bed across the top of the mattress. They should then measure from the top of the mattress to the floor. The height figure is added to the length and the width figures to get accurate measurements. These measurements determine which size bedspread is needed for full coverage. If a bedspread is not pre-shrunk, it may shrink during laundering.
It is always a good idea to check the actual measurements of the bedspread against the size on the package, as the two do not always match. It would be disappointing to find a fabulous bedspread only to find that it does not work on a chosen bed.
How to Clean Bedspreads
Bedspreads may or may not require special cleaning. Some with a special fabric weave may require dry cleaning, but the majority of bedspreads may be washed at home in extra-large or jumbo capacity washing machines. If owners do not have washing machines with a large enough capacity to wash bedspreads, they can often find laundromats with commercial-size washing machines. Some bedspreads need to be air dried, but many can be dried in extra-large, jumbo, or commercial capacity dryers. Hand washing or washing bedspreads on the delicate cycle may be necessary for some bedspreads.
Comforters
Comforters require regular fluffing to maintain their density and to take away any moisture. Similar to bedspreads, many comforters may be washed in extra-large or jumbo capacity washing machines at home or taken to laundromats with commercial size washing machines, if necessary. Some comforters may require dry cleaning or other types of special treatment. All comforters should be washed in cold water and hung up to dry. If air drying is not an option, tennis balls in the dryer with the comforter may help prevent the batting from clumping together.
Duvet
A duvet should be removed from the duvet cover and shaken out occasionally to redistribute the feathers. Duvet covers can be washed in a large washing machine as long as they are rinsed several times to make sure all the soap is out of the fabric. They can then be dried on low heat or hung up to air dry. Extra care has to be taken when washing the duvet because of the feathers inside. Many people choose to dry clean their duvet because of the down filling, but this can be expensive. In an extra-large capacity washer, use a low sudsing soap and cool water, combined with extra rinse cycles. Duvets can be dried on a cool cycle in the dryer, again, with the tennis balls to help with the feather distribution in the duvet.
It is recommended that people treat spots as they occur after testing the cleaning product on a corner of the bedding to ensure the product does not damage or discolour the fabric.
Buying a Bedspread on eBay
Purchasing a bedspread can be as easy or as complicated as buyers would like. The main consideration is to understand the different types of bedspreads and choose according to taste and decor. Bedspreads may be purchased at department stores, specialty stores, or over the Internet. eBay, for example, offers buyers a variety of bedspread options in both vintage and new styles.
eBay users must be registered to bid, and this can be done from the homepage. Registration is free, and it allows you to make purchases on the site. You can begin your search by typing "bedspread" into the search box on any page. The results may be staggering, but you can narrow these results by choosing different filters. Be creative and try different searches until you find something interesting.
Conclusion
Creating a wonderful retreat in the bedroom can be exciting. Decorators often say to choose one favourite piece in a room and then decorate around that item. Bedspreads can complement the decor or brightly contrast it. It is a matter of personal taste. Purchasing beautiful linens, shams, and decorative pillows also works to complete the look.
Bedspreads are actually not just a single bed cover, but a group of bed covers. Included in this group are comforters, duvets and duvet covers, and coverlets. The fabric is typically natural or a combination of fibres created from a weave that leaves the fabric soft and comfortable. Good knowledge of bedding labels ensures that buyers are able to care for the particular bed covers they purchase. Understanding the different types of bedspreads can help buyers choose one that complements their decor. Bedspreads offer buyers either a casual or formal look and can be an accent or the main focus of the room, all while providing comfort for a cosy night's sleep.