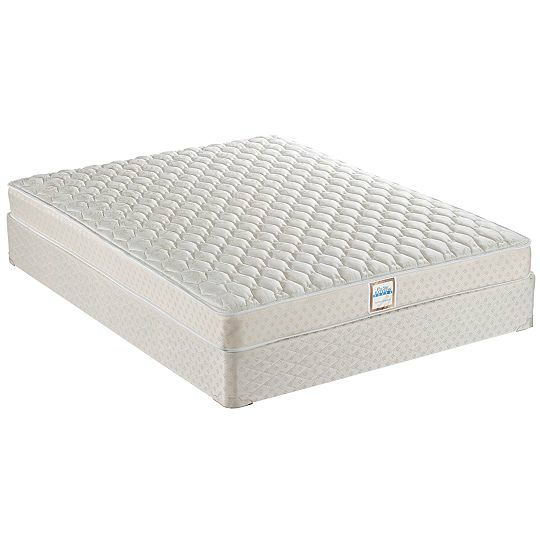 Sleep is an integral part of our daily lives. In fact, we spend a third of our lives in bed, so it's important to pick the best mattress for our individual needs. Choosing the right type of mattress could mean the difference between a solid night's sleep and tossing and turning the night away. Many people do not realise that a mattress is the most used piece of furniture in our homes, so it is vital that you choose the right one. There is a wide variety of materials and types of mattresses available, such as an innerspring, air chamber, memory foam, or latex mattress. Buying a new mattress is a very important purchase that should be made with careful thought and consideration.
On average people spend about a third of their lives asleep, yet many don't know the importance of investing in a high quality mattress. A mattress is the most used piece of furniture in one's home, and is a main source of helping people maintain their overall wellness by getting a good night's sleep. The purpose of this guide is to help shoppers pick the right mattress for their needs. When searching for mattresses, buyers should be aware of all available options before making a purchase, and should learn about the different types of mattresses available (including mattress sizes), key mattress terms, where to find a mattress, and how to buy a mattress on eBay.
Mattress Types
Mattresses come in numerous types, ranging from cheaper basic ones to very expensive ones which incorporate more advanced technologies. However, in the end it comes down to whether the mattress is suitable for the consumer. Mattresses used to be made with sewn fabric stuffed with cotton, wool, and even feathers. Now, they often have springs or foam, although cotton and wool are still used for making some mattresses. It is important to know the different types of mattresses available and their main features so that a person can choose wisely when looking for an affordable mattress.
Coil Spring Mattress
A coil spring mattress, also known as an innerspring mattress is amongst the least expensive mattresses on the market. These mattresses have been in production for almost a hundred years and are probably the most bought mattresses in the modern world. They are constructed with a number of springs in the core which can differ by numbers and arrangement. Although the springs are the main component that provides support when a person sleeps, most of the comfort depends on the top padding of the mattress. To purchase an innerspring mattress, one should look at the construction and durability of the top padding, besides only determining the arrangement of the springs.
Foam Mattress
Foam mattress are quickly gaining popularity as they offer a better support for the spine than coil spring mattresses. The main types of foam mattresses are the latex foam and the memory foam mattress. They do not have any spring coils in their core; instead, they use thick layers of foam to support one's body weight. Both the latex and memory foam mattress cost more than coil spring mattresses, but eBay provides affordable options for both models.
Latex Foam Mattress
A latex foam mattress has a core made of latex foam, which is a material derived from rubber. It is comfortable because it retains a mould of a person's body shape while sleeping, offers proper support, and is a very good option for people with back problems. Latex foam is also breathable and hypoallergenic so it also makes a good choice for people prone to allergies.
Memory Foam Mattress
Memory foam mattresses are similar to those made of latex foam. They also retain a mould of the body while a person is sleeping and offers good back support. This mattress is made of synthetic viscoelastic polyurethane foam, which, although makes the mattress very comfortable, is not as breathable as a latex foam mattress. This means that one can feel uncomfortable sleeping on it especially on hot summer nights.
Air Mattress
Besides coil spring mattresses, air mattresses are also amongst the least expensive mattresses one can buy. A person might think that air mattresses are only suitable for camping, but there are actually various types of high-end air mattresses which can be used regularly. Just as its name suggests, the air mattress uses air to support body weight. A person should not get a cheap camping air mattress unless budget is the main concern, because they are not comfortable to sleep on every day. Good quality air mattresses may have multiple air chambers to provide better support or even have memory foam top paddings.
Futon Mattress
Another type of affordable mattress is the futon mattress. Originally used in Japan, the futon has become popular around the world. Although it is traditionally used only as a mattress to sleep on, western futons are often multi purpose and can be used as sofas as well.
Futon mattresses are basic mattresses which have the stuffing made of cotton, wool, or other synthetic materials. Advancements in mattress producing technology have enabled futons to be very comfortable and soft even with prolonged use and repeated folding. There are many kinds of futon mattresses including cotton-polyester, cotton-foam, and even innerspring varieties. This type of mattress is very comfortable and affordable choice as cotton-polyester and cotton-foam futons are able to remain soft without sagging, which means that they can last long. Innerspring futons, on the other hand, are heavier and more expensive than the other types.
Mattress Size
Mattresses come in a variety of sizes, including small single, single, small double, double, and king. It is important to know the mattress dimensions to ensure that it will fit within the confines of a bedroom.
| Mattress Size | Measurements (centimetres) |
| --- | --- |
| Small Single | 75 x 190 |
| Single | 90 x 190 |
| Small Double | 120 x 190 |
| Double | 135 x 190 |
| King | 150 x 200 |
Selecting the right size mattress is important for anyone from a small child to an adult male. Owning a properly-sized mattress allows a person to get a good night's sleep for many years, which is why investing in a quality piece is imperative to a person's overall health.
How to Choose a Mattress
When buying an affordable mattress, it is important to decide on what type of mattress you would like to buy according to taste, size preference, and comfort level required. Generally, futon and basic air mattresses are the least expensive, followed closely by coil spring mattresses, and then foam and higher-end air mattresses. It is important to look at different types of mattresses in order to compare the variety of features and prices. Also, remember that the bigger the mattress, the more expensive it can be.
To save money on the long term, consider buying mattresses and bed frames separately rather than buying tall mattresses which resemble a full bed and which are more expensive than low ones. As it is crucial to have a mattress which can offer proper back support, it should be replaced when the manufacturer recommends it. Whenever possible, a person should try out the mattress before buying it. Not all mattresses are suitable for a person, so laying down on one at the shop can help someone choose a comfortable one. Once a mattress style has been chosen, it is easy to purchase one at a reasonable cost on eBay.
How to Buy a Mattress on eBay
eBay has many types of affordable mattresses on sale from various vendors. To search for a suitable mattress, you can start at the eBay home page by looking up a certain keyword, for example "budget mattress&". By typing the keyword into the search bar on the home page, a list of all budget mattresses appear and you can go through the list to find one that you like. You can also make your search more specific by typing in relevant keywords such as "double futon mattress&". When looking through the list, read the description of the product, including its size, type, and condition (used or new).
After you have selected a mattress that you like, you should read all its details, including the condition, price, and return policy. A return policy is important when buying a mattress as it allows you to return the item if there is anything wrong with it, if it does not fit your bed frame, or if it is uncomfortable.
Buy Mattresses With Confidence
Before bidding on mattresses on eBay, shoppers should research the seller, know exactly what they are trying to purchase, and understand how eBay and PayPal protect the buyer.
Know eBay Purchase Details
Carefully read the details in the mattress listings. Figure delivery costs into the final price of the mattress bought. If an expensive mattress is purchased, make sure the seller will insure the product when it ships. For more information about mattresses, ask questions by clicking the Ask a Question link at the bottom of the listing page.
Always make sure to complete the eBay transaction with a bid, Buy It Now, or Best Offer. Transactions conducted outside of eBay are not covered by eBay protection programmes. Never pay for mattresses on eBay using instant cash wire transfer services through Western Union or MoneyGram.
Know the eBay Seller
Research the eBay seller to ensure a positive and secure transaction when purchasing a mattress. A consumer should think about certain buying aspects when purchasing a mattress, such as knowing the seller's feedback rating, how many transactions the seller has completed, what percentage of positive responses the seller has received, and the terms and conditions of the sale.
Conclusion
There are many different aspects to consider when purchasing a new mattress. One must first decide what size mattress one needs, which will depend on the age and size of the user, and whether the user is a single individual or part of a couple. From twin to California King, there is a mattress size that is right for everyone. Once a shopper has decided on a proper mattress size, he or she must choose what comfort level is desired. There are different advantages that come with firm, plush, and pillow top style mattresses, which will suit people differently depending on their mattress needs.
Lastly, the consumer must decide on which type of mattress they prefer the most. Innerspring, memory foam, and latex mattresses are all supportive and comfortable in their own ways, and the user's preferences will determine which mattress is the most comfortable to sleep on every night. The major mattress manufacturers, including Serta, Sealy, and Simmons, make a wide array of all comfort levels and types of mattresses and consumers can find them all on eBay. No matter which comfort level and style is chosen, it is important to invest in a quality mattress that will provide a good night's rest for several years.