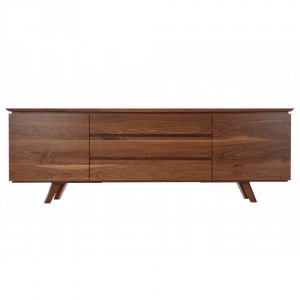 A sideboard is typically a waist-high elongated table or cabinet that is used as an accessory to decorate dining rooms, living rooms, and hallways. Although sideboards can be used for a variety of reasons, they are predominantly used for food service, display, and storage. Sideboards usually have a flat top and often feature drawers and shelves. Dating back to the 18th and 19th century, sideboards became a desirable accessory to any dining area as they were a sign of prosperity. Sideboards are often crafted out of woods, such as walnut. Modern sideboards have a wide variety of characteristics that include creative designs, lavish inlays, and they are often adorned with ornamental and decorative accessories. Walnut sideboards give the home an elegant and traditional feel. Walnut is a hardwood that can be found in various types, most commonly English and black walnut.
Walnut sideboards can be bought from furniture shops and department stores. When purchasing a walnut sideboard at retailers such as eBay, buyers should consider the features of the furniture, the different types of walnut, and learn how to distinguish between solid walnut and walnut veneers.
Features of Walnut Sideboards
Walnut sideboards are durable and have a beautiful finish. The grain of the wood is generally straight, although it can become wavy towards the roots of the tree.
Colours of Walnut Sideboards
Walnut can vary in colour, from light to dark brown. The middle of the walnut tree produces a darker wood, while the outer layers of the tree, just below the bark, produce a lighter wood. The outer layer is called sapwood and the inner layer is called heartwood. Walnut sapwood can be 3 inches wide and has a creamy white hue. Walnut heartwood is chocolate brown.
Walnut Sideboard Grain
When searching for a walnut sideboard, buyers should consider the grain of the wood. Walnut should have a straight grain, which can be further accentuated with a clear coat of urethane. However, a stained finish may make the grain less noticeable. This may be preferred if the walnut has a wavy grain or burrs, which are imperfections in the wood. Burrs may also be covered with a walnut veneer.
Advantages of Walnut Sideboards
Walnut is a strong, hard, and durable wood. Walnut carves well because it has fine grains. This allows for beautiful and intricately designed sideboards. Walnut is also resistant to warping and shrinking, holding its shape well under a variety of circumstances. It is also resistant to moisture. Walnut is able to take different types of finishes and stains well, making it versatile for use in furniture design. If properly cared for, walnut sideboards can last a lifetime.
Types of Walnut Sideboard
There are various types of walnut wood, each differing in their characteristics. Choosing the type that best suits a buyer's needs is often a matter of personal taste and what fits best with the style of the room or hallway.
English Walnut Sideboards
The heartwood of English walnut ranges in colour from a lighter pale brown to a dark chocolate brown with darker brown streaks. It can also take on a grey, purple, or reddish tinge. English walnut sapwood is nearly white. It has a medium texture and medium size pores, which often require filling to give the sideboard a smooth finish. English walnut is moderately durable and resists decay to some degree. The English walnut grain is usually straight, but it can also have an irregular grain pattern such, as curly or burr. Circassian walnut, a type of English walnut, is often used in the construction of sideboards and has a light brown appearance with irregular black veins.
Black Walnut Sideboards
Black walnut is characterised by its hardness, extreme strength, and variety of grain. The wood does not bruise, warp, or scratch easily. The figure and colouring of the wood, as well as the open grain and fine texture, are attractive qualities that make black walnut a popular choice for sideboards. The heartwood is a dark, tawny brown, while the sapwood is a very light, greyish white. When the wood is damaged, the defect is not as apparent because of the darkness of the wood and its dense texture. Black walnut is primarily used to make veneer because it is not widely available. The husk of black walnut can be used to make dye and wood stain.
Burr Walnut Sideboards
Burr walnut is a unique type of walnut wood that has distinct patterns and designs. The burrs in the wood create distinguishing characteristics that make it highly sought after. This type of wood is typically used to make ornamental furniture so that its distinct grains and finishes can be highlighted. Sideboards crafted out of this wood are often more expensive in comparison to similar products of a different type of walnut. Burr walnut is known not only for its beauty, but for its durability. The exclusivity and cost of burr walnut means that it is common to see side tables made mostly of common woods with accents of burr walnut.
Solid Walnut vs. Walnut Veneers
Contemporary sideboards are often made with walnut veneers rather than solid walnut because of the high price associated with solid walnut. Although some may consider walnut veneers less desirable than solid walnut, this is not always the case. Both are attractive and each have their own benefits. Often it is quite difficult to tell the difference between the two.
Solid Walnut Sideboards
Solid walnut sideboards are made of 100 percent hardwood. The grain of this wood is typically visible and the sideboard has a heavier feel to it. Solid walnut is often preferred for its stability, extreme durability, and high quality. It can also be sanded, stained, or refinished in the event of damage, or to acquire a new look.
Walnut Veneer Sideboards
Walnut veneer sideboards have a thin layer of walnut applied in a sheet on top of plywood, chipboard, or another type of less expensive material. This makes the sideboard lighter, while allowing the top to be uniquely designed. Walnut veneer sideboards are also more environmentally friendly and often blend several types of wood within the unit. Using walnut veneers can also help to prevent warping of the sideboard often associated with changes in humidity.
Buying a Walnut Sideboard on eBay
To begin shopping for a walnut sideboard, go to the eBay home page. Type "walnut sideboard&" into the search field at the top of the page for all of the related item listings. You are free to browse all of the results, or to narrow down the listings by condition or price range. Search terms can also be used to find specific items. For example, to see listings for sideboards with drawers, type "walnut sideboard drawers&" into the search field. Check eBay's customer support pages for additional information on searching with keywords.
Buy a Walnut Sideboard with Confidence
Read the item listings for a walnut sideboard thoroughly before making a purchase. Check the price of the item, as well its postage and packaging costs. Examine the photos carefully, looking for signs of wear, especially for walnut sideboards that were pre-owned. If additional images or information is desired, ask the seller. Sellers are usually happy to provide more details.
Feedback Ratings
Check a seller's feedback rating before buying a walnut sideboard. Ratings are determined by information provided by other buyers within the last 12 months. This information, along with the number of transactions that a seller has completed, can offer an insight into the level of service that they provide. After receiving the walnut sideboard, leave feedback for the seller. This can help good sellers to find new customers. If the walnut sideboard arrives with a flaw or damage, contact the seller to see if a resolution can be reached.
Conclusion
When buying a walnut sideboard, consider the area that it will sit in, the existing style of the hallway, dining room, living room, or kitchen, as well as the design and cost of the unit. Sideboards can be used in different areas of the home, so it is important to measure the available space carefully and to consider how the walnut sideboard will be used, for example, for display or storage. Then consider the colour of the sideboard and whether it is plain or decorative. The type and finish of the walnut have a strong effect on the overall style and design of the sideboard.
Finally, consider the budget for the walnut sideboard. A buyer who wants an affordable sideboard may be wise to consider veneer walnut as it is less costly than solid walnut. Black walnut is durable and cost effective. Accents of burr walnut can increase the price of the sideboard significantly. Ornamental sideboards can range greatly in price based on the quality of the walnut, the manufacturer, and the unit's historical value, if it is antique. With so many walnut sideboards to choose from, eBay can help any buyer to find the perfect style to complement their home.