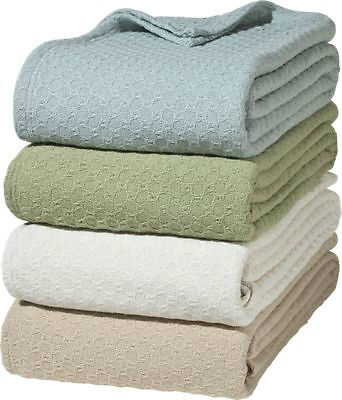 Staying warm in a cool, damp environment tends to be quite difficult at times. With a quality wool blanket, however, individuals can stay warm and toasty even in the coldest of areas. Wool blankets, much like most other products, range in style and quality. Understanding the differences in quality before purchasing one, can save both time and money. Spending a little bit of time researching different options before purchasing a wool blanket, aids in finding the most adequate solution.
Although some brick and mortar stores offer a reasonable selection of wool blankets, finding the perfect size, colour, and style can be quite difficult at times. With online marketplaces such as eBay, however, consumers are able to search for almost any type of wool blanket. Before going out and buying a wool blanket, potential customers should first detail their needs, and select a wool blanket type accordingly. Understanding the differences in quality, brands, and specific blanket traits, are all important informational elements in making an educated purchase.
Material of Wool Blankets
The term wool, actually refers to the fibres of fleece that come from the lamb, sheep, or other other closely related animals. Some of the most common wool blankets are derived from llamas, alpacas, cashmere and angora goats, as well as vicunas. Many species in the camel family are also utilised in the development of wool blankets. Animals ranging from rabbits, to alpacas, and more have fleece incorporated in the construction of wool blankets. Those in search of a quality wool blanket, should make sure to purchase one that is marked as natural fibre.
Finer Wool Fabrics
Some of the finest wool blankets are designed with extremely specific animal fleece, and shopping for such a blanket can be intimidating. Adding a term such as Merino wool, filters searches through online marketplaces such as eBay, to only the finest wool products. Although there are quite a few knockoffs sold around the world, a quality wool blanket is likely to cost quite a bit.
Benefits of Wool Blankets
The range of benefits gained from a wool blanket make this item a widely used, and thus a highly sought after blanket option. Wool blankets are able to wick away most moisture, which makes them an adequate choice for those located in damper regions and climates. Since wool blankets typically resist moisture, they resist the growth of certain bacteria that causes allergies. Those with allergies should be careful, however, as some may have allergies to the wool itself. Anyone who might be sensitive to wool should make sure to have an allergy test before investing any time or money in a wool blanket.
The Versatility of Wool
One of the most unique benefits of a wool blanket is its fire resistant nature. Although it can still burn, wool is naturally quite immune to fire. Due to its insulative properties, wool is able to keep body temperature relatively consistent. Because of this thermal quality, wool blankets are able to keep individuals warm in the winter. Wool blankets can even be used to keep people cooler in the summertime. Those in the market for a blanket that can do it all are likely to see wool blankets as a premier option.
Types and Quality of Wool Blankets
As mentioned before, there exist several different material options in concern to wool blankets. Those in search of the highest quality wool blanket, for example, should search for products made from Merino wool rather than from generic lamb's wool. On the other hand, consumers interested in a more unusual option that is both durable and comfortable, should consider wool blankets comprised of llama fleece. Many wool blankets made from llama fleece are labelled as Bolivian style wool blankets.
Quality Scale
There is actually a quality scale for wool that helps to explain, and label, the various types of wool. This scale utilises measurements of wool diameter in microns, making for a singularly unique unit of measure. The highest quality wool blanket is normally designed with Fine Merino, that is labelled as 18.6 to 20 microns, while clothing that is often made of Ultrafine Merino usually has a diameter of less than 15.5. Wool rugs, on the other hand, are designed with Coarse crossbred wool that has a micron level of 36 or more, and is sometimes made of carpet wool of up to 45 micros.
Different Weights of Wool
Those who are looking for a thicker blanket that is still quite comfortable, should look for wool of 27 to 35 microns, also labelled as Fine crossbred or Medium crossbred. Anything heavier might be somewhat uncomfortable or too hot. Consumers in the market for a lighter weight, more comfortable blanket should consider purchasing either 23 micron Strong Merino, or 21 to 26 micron "comeback" wool. Many times, however, blankets will not be labelled with the micron measurement. Be sure to converse with a seller prior to purchasing, to better determine the quality and thickness of the blanket.
Wool Blanket Styles
When considering purchasing a wool blanket, choosing a style can be quite difficult. Although some traditional stores have a wide selection to browse through, the options are somewhat limited. Searching for a blanket made of wool on sites such as eBay, returns hundreds of results, allowing consumers to browse from the comfort of home. Traditional Scottish, English, Welsh, Irish, and even Australian design styles, are easily found through such online marketplaces. Even more Middle-Eastern themed options are available through online marketplaces such as eBay.
Matching the Wool With the Occasion
Wool travel blankets are designed with the venturer in mind due to their thin construction and easily packed nature. Other, larger blankets for use on a bed are designed to be used at night and tend to be quite large and less mobile. As far as colour goes, plaid wool blankets tend to be popular amongst quite a few people. Plain colours that have less shine are often made of thicker wool. Such darker, thicker options are more adequate for colder climates. More Latin American themed blankets are also available, and tend to be made of llama and alpaca fleece. With flat colours of all shades available, consumers are able to find a solution for every aesthetic taste.
Wool Blanket Brands
The brands of wool blanket that are available, are just as numerous as almost any other blanket option. Whether it be more expensive options from the U.S, such as Filson Mackinaw wool blankets, or a generic option designed with adult sheep wool, there is an option for almost any budget. Four Seasons Italian wool blankets, are another high quality brand of wool blanket that is fairly dependable, typically intended for those who want a finer, more lightweight option.
Inexpensive Wool Brands
Nine Space and Hudsons wool blanket options are designed for those who desire a thicker, more warming blanket. Those searching for a more inexpensive options should consider brands such as Kanata Camp or Cambridge. The cheaper brands available, however, tend to be made of a half wool and synthetic mixture. Purchasing a quality, all-wool blanket, almost always requires a fairly large sum of money without the proper research tools.
Used Wool Blanket
Consumers who desire an all-wool blanket on a synthetic budget, should consider shopping for used wool blankets. Since wool blankets tend to last for quite a long time, even heavily used options offer a reasonably lengthy lifespan. Individuals interested in used wool blanket options, should make sure to discuss the condition of the blanket with the seller in question prior to purchase. A few stains are not deal breakers, but any unravelling around the edges should be taken as a warning sign. Those interested in purchasing a used wool blanket, should consider utilising online marketplaces such as eBay for the best possible deal.
How to Buy a Wool Blanket on eBay
One way consumers are consistently able to save a bit of money on high quality wool, is taking advantage of unconventional shopping methods. Online marketplaces such as eBay, offer fairly reasonable prices from time to time, depending on seller. Shopping on eBay is as easy as visiting the homepage, and entering in "wool blanket" into the search bar, and then pressing search. In order to filter down results even more so, shoppers can utilise the "advanced search" option offered as well.
Since export and import expenses tend to drive up prices, consumers can use eBay to select a seller that avoids such costs. With many local vendors, consumers can find a wool blanket made and sold in the immediate area. Shipping from local proprietors tends to be not only quicker, but often is quite a bit cheaper as well. Add in detailed seller ratings, and individuals are able to use eBay to find not only a quality product, but a reliable seller as well.
Conclusion
Shopping for a wool blanket that can be used at all times of the year is an important task. With the various material options and quality ratings, becoming overwhelmed is quite common, but can be avoided. With the right facts and education, consumers can easily develop the skills necessary to determine the highest quality option. Figuring out what style is most attractive simply requires looking through options until one strikes the eye.
Matching style and comfort level, is somewhat simple for those who are brand loyal. Quality, brand name wool blankets tend to be quite expensive. In order to avoid draining a bank account, many individuals can turn towards used or generic options. With online marketplaces such as eBay, consumers are able to find used and new options, that tend to be quite a bit cheaper. Online marketplaces such as eBay, combined with the right knowledge, gives people the opportunity to select the perfect blanket for any occasion.