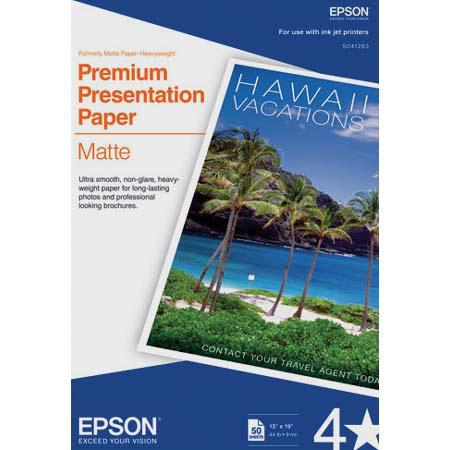 Buying printer paper is not as straightforward as it may seem. However, knowing what to do makes it easier to find the perfect paper for every project. The most important thing to bear in mind is that different printers and ink perform better with different paper. Finding laser printer paper is the simplest as it is designed for the toner and heat printing method employed by these machines. It becomes more complicated when searching for inkjet printer paper, as there are more factors to consider.
Before buying printer paper, read the printer's manual to learn about the manufacturer's specifications. Choose the right paper weight for each project and select the most suitable paper finish. Don't discount the importance of paper brightness and opacity and avoid using everyday paper for important documents or professional correspondence. Don't use laser printer paper in an inkjet printer and vice versa. Finally, don't forget the environment. Printer paper is available from a variety of sources, including stationery and office supply stores, supermarkets, computer shops, and sites like eBay.
Do Read the Printer's Manual
Printer manufacturers spend a lot of time and effort in working out the best combination of paper and ink for each printer type and model. These specifications are often listed in the manual. To be assured of the highest possible printing quality, use only the paper and ink or toner recommended by the manufacturer. However, this is not necessary if consumables that meet the manufacturer's quality criteria are used.
Original equipment manufacturer (OEM) products tend to be more expensive than those sold by third party manufacturers, so learning what to look for when buying ink or toner and paper is essential for those who want high quality prints while saving money. Take note of the printer driver settings for each type of paper and the maximum weight of paper that can be processed by the machine.
Do Choose the Right Weight of Printer Paper for Each Project
Printer paper comes in different weights, which are measured in grams per square metre (gsm). Thinner, or lighter, paper is used for everyday printing, while thicker, or heavier, paper is more suitable for professional use. The five most common paper weights are listed with a description of what they are used for in the table below.
Paper Weight (gsm)

Uses

80

Everyday use

Common office paper

90

General use

Colour printing

100

Professional use

Letterhead correspondence

120

Professional use

Letterhead correspondence

160

Specialist projects

Arts and crafts
Paper that is heavier than 160 gsm is generally used for filing or special projects. As paper weight increases, thickness generally increases and opacity decreases.
Do Choose the Most Suitable Finish for Printer Paper
Printer paper can be coated or uncoated and comes with a range of finishes. Coated paper is available in gloss or matte varieties. Gloss paper is an excellent choice for photo printing, brochures, and posters. Consider using matte paper for prints that are displayed in brightly lit areas as this finish minimises glare. Uncoated paper is best suited to everyday printing, formal correspondence, and forms that are filed. In addition, the finish may be smooth or textured. Smooth paper tends to work better in both laser and inkjet printers. Consult the printer manual for guidelines on suitable paper types as the finish affects how ink reacts with the paper.
Don't Overlook the Brightness of Printer Paper
Brightness describes how white or reflective the paper is. Higher brightness translates to better contrast between the ink and paper. If the brightness is low, whites look off-white and dark colours do not look as deep as they should. Brightness is rated according to a scale of 1 to 100, with 100 being the brightest. Everyday paper is usually rated at around 80, which is the lowest rating for commercial use. Premium paper is commonly rated at close to 100, with most being in the 96 to 97 region.
Don't Overlook the Opacity of Printer Paper
Opacity describes the ease with which light passes through the paper. Most paper is translucent to some degree. Printing on low opacity paper tends to bleed through, making it unsuitable for double-sided printing. Choose a printer paper that is higher in opacity for professional use and formal projects. There is no agreed grading scheme, so most manufacturers grade paper as low, medium, or high opacity.
Don't Use Everyday Printer Paper for Important Documents
Everyday printer paper is excellent for common uses, such as printing internal documents or school assignments. When printing important documents, use premium quality paper. These tend to be heavier and thicker and often have a textured finish. Match the paper type to the occasion to reinforce your message. Consider using inkjet or laser printer paper for documents that are to be archived as this makes them last longer and may reduce yellowing over time.
Don't Swap Paper Between Printer Types
Laser and inkjet printers use different printing technologies and the paper designed for one does not perform well when used with the other. Both inkjet and laser printer paper tends to be heavier and more expensive than everyday paper.
Laser Printer Paper
Laser printer paper is smooth and hard. The surface is designed to handle the high temperatures used to bind toner. It yields clearer, sharper prints than other paper.
Inkjet Printer Paper
Inkjet printer paper is usually coated with substances that aid ink absorption while minimising bleeding and blotting. It also makes colours more vivid. Laser paper used in an inkjet printer does not absorb ink well, causing runs and smears. Using inkjet paper in a laser printer not only leads to poor print quality, but can also damage the printer.
Don't Forget to Be Kind to the Environment
When buying paper for everyday printing, consider buying recycled paper. Users save money and help to protect the environment in the process. Whether using recycled paper or not, collect and recycle scrap paper and discarded sheets. Take note of the type of paper in the printer before printing and only use high quality paper when appropriate. Set the printer drivers to ensure that paper and ink or toner are not wasted. Where possible, print on both sides of the page. It is important to remember that saving resources, such as paper, equates to saving money, so these actions are as good for the budget as they are for the environment.
How to Buy Printer Paper on eBay
Finding printer paper on eBay is simple. Type a key phrase, such as "100gsm inkjet printer paper", into the search field, which can be found on any page, to see the items on offer from eBay sellers. Refine your search by choosing the most suitable category and item features. For more search options, use the advanced search function.
Before You Buy on eBay
Evaluate the item and the seller before you buy. Click on a listing to view the item listing page where you find details such as the full item description, buying options, payment choices, postage and packaging costs, and the seller's feedback information. When buying bulky or heavy items, such as boxes of paper, look for local sellers that allow collection or free delivery to save on postage costs. Always add postage costs to the item's final selling price to work out the total cost. If you have any questions for the seller, contact him or her by clicking on the "Ask a question" link.
eBay's seller feedback feature, which is accessed by clicking on the number next to the seller's username, makes it easy to evaluate individual sellers before you buy. Buyers have the opportunity to leave feedback about sellers' products and customer service at the end each transaction. Detailed seller ratings provide additional information about aspects such as the accuracy of the item description in the listing. Use this information to make up your own mind about each seller.
Conclusion
Buying printer paper is not as simple as it may seem. It is important to use paper that is suited to the printer and printing method, such as the ink in inkjet printers, and the task at hand. The first step in determining which type of paper is best for a specific printer is checking the printer's manual. The easiest answer is to use only OEM products, but this also tends to be the most expensive option. Make a note of the specifications and recommendations in the manual before shopping for paper.
Paper comes in varying weights, which affect the thickness, look, and feel of the paper. Everyday printer paper tends to be 80 or 90 gsm, premium quality paper is usually around 100 to 120 gsm, and heavier papers are used for special projects. Choose brighter paper with a higher opacity for professional use and printing important documents. Avoid using laser printer paper in an inkjet printer and vice versa. Each type of paper is specifically designed to work with the printer's technology and does not work well with the other. Consider buying recycled paper for everyday use, and collect and recycle discarded sheets. Print on both sides of the page to save ink. Environmentally friendly printing practices are a great way to save money. eBay sellers offer a wide range of printer paper, suited to every user's needs.