Nothing makes patio cleaning quicker and easier than using a pressure washer. They blast away mud, weeds and slime
. There's a huge range of pumps, accessories and prices to consider.
Stephen Errity, production editor of Auto Express
looks at
w
hich one will clean up in our test.
Hozelock Heavy Duty 150

Price: £199.99
Hose Length: 8m
Score: 5/5
Ease of use makes the Hozelock a great choice. The rear-mounted hose reel works well, and you can walk away holding the lance without the machine tipping over. There's also a neat pocket for storing the cable. It packs a big punch, plus there's twin detergent tanks and a choice of lances. It's not cheap, but it's the best there is right now.
---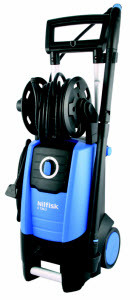 Price: £229.99
Hose Length: 9m
Score: 4/5
If you have a big car, you'll love this well built Nilfisk's nine-metre hose. Despite its length, it stores easily, while the cable winds neatly around hooks. It also scored well for cleaning. It's pricey, but you get lots for the money, with two lances, a rotary brush, a patio cleaner plus a 15-metre drain and pipe hose.
---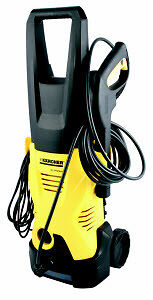 Price: £119
Hose Length: 6m
Score: 4/5
The K2 is the best of the smaller washers. It doesn't match our top two for storage or power, but it's got enough grunt for car cleaning. It also beats similar rivals, with a six-metre hose giving flexibility for washing. It's well equipped, with two lances, a patio blaster, brush and cleaning fluids.
---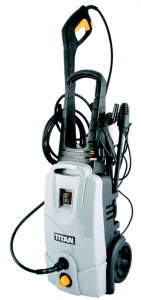 Price: £69.99
Hose Length: 5m
Score: 4/5
This Titan is ideal if you're on a budget. It's firmly aimed at car cleaning, with a brush, two lances and a soap bottle. There are hooks for the hose and lead, plus storage for all the accessories. The hose is short, but the unit feels light and easy to move. Great value.
---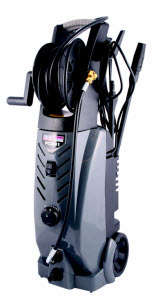 Price: £161.94
Hose Length: 6m
Score: 4/5
Neatly bridging the gap between smaller machines and the top two, this Sealey has lots to like, such as a large on-board soap tank with the ability to vary concentration to keep costs down. There's also a choice of rotary and variable lances. The decent-length hose is easy to wind in, but the unit can topple over when you pull it out.
---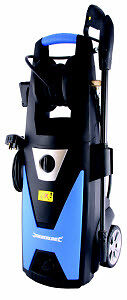 Price: £122.78
Hose Length: 5m
Score: 4/5
This well made washer only has one lance, and the hose could be longer, but there's a big on-board soap tank. Switching from high to low pressure for foam dispensing is easy. It also packs a decent punch, the reel is a breeze to use and it's stable enough not to topple when unwinding.
---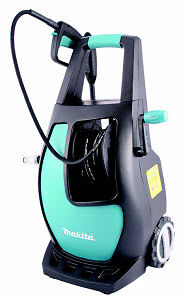 Price: 204.65
Hose Length: 5.5m
Score: 3/5
The Aquamark HW112 got off to a poor start, with a water connector that failed to seal. That was odd, as quality is good elsewhere, with a reel that runs freely enough not to tip it over. You get a brush, rotary and variable lances, plus easy storage for everything. There's a soap tank, but cleaning was only average and the hose is too short for the price you pay.
---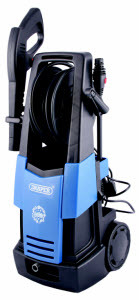 Price: £123.77
Hose Length: 5m
Score: 3/5
This Draper is a mixed bag. On the plus side, you get two lances, a soap tank, a rotary brush and storage for all these. Less impressive was average cleaning power and a non-adjustable lance. Storage for the shortish hose isn't great, either, as it has to be disconnected from the machine and lance before you're able to wind it on.
---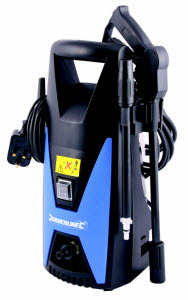 £55.92
Hose Length: 5m
Score: 3/5
For car cleaning alone, this makes a lot of sense at the price. Storage is good for a unit that's only half a metre tall, with hooks for the lead and hose, plus clips for accessories.
Delivery from the lance-mounted soap bottle is a little too watery, but it did okay in our cleaning tests. Good if space is tight.
---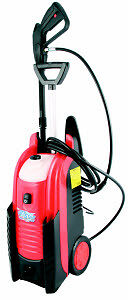 Price: £95.98
Hose Length: 5m
Score 2/5
With just a single variable lance, a brush and a large soap tank, the Clarke is aimed at car washers. And it did well in cleaning tests, with a good soapy spray. But the hose storage around the handle is poor, and for the money you'd want it to do other jobs, so a rotary lance and longer hose are definitely needed.
---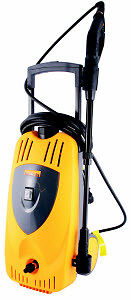 Price: £169.99
Hose Length: 7m
Score: 3/5
The HP2000 makes no sense at full price, but Halfords frequently discounts products.
We loved the long hose and on-board soap reservoir, yet the storage is very poor, with nowhere for the brush or second lance, and the hose simply loops over the handle.
---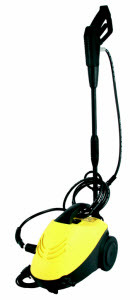 Price: £59.99
Hose Length: 3m
Score: 2/5
Power isn't everything in car cleaning, and this washer does a reasonable job, but it's not the easiest to use. A three-metre hose means lots of moving to cover the whole car, and the side hose exit means you can't even pull it easily. Storage is also limited. On the plus side, it runs smoothly and is very easy to carry and store.