Each month we select an artist whose work we sell. This month it is Paul Lucien Maze, the last of the great Post Impressionists and the most talented artist of his generation.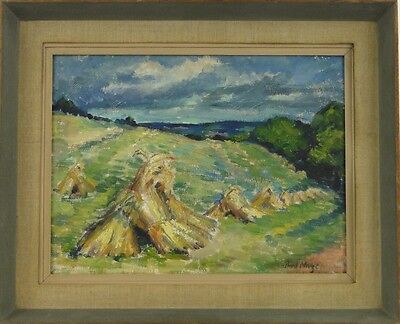 Focus on Paul Lucien Maze
Born in Le Havre, Maze was educated in France and England.

On leaving school he first worked for his father, a successful tea merchant and art collector.

His circle of friends sounds like a roll call of the great Impressionists. They included Claude Monet, Raoul Dufy, Camille Pissarro and Pierre-Auguste Renoir.

Maze learnt the basics of painting from Pissarro and as a young boy he sketched on the beach with Dufy.

At the age of 12, Maze was sent to school in Southampton, England to perfect his English and whilst there he fell in love with all things English.

At the outbreak of the First World War he joined the British Army and went to the Front with the Royal Scots Greys and it was here that he met Winston Spencer-Churchill.

They were to become lifelong friends. Maze teaching Churchill drawing and painting techniques.

He remained Churchill's artistic mentor for the rest of his life.

During the retreat from Mons, Maze became separated from his unit and narrowly avoided being captured by the Germans. He was instead taken prisoner by a British unit.

Maze's position with the Royal Scots Greys was largely unofficial and his lack of documentation led the British to think he was a spy.

He was initially sentenced to death and was only spared the firing squad when he was by an officer from the Royal Scots Greys who happened to be passing and who quickly secured his release.

Maze later joined the staff of General Hubert Gough, initially as a liaison officer and interpreter but increasingly as a military draughtsman and photographer undertaking reconnaissance work.

Maze would go to advanced positions, often forward of the British trenches, to produce accurate drawings of enemy positions and other military objectives.

The work was perilous and Maze was wounded three times in four years.

For this work he was awarded the Distinguished Conduct Medal and Military Medal (and later a bar to his MM) by the British, and the Croix de Guerre and Ordre National de la Légion d'honneur by the French.

In 1918 he settled in Paris where he joined the Parisian artistic set and became friends with Derain, de Segonzac and in particular Vuillard, who had a profound influence on his protege and encouraged him to use pastels in his work.

In 1920 Maze moved to London and took to painting the Thames and side streets of the City as well as the pomp and ceremony of the armed forces.

He left London for Sussex after divorce from his first wife after marrying Jessie Lawrie in 1949.

In 1950 they moved from a cottage at Harting in West Sussex to the nearby village of Treyford, settling at Mill Cottage where Maze was to live until his death.

Maze stated that "Painters are born, not made" and "the greatest teacher is nature" and so it was in rural West Sussex that he concentrated on painting pastoral landscapes and scenes.

In 1952 Maze held his first one-man exhibition at the Wildenstein Gallery in New York and that same year he went on to record the funeral of HM King George VI. He was selected as the Official Painter of Queen Elizabeth II's Coronation the following year.

Maze died aged 92 with a pastel in his hand, overlooking his beloved South Downs at his home in West Sussex in 1979.

Paul Maze is represented in many public collections including The Tate Gallery, Government Art Collection, Fitzwilliam Museum in Cambridge, Glasgow Museums, as well as in many private collections.