We don't need to tell you what you need your wing mirror for, so let's cut the lecture and tell you what you really need to know.
Your MOT can fail if your mirror doesn't adjust, the mounting of your mirror is loose, the mirror glass is damaged or having no mirror at all.
Sometimes you don't even need to replace the entire thing - If you have only smashed the mirror glass, see if you can just source the glass because it can save you a lot of money. The same applies to mirror covers.
Here's something to learn to ensure you buy the correct side :-
RIGHT HAND = O/S (OFFSIDE) = DRIVERS SIDE.
LEFT HAND = N/S (NEARSIDE) = PASSENGERS SIDE.
Key Point!
Almost all after-market wing mirrors do NOT come with fixings. You either use your originals or self tapping screws.
Let's do a breakdown on each section of a mirror...
Mirror Glass
If you're looking to purchase mirror glass, don't be tempted to buy cheap ones. The glass can be very distorted as though you're in a fun house. Try to go for quality glass that's either OE or E marked. This means they've gone through quality tests and will ensure that you pass an MOT.
Fitting mirror glass in our opinion is a DIY job - It's as simple as popping it off and popping back on, but be careful of the clips! If you're a bull in a china shop, maybe give it to someone else to fit for you.
You need to check if your mirror glass is manual or heated. Some cars come with electrically heated mirrors to prevent frost build-up from obscuring your view. In nearly all cases, you will have heated mirror glass if you can electronically control the mirror glass adjustment from within the car. Here's a photo of what button you'll have if you've got electric mirrors :-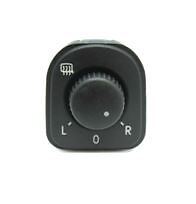 In some cases, mirror glass can be tinted, such as the VW Golf 1998-2004 model. Some models have blue tinted glass, others have clear glass. Keep an eye out for different variations!
Mirror covers
When you're searching for mirror covers, keep an eye out for whether it says "primed". Primed means that it's a textured grey cover that's ready to give to a paint shop to paint to your specified colour.
If you're looking for mirror covers to match the colour of your car, you'll need to give your car colour code to a paint shop. You'll normally find your car colour code within the door of your car or in the log book. Without this, a seller cannot get the specific colour for you. You'll be surprised how many different shades there are!
Make sure that if you're buying for a car or van that you check if your mirror has an indicator, as the cover will have a cut out section for that part of the mirror. Here's an example of some mirror covers that require the cut-out for an indicator section :-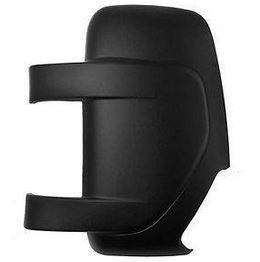 Also, in a lot of cases, you can also buy the indicator section separate if that's got damaged.
Complete Wing Mirrors
When you're purchasing a wing mirror, you need to ask yourself these questions :-
Is my mirror manual or electric?
Is my mirror electric or power-folding?
Does my mirror have an indicator section?
Do I have a puddle light?
How many pins does my plug connector have?
Is my mirror short or long arm?
We'll go through what each one means for you.
Manual or electric?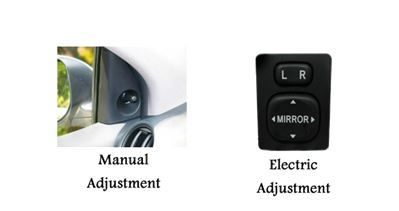 If you have an adjuster inside the car where you move your mirror glass, you've got manual mirrors.
If you've got a button like in image two, you've got electric mirrors and in nearly all cases your mirror is heated too.
Power-folding means that your vehicle electronically folds your entire wing mirrors in.
This normally occurs when you lock your car. Do not assume that a mirror is power-folding if it says "electric", because as explained above this only means that you can electronically move your mirror glass. Make sure that you can see the word 'power-fold' or 'power-folding' in a product listing.
Some cars like the new model Ford Fiesta has an indicator section on the mirror, here's an example below :-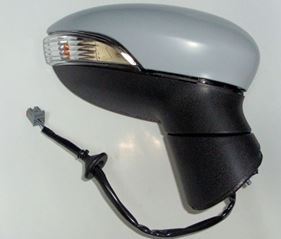 Make sure that when purchasing that this section is included. Mirrors like the VW Polo have some mirrors that do come with indicator sections and some that don't. Don't get caught out!
With some of the new models, cars can have something called a puddle light. This is a light underneath your wing mirror and looks like this;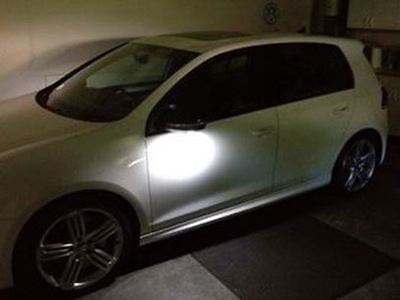 It's main purpose is to aid you in to your car, such as seeing a kerb. If you have a puddle light there should be a light located underneath your mirror.
Some wing mirrors can be a bit complicated to buy, such as the Ford Galaxy or Peugeot 206 Convertible. Sometimes a mirror will only fit dependant on the plug connector/plug pins.
As an example, a Peugeot 206cc can have two different coloured connector - Orange or white. Please make sure you check that before you buy.
A Ford Galaxy mirror can have different pins, such as 7 pin 8 hole connector, 6 pin 8 hole connector, or 12 pin, 12 hole connector. Always check before purchase! A reputable seller will have this listed on their website for your reference.
Last but not least....
With some van mirrors, there is a difference in mirror arm length, such as the Ford transit. The mirror will still fit, but good luck seeing where you're going if you're in a Transit tipper!
Here's some photographs to help...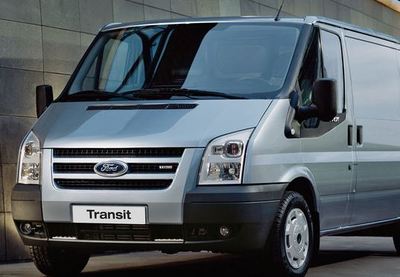 Short arm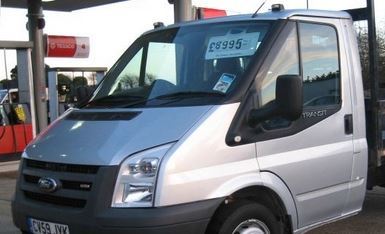 Long arm
We think we've covered most information for you...
If you've found this helpful please give us a thumbs up!