If you're looking for a unique and quirky way to mark memorable moments in your life, a beautiful Pandora charm bracelet could be right up your street. These stunning accessories come in a range of different materials including gold, silver and leather, and are renowned for their durability and quality. With an array of exquisite designs to choose from, you certainly won't be short of choice, so let's take a look at 10 of the very best styles.
10.
Essence silver charm bracelet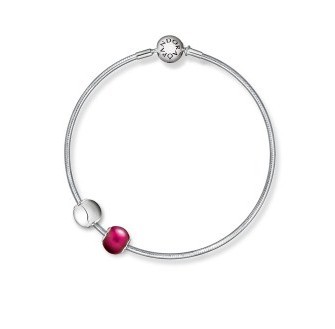 PANDORA's Essence Collection conveys your inner self through a collection of delicate jewellery and sophisticated charms. One of the items in this range includes a slender sterling silver bracelet which is both dainty and elegant.

Designed to display a host of hand-finished, sterling charms it really is pleasing on the eye although it's worth noting that only charms from the Essence Collection will fit.

---
9. PANDORA Moments triple woven leather bracelets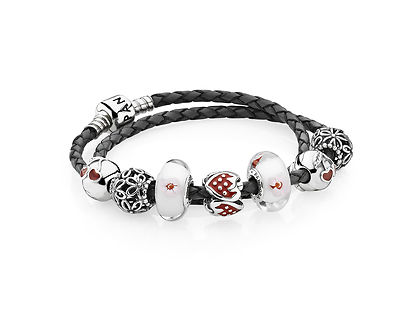 This type of bracelet is just like the triple bangles above apart from the leather is woven creating a more textured effect. Once again it comes in a variety of colours including black and grey and you can even get double woven and single woven varieties in everything from a stunning pearl shade to a deep purple.

Silver barrel clasps are popular and like PANDORA's other bracelets you can add a host of charms to make it yours.
---
8. PANDORA Moments triple leather bracelets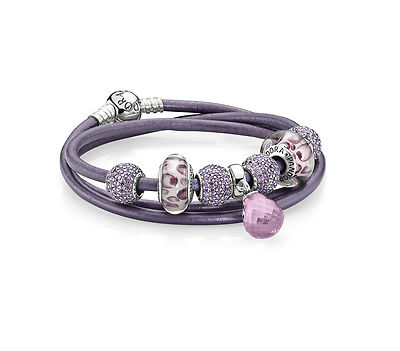 Like the multi-strand bracelets, PANDORA's triple leather bangles are interesting to look at thanks to their entwined, layered appearance. While bright shades such as red and purple are both vibrant and pleasing on the eye you can also get hold of more neutral colours like black and brown. Of course, the type you go for will depend on your individual personality and style but you might also want to choose something to complement the charms your already own.

Most bracelets have sterling silver clasps.
---
7. PANDORA Moments multi-strand bracelets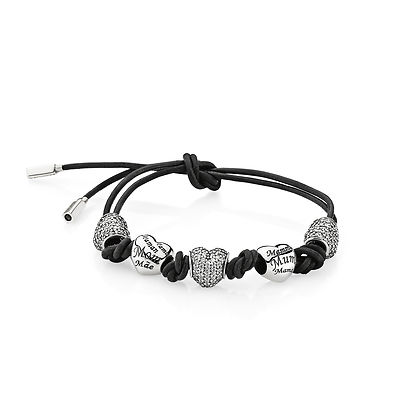 If gold and silver aren't your thing or you'd simply prefer something a little more casual, the PANODRA Moments multi-strand bracelets on offer might be to your taste. Unique as they are classy, these bangles feature numerous strings which come together to form a decorative wrist decoration all finished off with a polished silver branded ball clasp.

Available in numerous colours, including baby pink and teal, you can match the bracelets to suit your outfit or layer them up for a bright, summery look.
---
6. PANDORA charm bracelet – two tone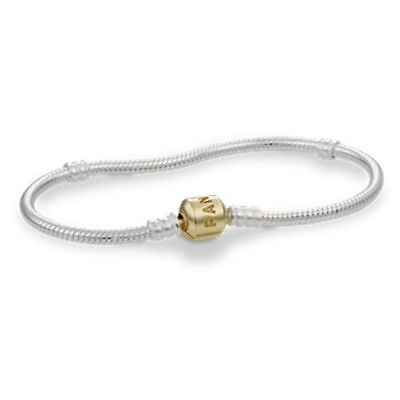 If you're finding it hard to choose between sterling silver and the gold bracelets on offer, fear not, as you could be the proud owner of one of Pandora's most exclusive pieces – the two-tone design. With the bracelet made from sterling silver and the barrel clasp made from 14ct gold, you'll get all you wanted and more so it's well worth checking out this style.

As with many of the charm bracelets, PANDORA is inscribed onto the clasp for an extra touch of class.
---
5. The PANDORA charm bracelet in 14-carat gold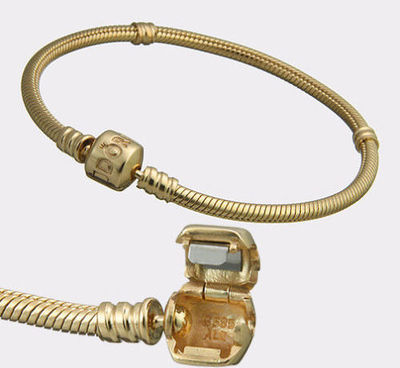 Sometimes, only gold will do which is why PANDORA have released this stunning 14ct bracelet. Complete with a barrel clasp and sold in three different sizes (17cm, 19cm and 21cm) it's a must-have accessory for anyone collecting PANDORA's exclusive collection of 14ct or two-tone charms.

You could even enjoy a dash of contrast by popping sterling silver charms on this beautiful piece.
---
4. PANDORA Moments charm bracelet in oxidised silver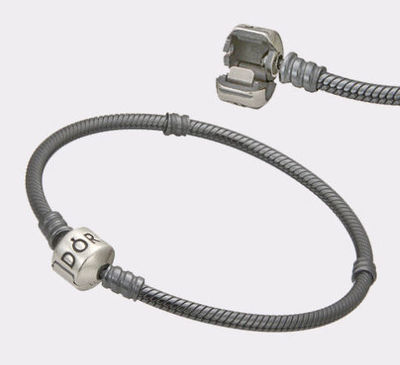 Fancy something a little edgier? Then take a look at this sensational bracelet made from oxidised silver. It's far darker than the sterling silver varieties available and will give a quirkier feel to your charm collection. Complete with a sterling clasp, the contrasting colours are eye-catching and certainly make a statement.

Thanks to the barrel clasp and trademark PANDORA threading system, your charms will also screw on with ease and remain secure.
---
3. PANDORA Moments five-clip bracelet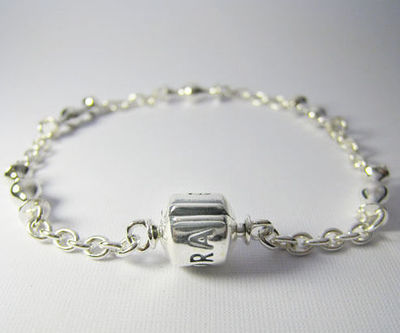 The PANDORA Moments five-clip bracelet is a stunning multi-chain piece of jewellery which can be customised to suit your mood. With the option of adding up to five different clips, you can mix and match an array of PANDORA accessories at your leisure and turn this basic chain into a personal feature piece.

Sizes range from 15cm to 21cm so you're sure to find something that fits you perfectly.
---
2.
PANDORA Moments charm bracelet in sterling silver – lobster clasp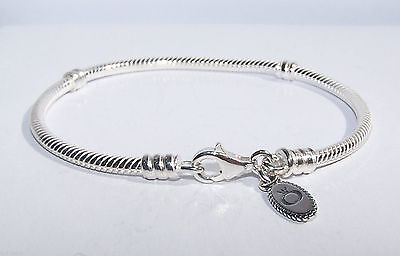 Aside from the overall design of a bracelet, the type of clasp used is of paramount importance to many buyers. While some people prefer the screw mechanism of a barrel clasp, others prefer the lever-controlled lobster clasp of this Moments bangle.

Held closed by a spring, lobster clasps are dainty, reliable and are easy to operate with one hand.
---
1. PANDORA Moments charm bracelet in sterling silver – barrel clasp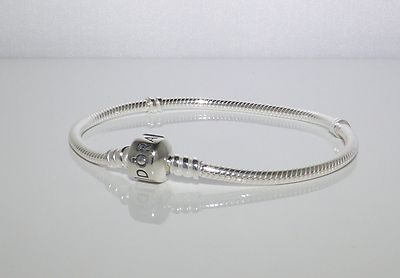 Ideal for anyone searching for a simple yet stand-out piece of jewellery, this sterling silver bracelet with a barrel clasp is a PANDORA classic.

Part of the Moments range, which is based around creativity, sharing and storytelling, it's sold in a host of different sizes and is the perfect way to show off all your delightful charms.