Ear piercing guns resemble a handgun and often use a spring action to push an earring through the earlobe when the trigger is pulled. These guns may have a reusable or disposable tip, and any of the top 3 provide a quick and relatively pain-free way to pierce ears.
Hand Clasp Models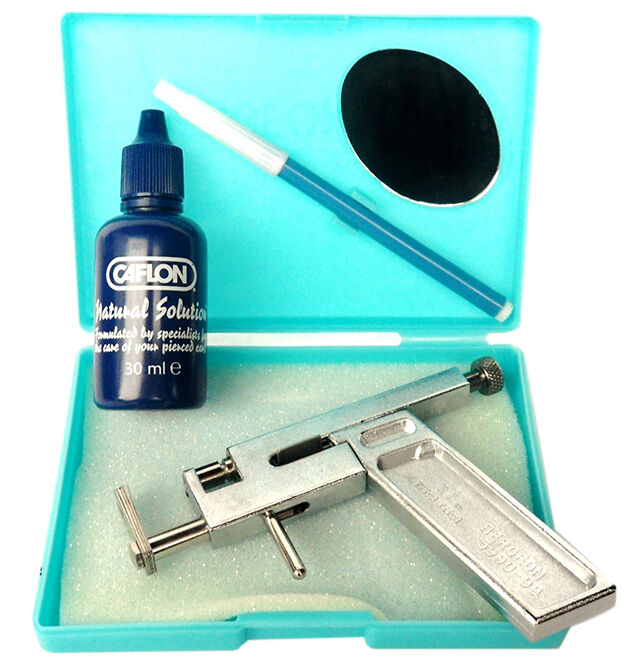 Ear piercing guns come in a large selection of hand clasp models. Unlike traditional models, these piercing tools do not use a spring action to force the starter earring into the lobe; instead, the operator squeezes the handgrip to force the earring through the lobe and into the backing. When shopping, look for models that allow for a wider variety of jewellery shapes and designs. Still, models that work with earrings in capsules prove most hygienically safe; these earrings are loaded into the instrument without the operator touching them. Generally speaking, this type is meant for at-home purposes, rather than for a commercial enterprise. Many manufacturers claim that hand clasp models make for a less stressful piercing experience; thus, they may better suit piercing the ears of young children.
Disposable Cartridges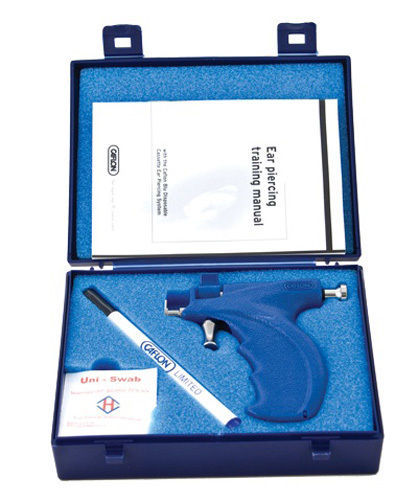 In the UK, health and safety legislation require disposable cartridges in mall piercing shops. These newer models use a disposable cartridge, often referred to as a cassette, that the operator changes after each use. Each piercing tool comes with the earring and the backing already inside, eliminating the need for the piercer to touch the jewellery when they load it into the gun. All parts of the gun that come in contact with the earlobe are made of medical grade plastic. When shopping, look for disposable cartridges made by Caflon. Caflon ear piercing guns come in several varieties; for the best value consider purchasing an ear piercing kit.
Traditional Models
Traditional models of ear cartilage piercing guns have tubes to load the pre-sterilised earring and a holder for the backing. Unlike more modern varieties, these piercing tools require manual loading of both the earring and backing. Once the tube containing the earring is pulled back, the operator manoeuvres it so that the earlobe sits between the earring and the backing. The trigger and spring then snap the earring through the ear and into the backing. Traditional models are most often designed to pierce using 20 or 18-gauge earrings, normally those made out of surgical steel, 24 karat gold-plated steel, 14 karat gold, or titanium. Unlike other models, these cannot be taken apart for proper sterilisation purposes. Therefore, they are not deemed safe for use in piercing shops due to an increased risk of passing infections through blood-borne pathogens. Lastly, ear piercing guns are not recommended for lip or nose piercings.