An anti-fog mirror does not mist even when exposed to steam and condensation. This type of mirror is useful when applying and removing make-up in the bathroom or shaving in the shower, where steam clouds normal mirrors. Some anti-fog mirrors come with extras, such as lights and magnifiers, that make it easier to perform tweezing and similar tasks, especially for users with poor eyesight. Most feature brackets, suction cups, and systems for easy installation and removal. Shoppers can buy anti-fog
vanity mirrors
from department stores, interior design shops, and online from marketplaces such as eBay.
| | |
| --- | --- |
| 1 | Croydex Twist 'N' Lock Anti-Fog Mirror |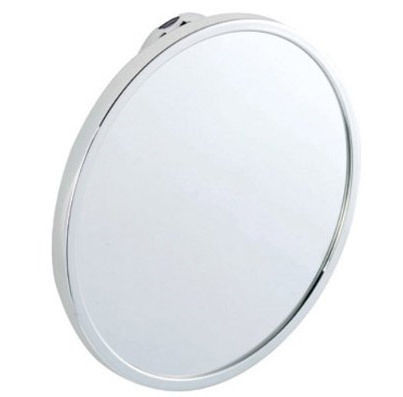 The Croydex Twist 'N' Lock anti-fog mirror comes with a suction cup attachment that affixes to tiles or glass. Users do not need to drill holes to install these mirrors and they can move them as required. Users must ensure that the suction cap is secure by turning it clockwise until it is tight. Once it is finger tight, users must unwind the cap by turning it six turns anti-clockwise, place the mirror in the desired position, push the centre firmly, and turn the cap clockwise until it is tight. The Twist 'N' Lock also features a screw fix that attaches to any surface, including wood, textured tiles, and painted walls.
---
| | |
| --- | --- |
| 2 | Croydex Stick 'N' Lock Anti-Fog Mirror |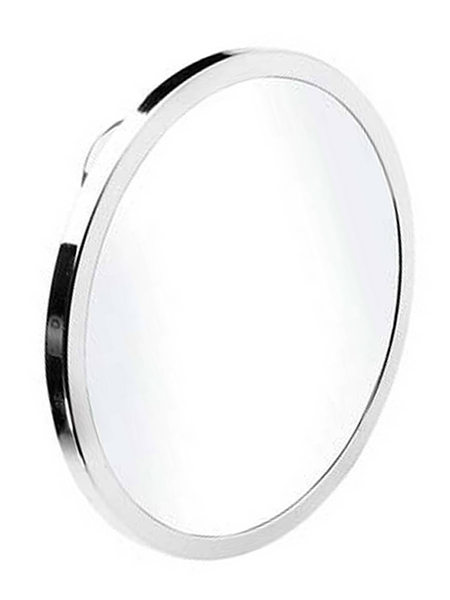 The Croydex Stick 'N' Lock anti-fog mirror has an easy to remove sticky pad that adheres to most flat, finished surfaces, including tiles, laminates, and gloss paints. This system does not work on rough or unfinished surfaces, such as brick or loose, flaky surfaces. However, it comes with a screw fix system that attaches to any surface. The round chrome-plated mild steel mirror comes with a fixing pack and fitting instructions.
---
| | |
| --- | --- |
| 3 | Wenko Chrome Anti-Fog Mirror |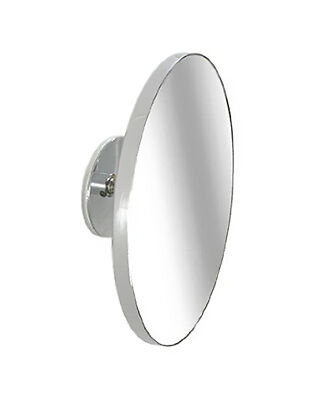 The Wenko chrome anti-fog mirror offers safe installation with the Turbo-Loc adhesive system, which features a special adhesive pad that is easy to use. It provides immediate strong hold on smooth surfaces and does not leave a sticky residue when removed. To install the mirror, users simply remove the pad's protective film, attach the holder, and press firmly. This Wenko mirror is heavy, solid, and made of chrome-plated steel. Its anti-misting feature provides a permanent clear view and makes it an ideal vanity mirror for applying and removing beauty treatments, and shaving.
---
| | |
| --- | --- |
| 4 | Zadro Z'Fogless Fog-Free Mirror with Adjustable Magnification Magnification |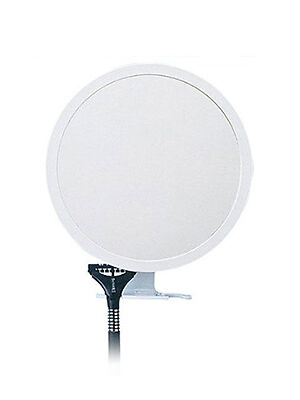 Zadro markets the Z'Fogless fog-free mirror as a shaving accessory, but it is ideal for any bathroom use. It is an LED-lighted mirror that features a patented hydrophobic coating that repels water. This keeps the mirror mist-free even in extremely steamy environments. Its 1x magnification is perfect for shaving, tweezing, and other detailed tasks. The two bright integrated LED lights illuminate the user's face for a clearer reflection. This mirror includes a razor holder and LCD clock. It attaches to almost any smooth surface with a suction cup or double-sided tape, and comes with a hanging cord and clip. It has an elegant silver finish and is break-resistant for added durability.
---
| | |
| --- | --- |
| 5 | SimpleHuman Anti-Fog Wall-Mount Mirror |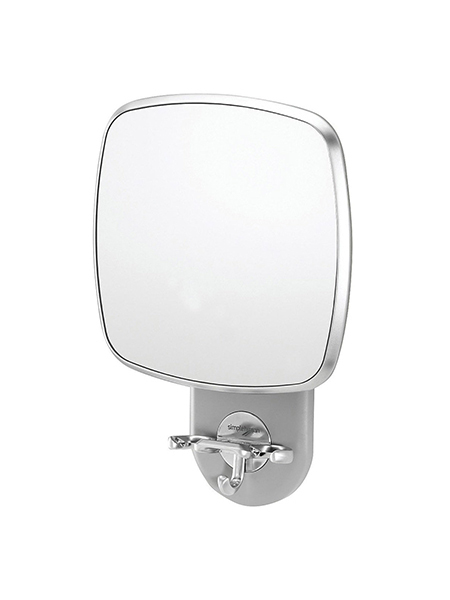 The SimpleHuman anti-fog wall-mount mirror comes with a coating that provides a clear reflection in a variety of environments. It features an integrated storage hook for holding accessories, such as razors and tweezers. The feature that sets this mirror apart from the rest is that is it has a specially designed ball joint and tension ring that allows for multi-directional pivoting. The system prevents the mirror from slipping out of place, regardless of its angle. This makes it ideal for all members of a household and increases its versatility. The mirror comes with adhesive strips and silicone glue for fuss-free installation. Users that want a permanent installation can fasten the mirror with screws.
---
How to Buy an Anti-Fog Vanity Mirror on eBay
eBay offers a variety of anti-fog vanity mirrors. To find the right product, type a phrase, for example "
shower mirror
", into the bar available on every page. If you enjoy window shopping, browse the listings. Alternatively, narrow down your results by selecting the most appropriate category filters. An anti-fog vanity mirror is ideal for those that perform their personal grooming tasks after bathing or showering. Buyers should look for mirrors that are easy to install and have features, such as LED lights, that increase their versatility.