The uses of a professional-grade pressure washer are varied and extensive. Whether cleaning decking, concrete, house siding, boats, or performing any number of industrial tasks,
pressure washers
are a valuable tool for cleaning contractors and many types of businesses. Selecting the right pressure washer depends greatly on the user's purpose, whether it is necessary to transport the washer in a vehicle, and what type of cleaning is necessary. Understanding the features of some of the top brands of professional-grade pressure washers can help buyers select the best unit for their needs. Sellers on eBay offer a good selection of the most popular high powered pressure washers on the market.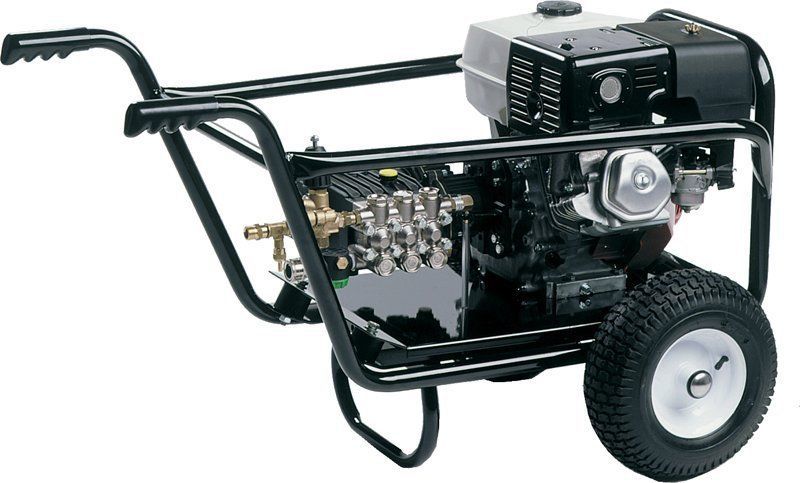 The Rapier RT15200 is a petrol-powered pressure washer in a conventional two-wheel lift and roll steel bar cart. The 11-horsepower Honda GX340 engine produces a flow rate of 15 litres per minute, while generating a pump speed of 1450 rpm. The unit weighs 82 kg, but the large air-inflatable wheels make it easy for users to roll it around. The standard 10-m high pressure hose comes with a spray gun that accepts replaceable lances, though a 045-nozzle is standard.
---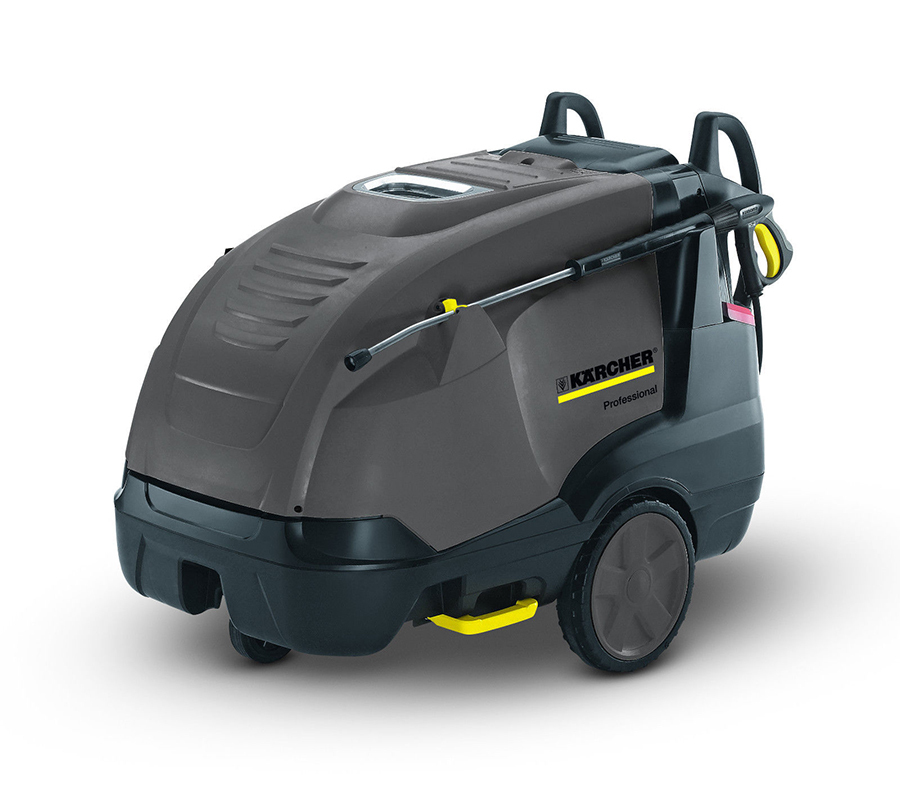 The Karcher HDS 7/10 is an industrial strength roll-around unit for pressure washing with hot water or steam. With two 20-litre detergent tanks housed in the rolling case, the pressure washer can clean items that require solvents to remove grime and grease. Users can operate the HDS 7/10 wwith cold water, in economy mode at 60 degrees C or as a steam cleaner at 155 degrees C. The three piston axial pump produces a flow rate of 12 litres per minute. The 10-m high pressure hose and 1050-mm spray lance are easily stored in the unit. Illuminating indicator lamps on the control panel provide feedback on operating systems, while large hand dials make the system's settings easily identifiable.
---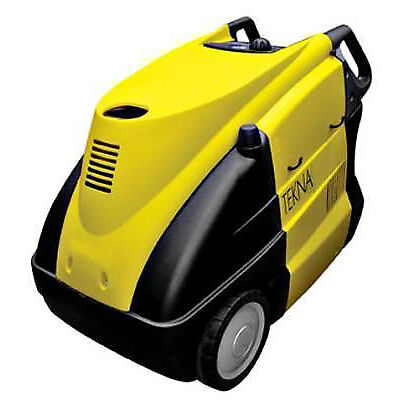 Another roll-around hot water pressure washer for industrial use is the Lavor Tekna 1211. The unit has a 1450 rpm electric motor running on 230 volts. This pressure washer can produce a flow rate of 11 litres per second. The built-in holding tank allows users to mix cleaning detergent with the water prior to delivery into the spray wand. Users can add anti-scale solution automatically to the water flow to prevent internal build-up in the water flow system. The spray gun has a swivel hose fitting for easier manoeuvrability.
---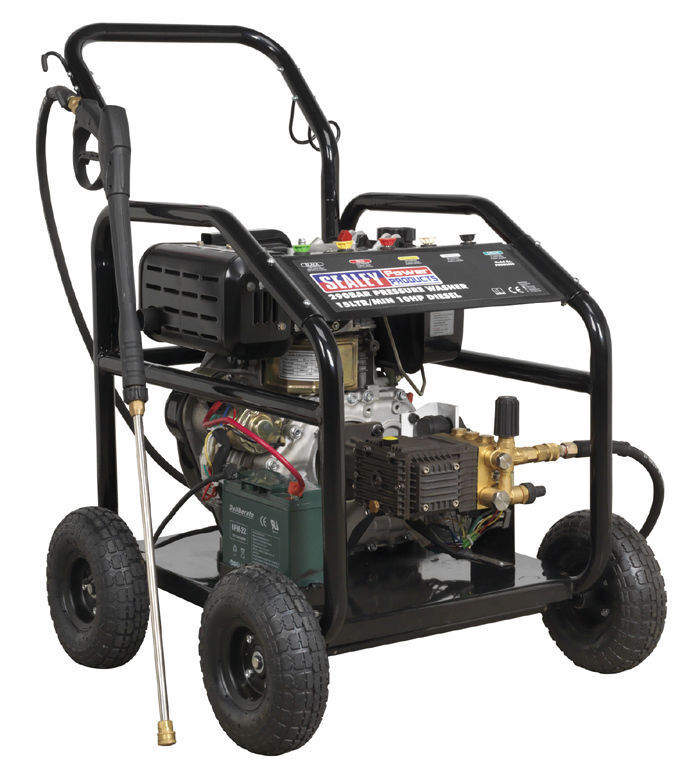 The Sealey PWDM3600 comes mounted on a steel case open frame with four pneumatic tyres for effortless transport. Powered by a 4-stroke single cylinder diesel engine, the unit produces impressive pressure with 15 litres per minute of water flow. The diesel-powered pressure washer comes with a 5-m high pressure hose, a spray gun and 1-m lance with five interchangeable pressure nozzles. The 10 horsepower diesel motor on the Sealy PWDM3600 has an automatic low-oil shut off safety feature to protect the engine and it has an electric start as well as a recoil pull starter.
---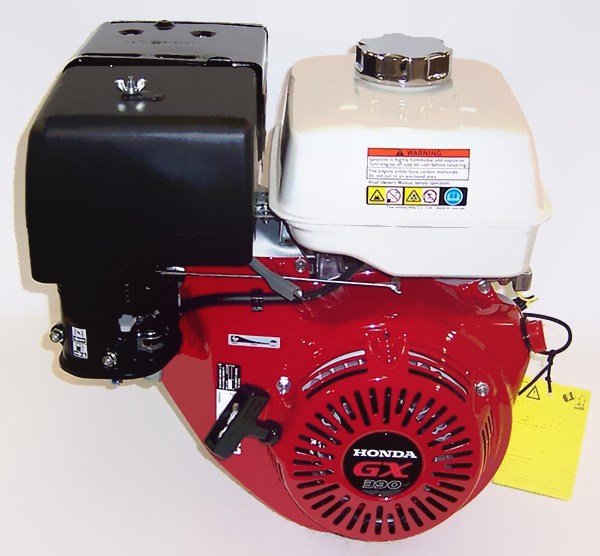 The Honda GX390 engine works well in a number of different brands of pressure washers due to the excellent reliability of the engine. The GX390 is a petrol four-stroke overhead valve engine rated at 11.7 horsepower. The engine is compatible with both electric or recoil starters and Honda's Oil Alert system prevents engine seizure from running if it is too low on lubricant. The engine has various pumps, hose lengths, wands and different cart configurations, so buyers need to select the specific characteristics of the washer components. Often marketed as Honda GX390 pressure washers for the name recognition, the engine is the only Honda OEM part.
---
How to Buy Professional-Grade Pressure Washers
Busy shoppers can appreciate the advantage of shopping the top brands of
professional-grade pressure washers
with a click of a mouse. Sellers on eBay offer very competitive prices on the top brands and models of pressure washers; buyers can shop with confidence on eBay by reviewing seller feedback. Previous buyers grade individual sellers on the manner in which that seller handled their transaction and ratings are published for future buyers to review. Feel secure in making your eBay purchase by using PayPal to transfer funds securely between you and the seller. Have your pressure washer shipped directly to your home or business and you are ready to go to work. Whether for home or commercial use, professional-grade pressure washers perform difficult cleaning tasks with ease.