When historians write the story of the early 21st century, one of the most used words is 'security'. Public safety is a part of daily life: just entering government buildings, public and private schools, entertainment venues, and airports, exposes the public to multiple types of surveillance and security checks. The most common checks are passing through a walk-through metal detector or sweeping with a handheld metal detecting wand. Whether a security specialist, working to keep the public safe, or a concerned citizen wanting to bolster a home or small business security plan, metal
detectors
need to be a consideration. To help consumers find the right metal detector at the right price, eBay offers a selection of detectors and other necessary security items.
| | |
| --- | --- |
| 1 | Securitex Handheld Metal Detector Scanner - Model SHMDS-1/ESH-10 |
The Securitex handheld metal detector model, SHMDS-1/ESH-10, is a lightweight (220 g), compact (7.7 cm by 2.6 cm by 37.5 cm), and easy-to-use handheld detector. Designed to detect even the smallest ferrous or non-ferrous metal object carried on an individual, regardless of clothing, this device is operational between -15 to 45 degrees C and scans a large area quickly, emitting an audible or vibration alert on positive identification.
---
| | |
| --- | --- |
| 2 | Titan Portable Handheld High Security Metal Detector Scanner |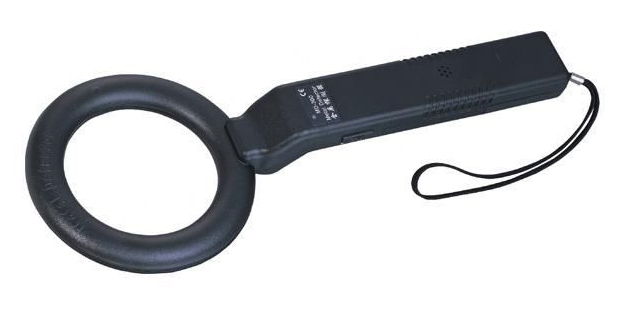 The Titan handheld high-security metal detector and scanner looks quite different than most handheld detectors; taking a design cue from surveying metal detectors, the Titan high-security detector has a round detector head mounted to a shaft (envision a circle on a stick). This design expands the detector's area of sensitivity, while remaining compact at 35 cm by 14 cm by 4 cm. This device is operational between 0 to 40 degrees C and indicates a positive identification of ferrous and non-ferrous metal objects with an audible alert and LED indicators.
---
| | |
| --- | --- |
| 3 | Garrett Superwand Handheld Metal Detector |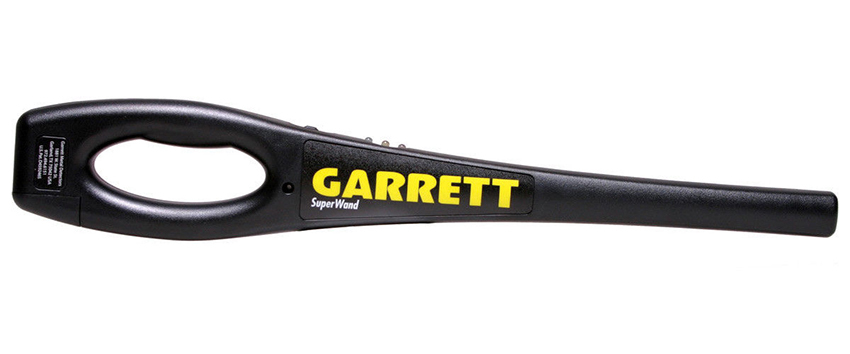 The Garrett Superwand handheld metal detector offers a convenient 360-degree scan; meaning that the detector can identify metal objects (ferrous, non-ferrous, and stainless steel) no matter what side of the wand is used. The detector also has a sensitive detector tip to offer the security person the ability to keep out of arm's reach of the person receiving the scan. A compact detector, the Garrett Superwand measures 8.3 cm by 3.2 cm by 48.3 cm and weighs 527 g, and has a wide operating temperature range from -37 degrees C to 70 degrees C. The detector indicates positive identification with audible alert, vibration, and LED indicators.
---
| | |
| --- | --- |
| 4 | Garrett Tactical Handheld Metal Detector |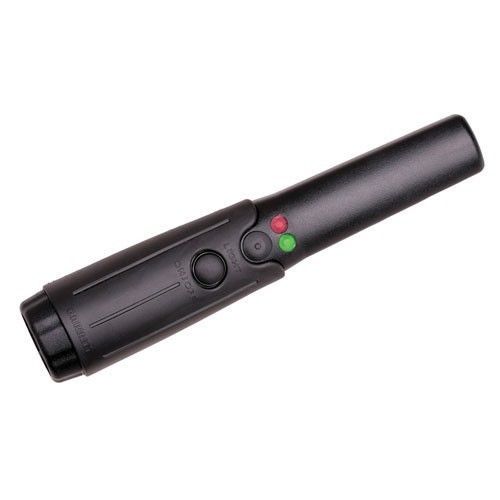 Designed more for law enforcement and military purposes than domestic settings, the metal detector is ultra-compact, measuring 22 cm long and with a tapered barrel shape that ranges from 3.8 cm at the hilt and 2.9 cm at the tip. As with other Garrett detectors, the Tactical handheld offers 360-degree scanning radius and tip detection sensitivity. Additionally, the detector is equipped with a powerful LED torch built into the tip of the detector, should the situation require a handheld light source.
---
| | |
| --- | --- |
| 5 | Garrett CS5000 Walk-Through Security Metal Detector |
The Garrett CS5000 Walk-Through Security Metal Detector has a reputation within the industry as an accurate, durable, and economical walk-through detector. Using micro processing technology, the CS5000 is highly sensitive and the ability to synchronise with other Garrett devices, such as handhelds, within proximity. Positive identification alerts with audible and LED light panel displays; additional alarm technology detects attempts to alter the sensitivity settings by unauthorized personnel and protects the detector from tampering.
---
Handheld Metal Detectors
Handheld metal detectors
allow security personnel to check individuals quickly at transit centres, public buildings, financial institutions, and other locations in controlling traffic flow and maintaining safety. They are also useful as additional tools to use when an individual triggers an alarm on a walk-through metal detector, to pinpoint metal objects. Handheld detectors are lightweight, reasonably compact, and require little training to operate effectively.
How to Buy a Security Metal Detector on eBay
Regardless of which type of metal detector you want, eBay may be the place where you find surprising selections and welcome prices. Enter either a generic term such as 'Handheld Metal Detectors', or something more specific, such as '
Garrett Tactical Handheld Metal Detector
' into the search bar located on every eBay page. Should you require additional filtering of results, you can select one or more of the filter options available on the results page you are provided. These filters include price, location, payment methods, and more. Before buying a handheld or freestanding walk-through metal detector on eBay, take a moment and check out the seller's feedback score, and eBay history; this allows you to buy metal detectors with confidence.