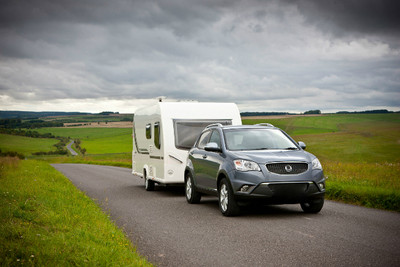 Add a caption
Check your towing weight to make sure you are safe and legal.
In this guide we are looking at the most important figure on your tow bar - the maximum towing weight.
When it comes to towing, it's important to know your weights. Whether you are looking to tow a caravan for your next family holiday, a utility trailer to transport business goods or you need extra capacity for moving house, making sure you use the right vehicle and trailer for the job is key.
What does towing capacity mean?
First thing's first: you need to make sure that what you wish to tow doesn't exceed the trailer's own maximum authorised mass or the car's maximum towing capacity.
If you are using a trailer rather than caravan or horsebox, the second important thing to point out is the maximum capacity will also include the weight of the trailer so you will need to add that into the equation when thinking about what you are looking to transport.
There are usually two maximum weights that will be specified in your car's driver manual, a braked trailer weight and an un-braked trailer weight. It is important to note that if the combined trailer weight is more than 750kg or over half the cars kerb weight, the trailer must be fitted with brakes.
I want to tow a caravan for the next family holiday
The weight of caravans can vary but generally speaking, a car that has a 2,000kg towing capacity will in most cases do the job. Examples include the BMW 5 Series Touring, Hyundai Santa Fe and the Skoda Superb Estate.
For larger twin-axle caravans, more than a 2,000kg towing capacity may be required. If this is the case, large 4x4's or pick-ups like the Land Rover Discovery (3,500kg) and Ford Ranger (3,350kg) will be up for the task.
I want to tow some junk to the tip
If you are having a clear-out and looking to transport a trailer to and from the tip, a small un-braked trailer will be ideal for this.
Most small hatchbacks will be able to pull a trailer with a weight of around 500kg including cars like the Mini Clubman and Ford Fiesta. If you are looking to transport slightly heavier goods, cars like the Volkswagen Golf and Skoda Yeti offer braked trailer capacity of 1,400kg.
I want to transport heavy mechanical equipment across business sites
If you are looking to tow anything heavier than 2,000kg, the list of suitable cars starts to get smaller, and moving up to the 3,500kg, the list shrinks even more. Below is a list of the cars that can tow 3,500kg.
Land Rover Defender
Mitsubishi Shogun
Land Rover Discovery
Jeep Grand Cherokee
BMW X6
Isuzu Trooper
Kia Sorento
Toyota Land Cruiser
Range Rover
Mercedes-Benz GL
Mercedes-Benz M-Class
Volkswagen Touareg
When towing for business, if you add a trailer, taking the total weight over 3,500kg, then a tachograph, in most cases, should be fitted. Most vehicle manufacturers will offer a tachograph as a cost option.
I want to tow a horsebox
Horses come in all shapes and sizes, and average weights can vary from 200kg for a small pony up to 1000kg for a Shire. Horseboxes also vary vastly in weight so it's important to having an accurate figure of what is to be towed.
We would recommend using a vehicle that has over a 2,000kg capacity.
Important things to remember
The speed limit when towing is 60mph on motorways and dual carriageways and 50mph on single carriage roads
The maximum width of a trailer should not exceed 2.3m and 7m in length.
If the trailer is wider than the car you wish to drive then towing mirrors should be fitted.
If you fit a tow bar to your vehicle then it must meet EU regulations and be designed for use with that car.
If you have never towed before, it is always a good idea to practice as much as possible, especially reversing and parking with a trailer attached.