Trailer wiring guide
This guide is to help you select the type of trailer plug and/or socket that you may require for your trailer / caravan and help you to wire it up.
Types of plugs and sockets available and general description.
7 pin 12N
This is commonly known as 'N' type

It is normally black plastic or it is available in aluminium

It has 7 wires for lights sufficient to make a trailer legal

Reverse lights can not be operated from this.
7 pin 12S
This is commonly Known as 'S' Type
The plugs are grey plastic and the sockets are black plastic with a grey lid
It has 7 wires which are power for a caravan and reverse lights
13 pin
These are known as euro plugs
They are black plastic
These combine all the items in N and S type
There are other plugs available but those shown above are the ones that are regularly used on 12v cars and caravans.
Wiring diagrams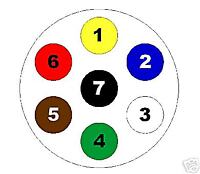 'N' type
Yellow L/H indicator

Blue Fog light

White Earth

Green R/H indicator

Brown R/H tail / side light

Red Brake lights

Black L/H tial / side light
'S' Type
Yellow Reversing Light
Blue Ignition 12V supply
White Earth
Green Continuous 12V supply
Brown Spare
Red Fridge
Black Spare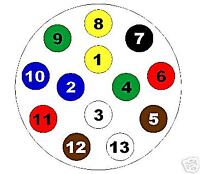 13 pin euro
There are 3 different colours listed for all the different wires we are aware of, we do not garentee we cover all available wires.
Pin no Colour1 Colour 2 Colour 3 Function
Yellow Yellow Yellow L/H indicator
Blue Blue Blue Fog light
White White White Earth
Green Green Green R/H indicator
Brown Brown Brown R/H tail / side light
Red Red Red Brake lights
Black Black Black L/H tail / side light
Yellow Pink Pink Reversing light
Green Orange Purple Continuous 12V supply
Blue Grey Grey Fridge
Red White/Black Clear Earth for fridge
Brown White/blue Buff Coding ( if required) normally spare
White White/Red Black/red Earth for pin 9
Most new vehicles are not to simple to wire a towbar as the wiring systems are getting more complicated and a lot require relays to by pass parts orf the car wiring to find out more information about bypass relays please look ar our other guide.
Guide for bypass relays and dedicated wiring systems.
Notes.
By law all passenger vehicles should be fitted with a monitor to tell the driver that the indicators are working correctly this can be done either with a flashing light in the dash or an audible buzzer in the vehicle. We can supply these.
Fitting a pre wired socket to an older vehicle is easy, the wires can be fitted straight to the vehicles lights normally using scotch locks but on most newer vehicles (2002 on ) the electrical systems are more complex and require different types of relays which we stock and can supply. These will be available in our shop shortly. Another easer way (for cars 2002 on) is to buy a dedicated wiring loom that plugs directly into the vehicles wiring loom. We currently do not stock these looms but can supply in approximate 10- 14 days. It is our intention to keep the popular looms in stock shortly.
Converters
If you have a vehicle and a trailer / caravan with different plugs, one 13 pin and the other 7 pin or double 7 pin. We stock 4 different converters to help you on your way.
PA01 which is a 13 pin to 7 pin adapter which plugs in to a 13pin socket and gives one N type 7 pin outlet. This is ideal for towing a trailer with 7 pin electrics using a towing vehicle with 13 pin electrics.
PA02 Which is a 13pin to 7 pin adapter which has 2 cables that come from a 13 pin plug to supply both 'N' & 'S' type sockets. This is ideal for towing a caravan with 7 pin electrics using a new towing vehicle with 13 pin electrics.
PA03 Which is a 7pin to 13pin adaptor which comes with both 'N' & 'S' type plugs with short cables and a 13pin socket on the end. This is ideal for towing a caravan with 13pin electrics using a towing vehicle with a 'N' and 'S' type socket
PA04 Which is a 7 pin to 13 pin adaptor which plugs in to a 'N' type socket on the towing vehicle and has a 13 pin socket on the back (please note this will only supply road lighting.) This is ideal for a towing a trailer with a 13 pin plug using a towing vehicle with 7 pin socket/s.
The answer to one regularly asked question is. It is not possible to get a converter that supplies 'S' Type or full 13pin electrics from a 'N' type socket.
We have a few links below that may help you find the items you require tor your trailer.
We also have more guides on ebay to help you buy the correct item for your trailer, and even the correct towbar to tow it with.Please use the links below.
Lighting requirements guide This gives guide lines on trailer lighting and the lights you need to keep your trailer legal
Towbar wiring (relays and dedicated wiring systems) With modern car wiring this helps you chose the correct relay and explains why these are needed.
Legal dimensions for a trailer When building a trailer there are laws regarding weights and sizes this guide will give the guidelins to build your trailer to.
Trailer suspension This guide will give information on suspension you may require when repairing or building a trailer including how to fit it.
Unbraked couplings This guide gives information on unbraked coupling maintance and fitting .
Braked couplings This guide gives information on fitting braked couplings, setting the brakes up and maintanance.
Wheel PCD guide Trailer wheels have many different stud configurations and you need to get the correct one to make your wheel fit. This guide shows how to work out the PCD of a wheel and gives all the measurements for the most popular configurations.
Trailer wheels and tyres This gives information on wheel and tyre sizes along with Pressures Ply ratings and wheel ofsets.
Tyre load index and speed ratings to find out more about tyres this guide gives a list of load index and speed symbols stating the weights and speeds they represent.
EC94/20 This guide gives information on EC94/20 what it means and how it effects you.
Different types of towbar There are different types of towbar this guide gives information on these types and the advantages different types have.
Please vote for this guide if it has been of use as the more votes it recieves the easier it is to find for other buyers.