Trendi Switch is the latest design in modern light switches and plug socket. Very high quality plastic, easy to install and easy to clean.
The Trendi Range Included Rocker Light Switch, Dimmer switches, Data Sockets and Plug Socket.
A sleek long or short button design in double plug socket, unlike any other switch on the market.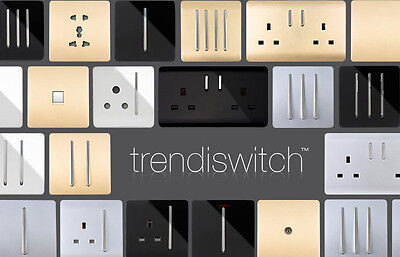 Trendi Is available in four different colours, all glossy Black, White, Silver and Gold.
10amp Rocker Switches are available in 1 way , 2 way and now Intermediate for 3 way switching. 1 gang to 4 gang light switches
Trendi 13amp Plug Socket 1 gang single and 2 gang double 13amp Plug socket are also available in the trendi range. Choose from long switch or short switch on the double plug sockets. You will be able to have trendi switch all over your home, due to the full range of switches. Fused Spur, 45amp cooker switch and 20amp heavy duty with neon for the kitchen.
Tv co-axial, Telephone Point, and Pc Socket for the living room - also in mixed plates
Moved a Switch? Left a hole? No Problem! Single Blanking plate will cover your old switch plate.
Single 300w 1 way Dimmer Light switch and Fan Speed Control Switch for any bathroom and bedroom.
Trendi Switches are made from a hard plastic, covered in a UV coating to give it the glossy effect.
Even the switches are a covered Chrome plastic,being made of plastic means you will not need to earth the switches.
All Trendi Switches are Screwless with a 2 plate design, simple install the switch into your back box and clip over the glossy front plate to give it the screwless finish.
Please beware of cheap import switches, which might look the same but do not come with 1 years manufacture warranty and CE Certified.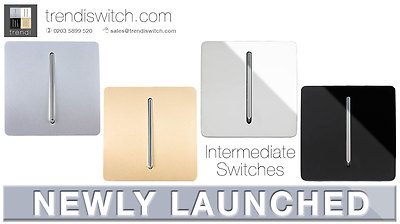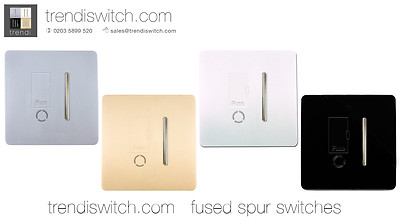 Please Check out our ebay shop, we also offer trade pack in Plug Socket, Rocker Light Switch and Dimmer Switches