Trying different mouthpieces can be interesting, and sometimes a bit daunting for the beginner or seasoned professional. I thought I would write about my own mouthpiece "safari" experience, and maybe it may help someone to make there own decision about a change or not. I play professionally myself, and have a gold plating business that specializes in gold and silver plating mouthpieces.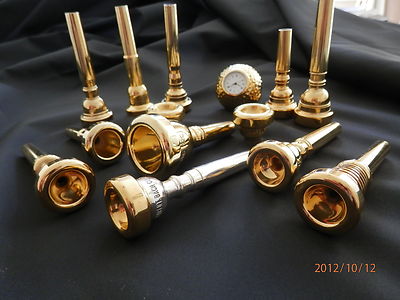 Like most people starting out to play the trumpet I started off on a Bach 7C which most players are familiar with, this mouthpiece is described as being a "beginner" mouthpiece, don't be fool'd by this terminology, there is nothing wrong with this size, and many pro players past and present play on one.
If you are getting a good sound, and range I would recommend you stick with it. The size of this model is 16.25mm as described on the Bach website The only issue I think would be of concern is your endurance with this type of rim, which is described on the Bach website as medium round, and lowered towards the outside.
A medium size mouthpiece is the best route to take in the long run, that would be anything from 16.25 up to 16.99, bearing in mind that different manufacturers take there measerment from various points on the rim, so one mouthpiece from one maker that says 16.35mm can sometimes feel bigger than a a maker that measures there's at 17.00mm! and if you play various kinds of music get a mouthpiece from a maker that also provides different cup depths, but keeping the diameter of the rim the same. Screw rims can accomplish this but shallower cups have a different undercut into the cup of the mouthpiece and sometimes the rim will not engage properly with the cup that it is been screwed on to.
Some makers you may be familiar with
Vincent Bach - the most popular of these models are the 7C, 3C, the 3C is slightly shallower but a bigger diameter rim.
Schilke- Various cups slightly narrower rims than Bach's in standard form but you can go for the 4 rim. I play a Schilke 14 standard and haven't found a mouthpiece yet that gives me the tone of the Schilke. Schilke 14 is 17.02mm in diameter.
Monette-Very expensive a lot of pro players using these. I played a B2 for a while but found it too big.
GR- Good maker and again various sizes and cup depths.
Marcinkiewicz- Another highly reputable mouthpiece maker, and if you like the 300 series they make them in different cup depths to the measurement of a human hair! ( thinking of trying one of these myself)
Warburton-A good one to try. Different back-bores that are threaded to the cup and rim of your choice, a good one is the 7 backbore slightly smaller than the Bach back-bore.
I hope this has been of some help. I will try and ad to this as time goes on, just in case I get the urge to go on another mouthpiece safari. I wish you well in your search, but remember Practice,practice, practice.
Cheers for now.