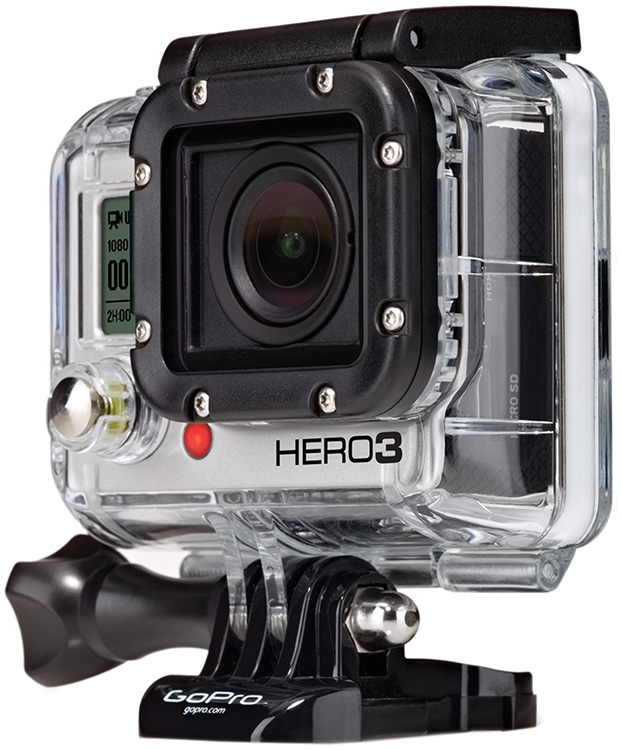 Finding a good
used GoPro camcorder
will require a bit of research as the GoPro range of products is quite extensive. When buying anything second-hand, it is important that the purchaser knows not just the differences between current models, but also between the same models of different ages. This is essential with complex devices like GoPro camcorders, which are regularly subject to significant updates. Budget is going to be important for someone buying used GoPro equipment, so they should focus their search on identifying the best camcorder, in the best condition, and at the best price.
Choosing the Best Used GoPro Camcorder
A good start to researching used GoPro camcorders is to find the highest-specification GoPro camcorder that the budget will allow. This may not necessarily be the best camcorder to buy; it may not be in very good condition, but it will provide a benchmark against which to compare other devices that are for sale. Making a note of which are the current GoPro models, and searching for used examples of these can be a good way to find out if the budget will stretch to a near new GoPro camcorder. Creating a shortlist by recording the model, condition, price, and any accessories will help document what constitutes a good deal. If none of the current models are within budget, then it will be necessary to begin researching older GoPro camcorders. If none of the more recent outgoing models are affordable, then it will be necessary to consider older camcorder models. If the budget dictates considering cameras more than 5 years old, it might be worth reconsidering the budget. The GoPro camcorder range undergoes almost yearly revisions. Newer products are often several times more powerful than the outgoing ones as well as being smaller and lighter. Going back through several iterations of these upgrades is likely to result in a camera that is far less rewarding to use. When 5 years of wear and tear are also factored in, it may make more sense to wait until more funds are available.
Getting the Best Condition GoPro Camcorder
Finding a used GoPro camcorder in mint condition is not going to be an easy task. GoPro camcorders are designed for creating footage of extreme activities like skydiving and mountain biking. Therefore, scrapes and scuffs are to be expected, no matter how carefully the equipment has been used.
The Camera's Previous Activities
One good tip is to look for GoPro camcorders for sale that have been used underwater for filming activities such as scuba diving. These devices will inevitably have spent their entire lives in a waterproof housing and so will be in better condition than most. If the housing is included in the sale, then it can also continue to be used to help keep the camera looking like new.
The condition of the GoPro camcorder may not be a great priority. If the device is to be used in a more unforgiving environment, for example, to film dirt-biking, then it does not make sense to spend extra to get a pristine device.
The Camera's Condition
When buying a used camcorder, it is important to thoroughly research the condition of the equipment. If the device is being bought locally, then it should be possible to thoroughly examine and test it prior to purchase. However, when it is being bought remotely, it is important that clarification is sought about the overall condition of the camcorder.
Double-check the extent of any defects mentioned by the vendor. Cosmetic defects such as scuffs and scratches may be acceptable. However, units where the case is cracked should likely be avoided unless they are offered with a significant discount. If possible, avoid equipment which has damage to lenses, viewfinders, or controls. GoPro camcorders are complicated devices that are not easy to repair. There are plenty of used GoPro camcorders out there which have not sustained serious damage.
Getting a GoPro Camcorder for the Best Price
To really maximise the budget may take good timing, a little luck, and probably some patience too.
Best Times to Buy a GoPro Camcorder
The GoPro range is subject to regular updates, which can represent an opportunity to find a great deal on the outgoing models.
Deals on new, and nearly new, GoPro equipment can be found as dealers sell off ex-display and ex-demo stock. Professional users of GoPro camcorders will usually upgrade to the latest equipment at launch, creating a surge of used equipment on the second-hand market. This surplus inevitably drives down prices, which is good news for those on a tight budget. For similar reasons, the period just after the Christmas holidays can also be an excellent time to buy used GoPro equipment.
Finding a Bargain GoPro Camcorder
Although there is a lot of used GoPro equipment to choose from, there is also a lot of competition from other buyers.
If the aim is to get the best value for money, then it can be worth searching for items which are advertised on websites dedicated to more obscure activities. For example, if a vendor lists their GoPro camcorder on a forum for, say, skateboarding, because that is what they have been using it for, then it will not attract the same interest as it would if advertised on a more mainstream website. It may well be possible to buy the GoPro kit for a little less than if it were advertised more widely.
Some sellers who are early adopters of new technology can have a rather scornful attitude towards those who accept the limitations of older equipment. Because of this, they sometimes undervalue their outgoing apparatus when the time comes to sell it on. For this reason, it can be worth making a speculative offer to test if they are prepared to take less money to secure a quick sale.
If all else fails, patience can be the key when it comes to finding the best value GoPro equipment. Looking out for newly advertised GoPro kit can sometimes pay dividends. Waiting a little longer will help get a feel for the price used GoPro camcorders sell for, which can help with knowing a real bargain when one appears.
Find Used GoPro Camcorders on eBay
To purchase a used GoPro camcorder, navigate to eBay's homepage. Open the All Categories tab and then find and click on the link for Cameras & Photography, followed by Camcorders and after this on Helmet/Action. It is easy to further refine the search using any of the options to the left. For example, only the helmet camcorders which fall within a particular price range can be selected. Using these options it is possible to select only the brands of helmet camcorders that are under consideration. Entering specific terms into the search bar above any eBay page is also a useful way to locate a specific kind of helmet camcorder. For example, to find a used GoPro HD helmet camcorder, type "GoPro HD helmet camcorder used" into the search bar.
Conclusion
There will be a used GoPro camcorder for almost every budget. Those with deep pockets will have the luxury of choosing between current ex-display models in almost perfect condition. Others, meanwhile, may have to search out an older model with a few scuffs, but in good working order. It is essential for the purchaser to ensure they completely understand the condition of the camcorder they are buying. If necessary, they should ask the seller for extra detail, requesting photographs of defects if required. Because GoPro upgrade their camcorders so frequently, there is always a wide choice of good-quality used models for sale. With a little homework, it should be possible to find a used GoPro camcorder that will give great service and also represent excellent value for money.