Now, you are probably thinking that is a very sweeping generalisation. Well yes it is. Let me clarify it.
Using Hermes to deliver your items? - DON'T, unless you have endless time and patience if something goes wrong.
This guide is not intended to slag off Hermes - indeed I have had no problems with them in the past and my parcels were delivered without any issues at all. Many people on eBay use them without a problem, but as you will see if something does go wrong you might need an awful lot of time and patience to try to sort it. So this guide aims to give you some advice to avoid negative feedback from your buyer, and to point you in the right direction by passing on to you my recent disastrous experience.
It all started as you would expect, or so I thought: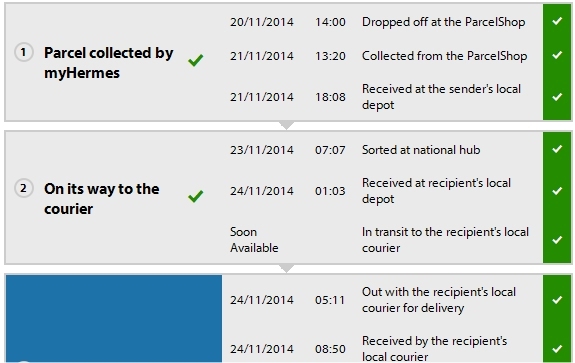 But what I didnt know is that you can track a parcel in two different places. At myhermes co uk, which shows you this basic information, or at hermesworld com which gives more detail:

20/11/2014 14:00 Customer Sent via ParcelShop
20/11/2014 14:27 Order Generated
21/11/2014 13:20 Collected from ParcelShop
21/11/2014 18:08 Arrived at Depot
21/11/2014 18:08 Sent to myhermes central hub
23/11/2014 07:07 Receipt at Hub
24/11/2014 01:03 Receipt at Depot
24/11/2014 01:07 Processed at Depot
24/11/2014 05:11 Out For Delivery To Courier
24/11/2014 08:50 Courier Received

I was tracking my parcel with the basic details so there was no apparent problem as far as I was concerned until my buyer emailed me on the 25th saying there was a problem and asking me to contact him. Sure enough on checking the more detailed log there did seem to be a problem:

24/11/2014 10:11 Not Delivered - Postcode error

There was no postcode error, it was correct and verified with my buyer.
Do not rely on the basic tracking log, use the more detailed log at hermesworld com. Even if there is no problem, this will give you much more information.
I couldnt find a phone number on the website so I immediately initiated an online chat with a customer service rep. I explained the situation and requested an explanation. He advised me that:
"I have checked my system and I can see that this issue is already with the investigations team please allow some more time for the team to contact you."
Not content to wait for them to call me, I called the number that the rep gave me. I was told that my issue WAS NOT already with the investigations team. Apparently my parcel had been sent to the wrong local courier and was now back at the depot to be sent to the correct one.
Do not waste your time with the online chat. It will get you nowhere and they will just try to fob you off. As soon as there is a problem call the Customer Support number which is 0330 3336556.
I explained the situation to my buyer and we waited, under the impression that the parcel would be delivered the next day. How wrong we were:

26/11/2014 18:27 Processed at Depot
27/11/2014 05:02 Out For Delivery To Courier
27/11/2014 08:51 Courier Received
27/11/2014 09:16 Not Delivered - Postcode error

The same failure again. I called them. A charming lady told me that this situation was not acceptable once, let alone twice. She said she was at a loss as to what was going on. She apologised and told me she would get the Field Manager and Depot Manager on board to sort out the problem and get my parcel delivered and that she would call me back with an update before she went home. Of course, she didn't call back.
When somebody tells you they will call you back, however charming and efficient they sound do not believe a word. I was told that at least 5 times.
I called again. Apparently the system was programmed with the wrong courier for my parcels postcode. The only person that could change it was the Field Manager who had disappeared. He was not answering is phone or emails, but they would keep trying to contact him. In the meantime somebody at Head Office would try to amend the system. Obviously they failed on both counts because:

27/11/2014 17:40 Receipt at Depot
27/11/2014 17:45 Processed at Depot
28/11/2014 04:56 Out For Delivery To Courier
28/11/2014 08:29 Courier Received
28/11/2014 09:06 Not Delivered - Postcode error
28/11/2014 18:16 Receipt at Depot
28/11/2014 18:18 Processed at Depot
29/11/2014 05:07 Out For Delivery To Courier
29/11/2014 09:19 Courier Received
29/11/2014 10:44 Not Delivered - Postcode error

Twice more sent to the wrong local courier. Not a different wrong local courier, oh no, but as I found out later, the SAME wrong local courier 4 times. Apparently she kept sending it back to the depot who kept sending it out to her again and again. Another call to Customer Support who emailed the depot and I was told that my parcel would be delivered possibly Monday 1st or probably Tuesday 2nd or Wednesday 3rd as it had to go back to the depot again and it was the weekend etc etc. We waited again and guess what ....

01/12/2014 08:52 Out For Delivery
01/12/2014 09:18 Not Delivered - Postcode error
03/12/2014 00:19 Receipt at Depot
03/12/2014 00:47 Processed at Depot
03/12/2014 05:43 Out For Delivery To Courier
03/12/2014 09:08 Courier Received
03/12/2014 16:57 Awaiting Courier Receipt
03/12/2014 19:15 Receipt at Depot
03/12/2014 19:16 Processed at Depot

Another 2 non-deliveries. Actually there was another on the 2nd but this was sneakily removed before I could copy it. So I called Customer Support again. They would call me back when they had made some more enquiries with the depot.
Now, with my buyer talking about negative feedback, enough was enough. I traced the depot that was handling my parcel, called them and spoke to another charming lady who told me that she shouldnt be talking to me because I was not a client but just a customer. However after explaining the situation she agreed to help. As it happened the Field Manager was visiting the depot that day and she would discuss it with him and the depot manager and it would be sorted. It wasnt. In fact it got worse:

04/12/2014 05:11 Out For Delivery To Courier
04/12/2014 09:00 Courier Received
04/12/2014 09:00 Not Delivered - Damaged Parcel
04/12/2014 15:59 Additional Delivery Info Rec'd

So after being shunted backwards and forwards so many times, my parcel was now damaged. Enough now really was enough. I found a contact name and email address on the Hermes website for Dawn Redman, Head of Customer Service. I sent an email explaining the situation and politely requested that she give me a call that afternoon. I received an auto response advising "Customer satisfaction is extremely important to me and my team and a full response will be provided within 5 days". Totally useless in my situation.
I called the depot again and eventually managed to speak to the Undelivered Parcel Manager. (Yes, there is one. I guess they must have a whole lot of undelivered parcels). He told me that my parcel was not damaged and this was a mis-scan by the courier. It should have been scanned as .... you guessed it, Postcode Error.
Wow, what a surprise! And there was now another problem. My parcel had miraculously grown in size so it was now oversized. But he assured me that it "WILL be delivered tomorrow, 5th December" by a third party courier "who delivered oversized items and who could not refuse to deliver any parcels". This would seem to infer that Hermes local couriers can refuse to deliver parcels. Not sure why they would do as that is their job. But if true, it would explain a thing or two. He gave me his name and told me to call him if it wasnt delivered tomorrow. Was I now getting somewhere at last?
I sent another email to Dawn Redman advising that I had now called the depot and chased them myself. I later found out that my buyer (who was also following the tracking log) had also called them and made it clear that he wasnt at all happy and telling them to get their finger out.
Then, a phone call from Ms Redmans office. Not from her but one of her team who had spoken to the depot. My parcel was not damaged and it had now shrunk back to its original size and was no longer oversized. She had been advised that my parcel "should be out for delivery tomorrow".
Again, dont believe everything you read in either tracking log. Even at this point (4th December) the basic log still advised me:

24/11/2014 08:50 Received by the recipients local courier

Track down your buyers local depot and pester them. Get your buyer to pester them too. Keep calling them until something is done. Send an email in the stongest terms to Dawn Redman, Head of Customer Service at headofcustomerservice@hermes-europe co uk. Keep sending them until something is done.
Anyway, a bit of a difference from "will" to "should" but nevertheless this was promising .... or not:

05/12/2014 11:56 Receipt at Hub

My parcel was back at the hub, where it was 2 weeks ago. Over the next 3 days it went backwards and forwards between the depot and the local courier with no reason given on the log which from now on becomes more and more erratic and unreliable

06/12/2014 03:11 Receipt at Depot
06/12/2014 03:31 Processed at Depot
07/12/2014 21:49 Receipt at Depot
07/12/2014 21:54 Processed at Depot
08/12/2014 05:37 Out For Delivery

Another email sent and another promise, this time that my parcel "will be delivered in the next 48 hours". It wasn't. Yet another email sent and this time a different and somewhat unbelievable response, "We have arranged for a third party courier service to deliver this parcel. Unfortunately, we have been unable to confirm the whereabouts since the parcel was manifested for delivery by this courier service". In other words after 21 days of failing to deliver my parcel, they had now lost it.
Do not believe anything that you are told. Only when your parcel has been signed for and your buyer confirms receipt can you safely believe it has been delivered to the right place, because ....
.... they found it again and actually attempted to deliver it:

11/12/2014 15:46 Courier to Re-attempt

Well not quite true. My buyer is retired, there is always somebody at home and no card was left by the courier. Another email sent to Ms Redmans office and my buyers phone number was given to the courier to ensure delivery was made the next day - 12th December. Sure enough:

12/12/2014 05:08 Out For Delivery

Get your buyers contact number and add it to the delivery instructions when you place the order with Hermes. At least it gives the courier no excuse if there is a problem. Well thats the theory anyway.
No delivery or further updates over the next 3 days so yet another email sent. Hermes responded with another promise "The courier will deliver this parcel tomorrow 16/12/14". But despite having my buyers phone number and instructions to call him if there were any problems, another apparent failed delivery. Again my buyer was at home, had his phone with him all day and no card was left.

07/12/2014 21:54 Processed at Depot
16/12/2014 17:36 Courier to Re-attempt
17/12/2014 05:29 Out For Delivery

Again, dont believe anything you read in the tracking log. What happened to the log entries for the 8th to the 12th? And still the basic log advised me:

24/11/2014 08:50 Received by the recipients local courier

I emailed again disputing the attempted deliveries. This time I was advised that the depot was "experiencing a huge backlog and have advised that this should be cleared by Saturday 20/12/14". So thats 4 promises made and all 4 broken. I asked why? They told me "It was most likely due to the unprecedented amount of enquiries we are receiving in the busy Christmas period" and that "The courier has advised that this parcel will be delivered over the weekend". Well ....
Yep, now 5 promises broken. I emailed again requesting to speak to Ms Redman herself. I was told she was not available (surprise) but the depot had advised that "The backlog should be cleared within the next 24 hours". And some great news, "As a goodwill gesture I am pleased to confirm that we have agreed to refund your postage costs for this order". Whoopee!
But just when I thought it was all over, the next day (23rd December) Hermes advised me "We are sorry to inform you that we have been unable to locate your parcel". After all that, and 33 days after despatch, they had lost it for a second time.
Then 3 hours later, a miracle (well, it was Christmas afterall) my buyer sent me a text to say " WOW. ITS HERE. A BIT WET BUT ITS HERE. WOW".
And another miracle - the tracking log told me:

17/12/2014 22:34 Delivered to Porch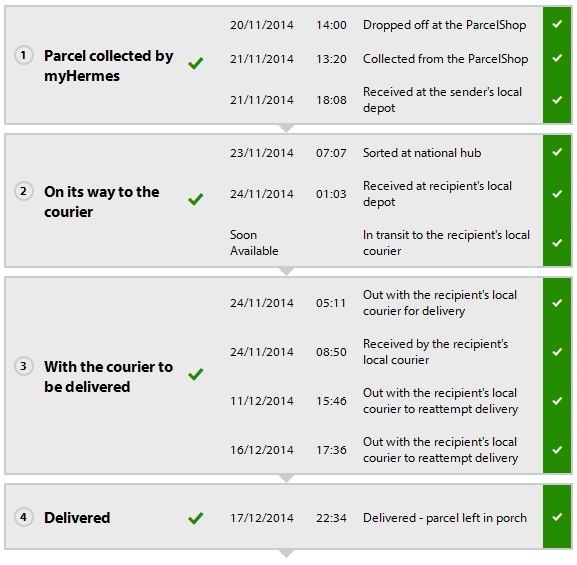 How did the courier know the time that he would leave it in a porch six days before be actually delivered it? Very clever these Hermes couriers.
So 33 days after dropping it at my local Hermes parcelshop, and involving a whole host of local couriers, 4 customer service assistants, a field manager, a regional manager, a depot manager, an undelivered parcel manager, a third party courier company, the head of customer service and 4 members of her team, my parcel was finally delivered, a little wet but not damaged, oversized or lost.
I received a refund of the delivery cost and was offered 20% off my next order as a goodwill gesture. That amounted to about £1. Now as my phone calls to Hermes alone amounted to over £10, I have lost out financially on the deal, not to mention the time that my very patient and understanding buyer and I spent trying to sort it.
So the moral of the story is, use Hermes if you must, but if you have any problems whatsoever, dont say I didn't warn you!
In order to be fair, I have asked Hermes why so many things went wrong on this occasion and am still waiting for their response. I guess, like my parcel, its got severely delayed. When (if) they respond I will update this guide with their comments.
Thanks for reading.