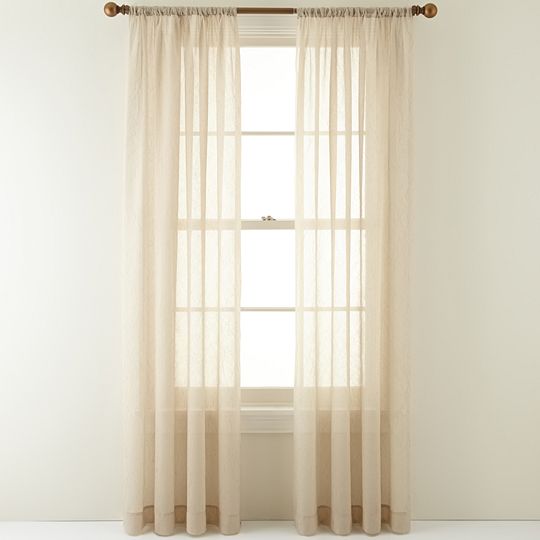 Window treatments are perhaps one of the most underrated home accessories today. While most homeowners focus on the big-ticket items like flat screen TVs and plush carpeting, few think about how curtains can affect the overall look of a room. Choosing the right curtains for any room isn't really that difficult, and one type of curtain, the voile curtain is one of the most popular types of curtains today.
Voile is a certain category of textile that is characterised by its sheer or semi-sheer appearance. The name originates from the French word for veil. This soft, sheer fabric is perfect for almost any room in the home. The guidelines below aim to educate buyers on the basics of buying voile curtains. First, by enumerating the different advantages of voile curtains, and then by providing an explanation of the different types of voile fabrics and different types of curtain styles, as well as how to measure voile curtains for windows.
Advantages of Voile Curtains
Voile curtains look delicate and exquisite in any room. However, aside from aesthetics, there are other advantages to using them, namely, save on money, add privacy without sacrificing light, and to block out UV rays.
Save Money
Polyester blends are actually one of the most inexpensive fabrics today, and since voile uses very little material, these sheer fabrics are much cheaper that heavy draperies. This also makes it easier for homeowners to switch out their curtains as they please, such as when they want to change the room's look or decorate it for an upcoming holiday.
Add Privacy
Large windows and glass doors add a lot of natural light to a home, but at the same time, leaves the people inside vulnerable to any prying eyes. Sheer voile windows add a certain degree of privacy to any home, while still allowing a fair amount of light into the room. Buyers can also control the amount of light by layering several pieces of fabrics, or adding a solid curtain to completely block out both light and the view from the inside.
Block Out UV Rays
UV rays are harmful not just to people, but can fade furniture and upholstery. Using a sheer fabric like a voile curtain can block out UV rays and protect furnishings and rugs, while still allowing natural light into a room. This also allows any indoor plants to catch much-needed sunlight.
Types of Voile Curtains
There are different types of voile curtains available in the market today, and they come in a variety of shapes and sizes. Voile curtains are usually categorised either according to the type of voile fabric or the type of curtain. For example, it is possible to get a cotton voile curtain in a panel or sash style curtain. It is best for buyers to learn the different types of voile fabrics and the different types of curtain styles and decide which combination suits their needs.
Types of Voile Fabrics
Voile is usually made from a blend of different materials, and is used for a variety of purposes. There are different types of voile fabrics today, and the most common ones are open weave, embroidery, polyester blends, and cotton.
Open Weave
Open weave voile is more transparent than most other types of voile because the threads are positioned farther apart. It's quite breathable and comes in a wide range of translucencies and thicknesses. This type of voile is often made with cotton or linen to add some softness, while still retaining a somewhat crisp appearance.
Embroidery
Embroidery voile is stiffer than other types of voile, and thus a popular material for curtains. Though usually embellished with floral designs, some manufacturers may add in other types of fibres to create designs like stripes or geometric pattern. Embroidery voile usually comes in light shades like eggshell or creams and accented with pastel colours.
Polyester Blends
Polyester blend voile fabrics are usually inexpensive, easy to maintain, and lasts longer than other materials, which make them ideal for buyers on a budget. A polyester voile curtain usually consists of 80 percent polyester and 20 percent linen, but some makers weave in designs by adding other materials like viscose. Since polyester is flammable, curtains are sometimes cured with a flame retardant, and buyers should remember to place these curtains away from heat sources like fireplaces or heat lamps.
Cotton
Cotton voile is the lightest grade of cotton fabric, and was supposedly a favoured fabric for veils. It is soft, lightweight, and is machine washable. Many people use it for clothing as it is quite soft against the skin, but it is also used to make curtains because of its versatility.
Types of Curtain Styles
Aside from the type of voile fabric, buyers will also have to choose which curtain style they prefer. There are numerous styles of curtains styles, but perhaps the ones which are most associated with voile are panel, cafe, tab top, and sash curtains. The chart below summarises the different curtain styles:
| Curtain Type | Description | Best Uses |
| --- | --- | --- |
| Panel or Rod Pocket Curtains | No sliding mechanism; features pockets on the top where the rods are inserted | Areas where curtains do not have to be opened or closed frequently like bathrooms or guest bedrooms |
| Cafe Curtains | Covers the bottom part of a window; may or may not come with a matching top treatment | Kitchens or any high-set windows |
| Tab Top Curtains | Similar to panel curtains, but have loops sewn in where the rod can thread through | Informal areas like kitchens or casual dining rooms; some bedrooms depending on decor |
| Sash or Scarf Curtains | Stretched out over a window; held down with rods on the top and bottom | Glass-covered doors or other areas where privacy is priority |
There are some other types of curtains not mentioned above, but these are not generally suitable or not normally utilised for voile curtains. For example, the French pleat style is a popular type of curtain, but looks best when used with dense fabrics like damask or velvet.
Sizing Voile Curtains for Windows
Another important consideration for purchasing voile curtains is the size. Sizing varies depending on a number of factors, but the main considerations are the buyer's preferences in length and the width of the pole or track, plus allowances for gathering.
Voile Curtains Length
Most style experts agree that when in doubt, floor-length is the best style for most curtains. Unless there is a vent or other heat source that may pose a threat, this length looks best on almost all windows. However, for those who prefer shorter lengths, measuring the curtain to cover the sill or just below the sill (stopping about 15 inches from the bottom of the frame) can look nice as well, without looking sloppy.
Voile Curtain Width
The curtain should, of course, fit the whole width of the window to ensure privacy. However, sizing a curtain's width involves more than just measuring the window frame or the curtain rod. Buyers need to consider the gathering, or how much pleating or ruffling they want on the curtain, called the fullness. The standard fullness in most curtains can be achieved with a two-to-one ratio between the rod and the fabric. This means that to achieve fullness, the width of the fabric should be two times that of the rod or track, although a higher ratio will result in a more extravagant look.
Straight curtains do work in some cases, and can still show off a gathered look when pulled to the side. However, voile curtains in particular look better with some gathering, so buyers should consider this carefully before making a final decision.
Find Voile Curtains on eBay
eBay has some of the largest selections of home accessories on the web, including voile curtains. Finding voile curtains on eBay is simple, especially if you use the search box that's on every page on the site. The eBay search box works just like any Internet search engine. Think of keywords and terms that pertain to the item you want, like "ivory voile curtains" or "voile panels". Click search or hit enter on your keyboard to go to the search results page. This page has all the listings that match the keywords. You can scroll through all the results, clicking on different listings until you find the curtains you want.
When you purchase voile curtains, you may also want to buy additional matching items, like rods, railing, or other similar items. You may want to check out eBay Shops and search for shops that sell home accessories. You may be able to find other items you need and save on time and shipping costs by purchasing from a single shop.
Conclusion
Sheer voile curtains can add a romantic and soft look to any room. With so many choices of curtains available today, buyers may need some help deciding on which particular curtain they should purchase. Voile curtains have certain advantages over other types of curtains, which buyers should consider when deciding if these types of curtains are right for them. In order to make a good decision, buyers should consider the type of voile fabric and the type of curtain style they want, and decide which combination suits them best.
First, they must decide if they want an open weave, embroidery, polyester blend, or cotton voile fabric. Then, buyers must choose from the different kinds of curtain styles, such as panel, cafe, tab top, or sash. Finally when buying voile curtains, the buyer should ensure he or she gets the right measurements to ensure their curtains not only fit the window, but looks classy and elegant as well. Shopping online is easy and convenient, which is why purchasing voile curtains and other home accessories on eBay is one of the best decisions homeowners can make.