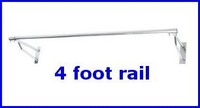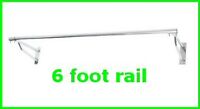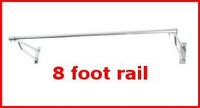 When you find yourself, or your offspring, living in accommodation where space for hanging clothes is limited, there are several options that can be considered.
First you could have wardrobes fitted, or you could buy a freestanding wardrobe, or you could use a clothes rail on wheels. However, it may be that finances, lack of floor space or your landlord's rules make all of these a none-starter.
One solution that you might not have thought of is a wall mounted clothes rail.
A wall mounted garment rail provides probably the most space effective way of hanging clothes. In effect you are providing a clothes rail affixed to any convenient wall space.
You can get them in a variety of sizes, such as 4 foot, 6 foot and 8 foot. And a wall mounted clothes rail pack will come with all the necessary brackets and fittings.
There are several benefits to this solution. By being screwed into a wall, the wall mounted clothes rail is very strong and can accommodate the heaviest clothes. If you feel the weight of clothes is too heavy even for a wall mounted rail, you can add additional supporting brackets. Indeed, a third supporting bracket is recommended for wall mounted clothes rails that are 6 or 8 foot long.
Note that some suppliers can offer you a
wall mounted garment rail
in heavy duty form, to handle really heavy clothes, or in an all chrome finish giving an elegant appearance.
The next benefit of wall mounted clothes rails is that you can choose what height to have the clothes rail. With a wardrobe or freestanding clothes rail, the height of the clothes rail is fixed by the unit itself. With the wall mounted clothes rail you can affix rail brackets at the height that is most convenient for you and your clothes.
A wall mounted clothes rail does not take up physical floor space. If you're only hanging short garments, like suits, jackets and shirts, you can use the floor space below to store shoes, boots etc.
A wall mounted clothes rail could be an interesting alternative for you.