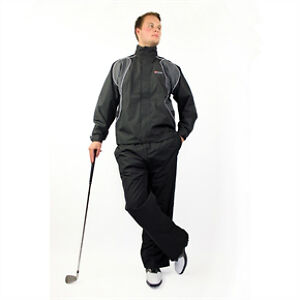 Golf Jumpers to Keep the Elements at eBay
A waterproof golf jumper is an essential item for any golfer. Golf is played in all kinds of weather conditions so having the option of a waterproof golf jumper as well as a waterproof jacket is advisable.
Many golfers prefer to wear a waterproof golf jumper rather a waterproof jacket depending on the temperature as a jumper can be less restrictive.
Waterproof golf jumpers are available in a wide range of fabrics, sizes, styles and brands. More details on these and what to look out for when buying a waterproof golf jumper can be found in the rest of this guide.
Benefits of Wearing a Waterproof Golf Jumper
There are a number of benefits of wearing a waterproof golf jumper. Of course in some climates golfers can play safe in the knowledge there's not likely to be a shower that day, but not every country is the same.
The main advantages of waterproof golf jumpers from eBay are:
This is an obvious benefit but it can be overstressed how uncomfortable it is to play a round of golf if it's raining and the individual has no protection from the elements. Even a short shower can be enough to soak someone through to the skin.
A waterproof golf jumper isn't just about staying dry, it's an extra layer or clothing that helps keep people warm when out on the course.
Windy conditions can not only play havoc with a golfer's game but also make it more uncomfortable out on the course. Many waterproof golf jumpers available on eBay are also windproof and therefore provide an extra layer of protection from the elements.
Styles of Waterproof Golf Jumper
There are a variety of styles available on eBay when it comes to waterproof golf jumpers:
V-Neck
Polo Neck
Crew Neck
Long Sleeve
Short Sleeve
The decision on which one to buy on eBay may depend on what type of jumpers a golfer usually wears away from the course. Another factor is comfort – if a golfer is used to playing in a polo shirt, they may not like to wear a long sleeved waterproof golf jumper as it may affect the feel of their natural swing.
Waterproof Golf Jumper Fabrics
There are a wide range of waterproof golf jumpers available to buy online on eBay. Due to the variety of fabrics used in their manufacture, there are waterproof golf jumpers to suit all levels of budget.
The main fabrics used are:
Cotton
Wool and Wool/Acrylic Mixes
Polyester
Comfort should also play a big factor in the buying decision. Many people find wool itchy against their skin and this is a distraction any golfer could well do without when trying to negotiate the course in as few shots as possible.
Waterproof Golf Jumper Manufacturers
Many manufacturers that make golf clubs also produce their own range of waterproof golf jumpers. A selection of these is listed below:
Calloway
Glenmuir
Mizuno
Nike
Ping
ProQuip
TaylorMade
Waterproof golf jumpers from these manufacturers and more may be found on eBay.
10 Things to Consider When Buying a Waterproof Golf Jumper
Listed below are 10 recommendations for things to consider ensuring the right eBay purchase is made first time.
Prices for waterproof golf jumpers can vary. For example, an offline retailer may charge more for the same jumper as someone selling online on eBay who doesn't have the same overheads. It's wise to conduct some research into pricing on eBay before ordering an item.
Keeping dry is essential on the golf course, but being protected from the wind can help improve overall comfort too. Many waterproof or showerproof golf jumpers are also windproof giving golfers double the protection.
Many golfers at all levels are fashion conscious on the course. Choosing a colour of golf jumper on eBay that complements an overall outfit, golf bag and accessories is not essential but important to lots of people who play the game.
Many private golf clubs have a strict policy regarding dress. For people who are thinking of joining a local club, it's worthwhile asking about any dress code before buying golf clothing that could be worn in the Clubhouse.
In bad weather a golfer can have many layers on to help keep dry and comfortable while they play. There are different thicknesses of waterproof jumper available on eBay to ensure a comfortable fit if a person is also wearing a waterproof golf jacket out on the course.
The size of a waterproof golf jumper is important to get just right to ensure a nice smooth and natural golf swing.
It's worth remembering that waterproof golf jumpers on eBay from different manufacturers may be made to slightly different sizes. For example, a medium from one company may be slightly larger or smaller than a medium size from another golf clothing manufacturer.
Despite the fact there are so many high quality new and used waterproof golf jumpers available on eBay, in a small number of cases it may be necessary to return an item.
Sellers have a returns policy to give online eBay buyers more peace of mind and confidence in the purchasing process.
Comfort is king when it comes to golf clothing. Certain fabrics such as cotton are more breathable than others which ensures golfers can stay comfortable without getting too warm.
As with any item of clothing, different brands of waterproof golf jumpers have varying reputations. For someone who's new to the game of golf brand reputation may not be as important as to a seasoned golfer.
The decision on which brand to buy often comes down to cost. For example, a golfer new to the game who isn't planning on playing very often may choose to spend a modest amount compared to a keen player who goes out in all weathers.
Other Waterproof Golf Clothing
Waterproof golf jumpers are just one part of staying dry and comfortable during a round. The serious golfer will also require the following:
Waterproof jacket
A rain cover for their bag
A golf towel to wipe any moisture off clubs
For people new to golf or looking to replace a specific item, eBay has a wealth of new and second hand golf equipment and accessories available to buy securely online.
How to Buy Waterproof Golf Jumpers on eBay
eBay is a good place to look for both new and second hand waterproof golf jumpers.
The benefits of being able to browse for golf clothing online include the fact it can be done at any time of day or night and it opens up a wider selection of brands and items than typically found in a brick and mortar store.
eBay makes it simple to search for waterproof golf jumpers by brand, condition, and price via the search bar at the top of each page or through the options on the left hand side.
For people who have never bought on eBay previously, the Buying Tips page is a good starting point and contains plenty of useful information on the process.
When buying a waterproof golf jumper on eBay it may be necessary to Ask the Selleraa question to find out more information on sizing for example.
Remember to look for important information on listings such as the seller's return policy and any description of the condition of the waterproof golf jumper.
Other things to keep an eye on are free shipping as this is offered by many sellers on eBay. And also don't forget to look for any mention of the golf jumper being windproof as well as waterproof.
eBay in partnership with PayPal ensures people can shop online safely, securely, and with complete confidence.
Conclusion
Buying a waterproof golf jumper online is easy with eBay. It pays to carefully considers things such as the style and colour of golf jumper as well as any preferred brands. Shopping on eBay for waterproof golf jumpers can be done at any time of day or night which gives consumers added convenience and flexibility.
Waterproof golf jumpers come in a variety of styles from v-necks to polo necks and in a number of different fabrics including cotton and polyester.
Whether someone is looking for a brand new designer waterproof golf jumper online or a more affordable second hand item, eBay is the perfect place to find the right item at the right price.
The main consideration when buying a golf jumper on eBay is comfort. The game of golf is challenging enough without feeling uncomfortable on the course. By paying attention to the areas mentioned in this guide, shoppers will be more likely to get a waterproof golf jumper that ticks all the boxes.