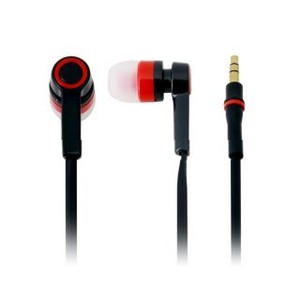 There are various different kinds of headphones available on the market today, and with so many different choices, it is important that buyers learn all they need to know about purchasing them. This guide will inform buyers about what a headphone is, the various types of headphones on the market, and the different styles that are available. This guide also gives buyers suggestions on what key features to look for when buying headphones.

What are Headphones?
Headphones are basically speakers that are small enough to be used in, or next to, someone's ears. Like the speakers on a radio or television, headphones are connected to a device that produces audio signals, either through a cable or through a wireless connection, and the sound travels to the speaker close to the user's ears. Earphones usually mean the same thing as earbuds, and are designed for in-ear or over-the-ear use, rather than going over the entire head as headphones do. However, different manufacturers and sellers may market earphones differently, so it is important to read the entire description and see a photo before making a purchase.

Types of Headphones
There are many different types of headphones. Each type is designed for a specific type of person who wants to get a particular quality of sound from the device. There are headphones that completely cover the ear when being used and headphones that are simply put inside the ear. The design of the headphone affects its sound quality as well as its comfort. The list below outlines a few types of headphones, as well as the pros and cons of each. Some manufacturers market the frequency response of headphones, but musicians and other professionals with keen ears are quick to point out that frequency response is not indicative of sound quality.
These ear pad headphones, or circumaural headphones, go over the ears and cover them completely. They are typically made to be used by professional musicians or sound engineers because the way the headphone is shaped improves the sound quality tremendously. Each of these headphones have pads that encircle the ears in order to contain the sound waves within the space between the ear and the ear pad, making the headphone almost like a soundproof room. Filtering out the ambient sound, and trapping sound in, the molded plastic, rubber, or metal circumaural headphones are great for users who do not want to be distracted by outside noises.
Though circumaural headphones have great uses, it is important for a buyer to look at the pros and cons of any headphone before making a decision. The following chart shows the pros and cons of the circumaural headphones.
| Pros | Cons |
| --- | --- |
| Large amount of padding makes them comfortable | Large size makes them less portable than other choices |
| Provide great bass and sound quality | May be uncomfortable for some people due to their large size |
| Keeps out ambient sound | Can make the ears hot |

Though the chart shows an even distribution of pros and cons, the pros and cons of the circumaural headphones help the buyer decide which he or she may prefer.
Various Circumaural Headphones
Some kinds of circumaural headphones include the following:
Supra-Aural Headphones
These on-the-ear models are designed to perch on the ears rather than to go completely around them. Supra-aural headphones are made with an adjustable band that can be worn over the head to secure the device. There is a pad between the speaker and the wearer's ears that consists of foam. An example of these types of headphones would be the 1980s Walkman headphones. Many people still use this type of headphones. These headphones may have a closed design but they still sit atop the ear rather than encircling it completely, which does have drawbacks.
Again, it is important that a wearer observe the pros and cons of the supra-aural headphones in order to really make a decision on which headphones are best. The following chart lists the pros and cons of the supra-aural headphones.
| Pros | Cons |
| --- | --- |
| Generally very comfortable since they sit on the outside of the ear | They don't block outside noise, so they are not good for noisy situations or very quiet places like libraries |
| Open design allows wearers to still hear what's going on around them | Though they may have closed models, they don't completely cover the ear, so there is some sound loss |
| Very portable and light | |
Various Supra-aural Earphones
The following are some supra-aural earphones:
Earbuds
One very popular type of earphones are earbuds. There are many earbud manufacturers, from IEM to Samsung to Westone and Shure. Earbuds are relatively easy to use and, for the most part, inexpensive. The earbud is made in a way that it sits directly outside the ear canal. Because the earbuds do not go all the way around the ear like other types of headphones, the sound may not be as clear. In addition, they may fall out of the ear if the person wearing them is being active. They do, however, perform well enough to block out outside noise, allowing the wearer to truly hear what he or she wants. Some are lined with removable silicone tips for comfort. If a silicone tip falls out and gets lost, consumers can purchase a replacement tip, or even a pack of replacement tips, online.
Of course, before purchasing earbuds, it is important that the buyer look at the pros and cons of the earphones to make an educated decision as to which type he or she wants. The following chart presents the pros and cons of earbuds:
| Pros | Cons |
| --- | --- |
| Very portable | Sound quality is not as good as over the ear earphones |
| Offer some isolation from outside noise | Some people may find it uncomfortable to put things in their ears |
| More comfortable for those who wear glasses | Fall out of ears easily |

Though earbuds are extremely popular, there are cons to using them that buyers should consider.
Various Ear Buds
Some different brands of ear buds include the following:
Canal Phones
The name for the canal phones is quite self-explanatory. Canal phones are placed directly into the wearer's ear canals. However, the canal phones are made out of silicone rubber or an elastomer material, which helps in blocking out ambient noise as well as helps keep the earphone in the canal more comfortably. Because of the silicone rubber, the earphone is prevented from falling out, thus providing a snug fit. Along with a snug fit and the canal phones' ability to block out ambient noise, canal phones also generally have better sound quality than earbuds. Canal phones are great for athletes to use while running or to use when exercising.
Though the canal phones seem to have a few more positive aspects than earbuds, it is still important that the buyer review the pros and cons to understand what they offer a user. The following chart provides the pros and cons of the canal phones.
| Pros | Cons |
| --- | --- |
| Improved sound quality | Uncomfortable for some who do not like things in their ears |
| Fits snugly in the ear | Sound quality is still less than over the ear earphones |
| Good to use while walking around, running, or moving | |
Various Canal Earphones
The following are canal earphone models:
Bluetooth Headsets
A Bluetooth headset is a type of earphones between an earbud and canal phones. The Bluetooth can be used for a variety of different things including cell phones, voice over Internet protocol, landline phones, and even with specific voice recording tools on the computer. They can be used from one device to the next without even needing an adapter.
It is important that the pros and cons be taken into consideration before buying a Bluetooth headset, and it is important to note that a Bluetooth is not compatible with all technical devices including devices such as iPods. It is also worth considering that many earphones and wireless earphones now come with microphones, which makes the Bluetooth headset unnecessary. The following chart lists the pros and cons of the Bluetooth headset.
| Pros | Cons |
| --- | --- |
| Can be used for multiple devices | Small and easy to lose |
| Wireless so no need to plug it in | Not compatible with all devices |
| | Can only be used in communication devices that have Bluetooth technology |

Understanding the pros and cons of Bluetooth headsets can help buyers make an informed decision about purchasing them.
Various Bluetooth Options
The following are some Bluetooth headset options:

Different Types of Earphone Attributes
Once a buyer has looked at the pros and cons of each type of headphones, it is important to look closely at a few important features. This helps the buyer choose from among them.
Sound Quality
Sound quality does vary from one set of headphones to the next. It is important for the buyer to assess which kind of sound quality he or she wants in choosing a pair of headphones.
Comfort
The buyer's likes and dislikes determine the comfort of different headphones. Like the sound quality, the comfort varies from one set of headphones to the next. Some people do not like the awkward feel of earphones being inserted into their ear, while others may not like the uncomfortable hot feeling of headphones that cover the entire ear.
Wireless
It is important for a buyer to decide if he or she wants wireless headphones or earphones or those with a cable. There are various headphones from earbuds to supra-aural earphones that can be used without the aid of a cable, such as the Sennheiser's MM 450 Travel Bluetooth headphones. However, many of these types of earphones can have interference from things like portable phones, blenders, garbage disposals, and other transmitters.
Noise
Depending on the buyer, it may be important to look for headphones that block out background noise by canceling sound waves that come from the outside of the headphones. Headphones with noise-isolating capabilities are beneficial if the wearer is in noisy settings, such as on an airplane or in a car with a loud relative. Noise blocking allows the wearer to truly enjoy what he or she is listening to. These are sometimes marketed as noise-canceling headphones. Etymotic Research is one popular brand. Note that noise isolation can be a feature in in-ear earphones or over-the-ear models.
Surround Sound
Stereo or surround sound may be important to a listener. For example, a DJ or music professional may need surround sound headphones to stimulate the music. Or, a user may just want to simulate the effect of watching a movie in stereo.

Tips for Choosing Headphones
It may be difficult for a buyer to choose the headphones or earphones that are best, but here are a few tips for choosing earphones:
1. Decide what you most want in headphones: bass quality, surround sound, comfort, portability, or noise isolation.
2. Try listening to the music you usually listen to on different types of headphones and earphones from various places before choosing which type of headphones or earphones to get.
3. Do not just buy the most expensive model. Sometimes less expensive models are the ones that actually have everything for which the user is looking.

Buying Headphones and Earphones on eBay
There are many brick-and-mortar and online stores that sell headphones. For those looking for the best deal, buying headphones from eBay is simple to do. All you have to do is simply type what you want into the search box on the top of any eBay page. For example, typing "earbuds" into the search box brings up various options from which to choose. To narrow the search, you can type the brand of earbuds, such as "Sony earbuds."
It is important that you really know what you are buying. You can do this by reading all of the seller information as well as clicking on the link "Ask seller question" and asking various questions about the product. This is a good way to get to know the seller and build trust. To learn more about a specific seller, you can look at the seller's reviews and ratings. If the seller has five stars and other buyers have left good feedback, then other buyers have been happy with this seller's performance. The more you know about the product and the seller, the better you feel about getting just what you want.
Conclusion
Headphones come in all sizes, shapes, and varieties. Choosing the right pair of headphones depends on what your priorities are. Some consumers prefer to have smaller, more portable devices that connect to a smartphone through Bluetooth, while music lovers tend to prefer better sound quality and do not mind hooking a cord up to the mobile telephone. No matter what you want, it is important to do a little research and decide which type of headphones or earphones best fit your needs.