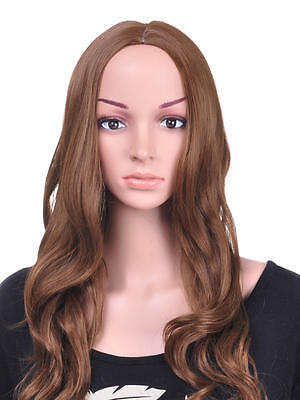 Designed with a base made up of sheer lace, a lace front wig is a kind of wig or hairpiece. These wigs can be made from either synthetics or natural remy human hair to create synthetic lace front wigs and human lace front wigs. The synthetic hair or human hair is attached to the sheer lace base by hand. Whereas full lace wigs have the whole of its base covered with lace, a lace front wigs only has lace at the front in order to cover the visible hairline. Other parts of the wig are made up of a material that is not as fragile as the lace. This prevent the wig from easily tearing or ripping. Unlike full lace wigs, lace front wigs cannot be styled into either up-do's or even ponytails, as this would reveal that the woman is wearing a wig. When shopping for lace front wigs, a woman needs to consider the features of lace front wigs. She also needs to know how to choose the correct size and hair colour. Women will find a variety of lace front wigs on eBay .
Why a Lace Front Wig?
The reason women prefer lace front wigs to other kinds of wigs is the fact that the hairline is less visible. The wig appears more natural and thus cannot be easily detected to be wig. The remy strands of human hair used to make lace front wigs are sourced from donors. This ensures that the wigs produced are the best and of very highest quality. A lace front wig which is either knotted to a French lace or even a Swiss lace gives the wig a natural appearance with flawless hairlines.
The lace fixed in front of the wig allows women to style the front part as desired, since it is normally veryfragile. The lace front wig is normally fixed onto the front hairline using either adhesive tapes or wig glues. The glue is first applied on to the hairline and left to dry after which the lace is pressed onto the same area. The wig application is semi-permanent. This secure bond can last for up to one week. In order to hide the lace, some lace front wigs have baby hair. This baby hair helps to conceal the lace wig, making the wig appear to be wearer's natural hair.
Choosing the Correct Lace Front Wig
In choosing the appropriate lace front wig, the shopper must consider several factors. Lace front wigs are available in various colours, sizes, textures, lengths and styles. A shopper should look for a wig whose texture is similar to their natural hair. The wig cap must be the right size, and the wig must be styled in such a way as to complement a woman's facial features. In terms of colour, it should match the woman's hair colour and shade. Though, there are those women who prefer going for outrageous styles of lace front wigs.
Type of Lace Front Wig
There are two types of lace front wigs to choose from. They are human and synthetic lace front wigs . Human hair lace front wigs are more popular than the synthetic ones since they are as good as real hair. They are made from remy hair. There are also those that are made from Indian hair. The biggest advantage of human hair wigs is the fact that they can be treated just like real hair. Heat stylers can be used on human hair wigs and the wigs can be washed with regular shampoo without causing any damage to them. Unlike the natural lace front wigs, the synthetic ones are very vulnerable when subjected to heat as they can melt. Though, they can be styled as desired using styling equipment and machines, a stylist cannot use straightening irons and curling irons on a synthetic wig. Unlike the natural lace front wigs, the synthetic ones are very easy to care for and due to the fact that they come pre-styled, one can put it on and wear it immediately without have to make a trip to the salon first. Whereas the natural lace front wigs are very expensive, their counterparts are much cheaper and hence very affordable.
Sizes of Lace Front Wig
Lace front wigs are more near to natural looking hair than other wigs. Different women have different sized heads and therefore, these wigs come in various sizes to suit different scalps. Getting the right size of wig that fits is key to getting that fabulous and above all natural look. If a shopper wants to wear a long lace wig with confidence, they must be sure about the size of the wig. Therefore, a woman should know how big or small her heads is. If a particular wig does not fit as per her head size, there are more chances of wig falling down along with it looking obviously like a wig.
The chart below highlights the particular measurements that need to be taken to determine the correct size, as well as the corresponding wig cap sizes.
| Specific Measurements | Extra Small (cm) | Small Cap (cm) | Medium Cap (cm) | Large Cap (cm) |
| --- | --- | --- | --- | --- |
| Circumference | 50.8 – 52.1 | 53.3 – 54.6 | 55.9 – 57.2 | 58.4 – 59.7 |
| Front to Nape | 30.5 – 31.8 | 33 – 34.3 | 33.6 – 36.8 | 38.1 – 39.4 |
| Ear to Ear Across Forehead | 25.4 – 26.7 | 27.9 | 30.5 – 31.8 | 29.2 – 30.5 |
| Ear to Ear Over Top | 26.7 – 27.9 | 29.2 – 2908 | 31.8 – 33 | 33 – 34.3 |
| Temple to Temple Around Back | 31.8 – 33 | 33 – 34.3 | 36.8 – 38.1 | 38.1 – 39.4 |
| Nape of Neck | 10.2 – 11.4 | 11.4 – 12.7 | 12.7 - 14 | 14 – 15.2 |
A local stylist can help any woman determine the right size of wig and colour to suits her. If a woman has the accurate measurements, then it is much easier to find the perfect wig to fit their sized head.
Colour of Lace Front Wig
Lace front wigs come in a variety of colours and shades. The right colour is the one that matches the woman's natural hair colour. Even if the two colour shades are slightly different, it still looks good on the wearer. However, lace front wigs with dimensions and highlights are better than those with a matte colour shade. This is due to the fact that even if the wig has a colour that is slightly different from the woman's natural hair colour, it would still look good on her, in fact, even better. In order to find the right colour for a lace front wig, the colour of the eyebrows and hair of the wearer can be used as a guideline. There are lace front wigs that are specifically designed for Caucasian women and there are wigs those for women of African descent. It is important for a woman to choose a lace front wig that suits her particular skin tone. This ensures a good match that is more natural looking.
Style of Lace Front Wig
Lace front wigs are available in different styles for different shapes of faces and suited to particular lifestyles. Women with oval faces can actually wear a wig of any style due to the fact that their faces are well balanced. Layered and long styles of lace front wigs are perfect for square faces, since they make them appear rounder. For women with oblong faces, they should go for either curly or short styles to balance their faces, and for heart shaped faces, lace front wigs of chin length will hide their foreheads. Depending on a woman's lifestyle, there is a wig to match it. While some women are outgoing and love fun nights out, other women are more conservative in terms of their activities and dress. Whether a woman wants a funky and crazy style or one that is more reserved, there is a variety of lace front wigs to choose from.
Finding Lace Front Wigs on eBay
There are several types of lace front wigs for sale on eBay. They are available in different colours, styles, texture and even lengths, and at very affordable prices. Once a lace front wig of a desired style and colour has been identified, finding the right one on eBay is a walk in the park. Type a description of the lace front wig into the the site's search bar. This search bar is on the home page, and on every page on the eBay site. In this case, type in 'lace front wigs' and hit the 'Search' button or the enter key on the keyboard to process the search results. The search engine will return a results page populated with listings that match the search phrase. You can then sort the results based on the style of the wig, the colour, the length and nature of the hair (natural or synthetic). It is very important to remember to discuss the seller's returns and exchange policies with them before you commit to the purchase. For example, will the seller take back the wig if you discover it is the wrong colour? Different cameras and computer monitors will capture and display colours different. Therefore, what looks like brilliant red in the photos in the item description, could in fact be closer to an auburn shade.
Conclusion
They say that money talks and with it, a woman can get any look that she wants. Lace front wigs are just one of the ways in which a woman can instantly enhance her looks without drastically altering her hairstyle with a haircut or a dye job. With a choice of either human or synthetic versions of lace front wigs, a woman can get a new look by fixing either of the two kinds of wigs to her head. It is not wise to purchase just any lace front wig and fix it to one's head without first considering factors like the nature of the hair (natural human hair vs. synthetic), the size of the wig cap, and the colour and the shade. The lace front wig is favoured by women the world over because the hairline appears invisible and this type of wig is the most natural looking, especially if it is made of real human hair. It is almost impossible for anyone to tell whether a woman is wearing a lace front wig or not. Women will find a variety of real and synthetic hair lace front wigs on eBay.