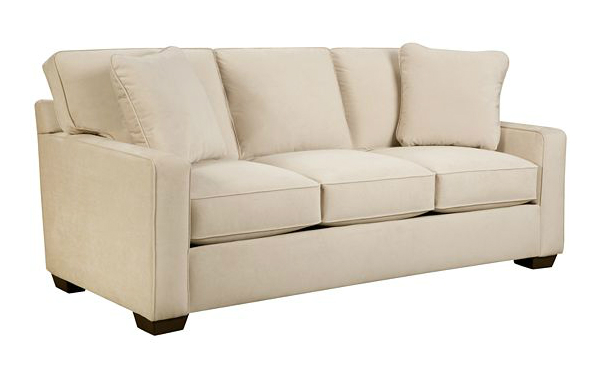 One of the most important questions when looking for a new sofa is the durability of the fabric. Those with small children, pets, or high-traffic living rooms, need sofas that can stand up to constant use. Sofas can be made from literally thousands of different fabrics. Finding one that is durable is a matter of knowing about thread counts and weaves, as well as the Martindale rub test, which measures abrasion resistance. It is also useful to be familiar with the fabric types which are popular for their feel and durability.
Apart from the characteristics of the fabric itself, the construction of the sofa also plays an important role in the durability of any fabric. Fabrics that are abrasion-resistant but easily soiled, can be made more stain-resistant with the use of fabric stain protection sprays. This guide provides information about thread counts and how they affect durability, the Martindale abrasion test, some popular and durable materials used in sofas, important aspects of sofa construction that affect fabric durability, and information on fabric treatments. There is also a section on finding a sofa online that should help potential customers find everything they need regarding durable sofa fabric.
Thread Count and Weave of Sofa Fabrics
Thread count and weave are important factors in determining the durability of a fabric and are often touted by manufacturers. Thread count refers to the number of threads per square inch of fabric. The higher this number, the more tightly woven the fabric. Just like high-thread count linens, tightly woven fabrics are generally softer and more comfortable. However, they are more expensive as well.
Twill Weave Fabrics
The weave and the quality of the yarn are important factors as well. Twill weave fabrics like denim, gabardine, and serge and plain weaves are almost always stronger than satin weaves like sateen or silk. Between twill and plain weaves, it may be hard to tell which fabric lasts longer. When this is the case, the fabric durability rating is an important factor to be considered.
Fabric Wearability Code
Any quality fabric has a manufacturer's rating for durability, as well as ratings for cleaning and fire safety. These ratings are usually given on the swatches of fabrics that are used as samples. If no rub test rating is given, ask the dealer to get the rating from the manufacturer. A reputable dealer is happy to comply. The standard test for fabrics is the Martindale rub test. A special machine is used to rub against a piece of fabric. The number of rubs before the first warp and weft threads are broken gives the rating of the fabric. The table below gives some common Martindale ratings, and how to understand them.
| Martindale Rating | Abbreviation | Meaning |
| --- | --- | --- |
| 40,000 rubs | SC | Severe Contract; for use in commercial applications |
| 30,000 rubs | SD | Severe Domestic (or general contract) use; more common in contract furniture but also a good choice for households with small children and pets |
| 25,000 rubs | HD | Heavy Domestic; common in household use |
| 20,000 rubs | GD | General Domestic |
| 15,000 rubs | LD | Light Domestic; to be used in areas that do not face heavy traffic |
| 6,000 rubs | OD | Occasional Domestic; mainly for chairs that are more for looks than for using |
Martindale ratings are used all over the UK and Europe. Fabrics from the USA are usually rated by a related rub test called the Wyzenbeek test. These ratings, which are given in "double rubs", are calculated differently can not be compared with Martindale ratings.
Popular and Durable Sofa Fabrics
Even when one is armed with knowledge about Martindale ratings and thread counts, it can be difficult to narrow down the selection based on those factors alone. For this reason, one should know about some fabrics which are popular for both their looks and durability. Microfibre, moleskin, chenille, and many other fabrics fall into this category.
Microfibre Sofas
If contract furniture is so much more durable than domestic furniture, one could ask why it cannot be used in a domestic situation. In the past, the answer had to do with comfort. Contract furniture fabrics were generally made from synthetic materials that left a lot to be desired as far as softness. However, that is changing with advances in microfibre technology. Many of today's microfibre fabrics offer the durability of contract furniture, while closely mimicking the properties of natural fibres. Micro-twill, micro-velvet, and micro-suede are three such examples.
Moleskin
Moleskin is a dense twill weave made from cotton fibres. It resembles suede but is much more durable and easy to clean. Its denseness and tight weave make it resistant to abrasion. Moleskin, while one of the more uncommon sofa fabrics, can actually be quite comfortable to the user.
Chenille
Chenille can be made from cotton or synthetic fibres like polyester. It is a soft an attractive fabric that is durable if cared for properly. Chenille is made with raised loops of yarn, called pile. There are both loosely woven, and tightly woven chenille fabrics. As with any fabric, the tightly woven fabrics will last longer. Chenille should not be cleaned with water, as doing so can leave the pile flattened. Some chenilles are pretreated to resist stains. This also adds to a fabric's durability.
Cotton
Cotton, or cotton blends, are durable when it is tightly woven. However, it cannot stand up well to exposure to direct sunlight. It also stains and wrinkles easier than synthetic materials. Despite this, it is still a popular choice because of the huge variety of designs available and the soft feel of the fabric.
Linen
Linen is also durable as long as the weave is tight. It is made from the flax plant and resists taking colour, which is why it is most commonly found in its natural off-white colour. It is also vulnerable to strong sunlight.
Wool
Wool is another natural material that is both durable, and naturally stain-resistant. It is also flame-resistant and resists wrinkles because of its natural springiness. It is a fabric that is resilient, hypo-allergenic, and easily cleaned.
Sofa Construction
When looking for a durable sofa fabric, one should keep in mind the importance of quality sofa construction. For one thing, there should be padding between all parts of the wooden frame and the sofa fabric. Any area where the wood comes in contact with the fabric is prone to wearing out, regardless of how durable the fabric. Secondly, if the sofa has springs, they need to be of good quality. Broken springs can puncture any fabric, and a punctured sofa may require expensive reupholstering.
Fabric Treatments for Increased Durability
Rips, worn spots, and punctures are just one part of fabric durability. The other aspect of durability in a sofa is its resistance to dirt, stains, mould, and mildew. When the fabric is not resistant to moisture, dirt and stains become difficult or impossible to remove, and the sofa is always be prone to the growth of mould and mildew deep inside the padding. Many commercial fabrics are pretreated to be stain-resistant. When a fabric has not been pretreated, there are sprays available that can be applied to make a sofa stain-resistant.
How to Buy Sofas on eBay
Sofas in a variety of materials can be found at furniture stores, department stores, and online. By far the largest selection of these choices can be found online. However, the main concern when shopping for sofas online is finding a reputable dealer. This is easy with eBay's public feedback system, making eBay's online marketplace a popular place to find sofas. Sofa fabrics and stain protection products are also easy to find on eBay.
To find sofas on eBay, simply enter the search term "sofa" in the search box on any eBay page. You can then browse through all the listings for sofas or refine your search by specifying search criteria like price, subcategory, or condition. Alternatively, you can enter a more specific search term like "mahogany sofas" if you already know what fabric you prefer. Once within the appropriate subcategory, you can refine the search by additional criteria like brand, colour, and style.
Similarly, finding upholstery fabrics or stain protection products, is as simple as entering a search term in the search box. As with any online transaction, be sure to check the seller's feedback before entering into a transaction. Choosing one of eBay's "top-rated sellers" is an easy way to do business with a seller who has an established history of excellent customer service.
Conclusion
Durability is an important factor to take into account when shopping for a sofa. Since a sofa is usually a major expenditure, choosing one with a durable fabric gives the best value for money. Thread count and weave are closely related to the durability of a fabric. High thread counts mean tight weaves, providing a soft feel and increased durability. Manufacturers also provide Martindale ratings which give the abrasion resistance of a fabric. Some popular and attractive fabrics which can be found with high thread counts and high Martindale scores include: moleskin, chenille, microfibre, linen, and wool.
One should also take into account various aspects of sofa construction, since low quality construction quickly destroys even the most durable sofa fabric. Any fabric can be made more durable and resistant to stains and dirt with the application of stain protection products. Sofa fabrics and all related products can be found easily online with eBay. eBay's feedback system takes the guesswork out of finding a reputable seller, so shoppers can quickly find what they need and purchase with confidence.