Different types of Wiper Blades available;
With today's range of vehicles, the amount of different types of Wiper Blades is constantly growing.
Many people are under the impression that "one blade fits all". Unfortunately that is not the case. Wipers come in various fitments and lengths and there are often many variants for all types of vehicles.
There are lots of people that simply don't know what wiper blade fits their vehicle, and they are confused between the different fittings and sizes.
Below you will find a guide that has been devised to help clear up all those questions, whether it is an issue with the fitment or that you are after a different size.
Retro / Hooked Fitment;
The most common type of fitment around is the traditional Hooked style, as shown below.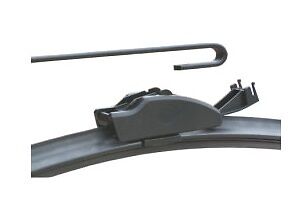 Best described as the hooked fitment, the wiper arm has a 'U' Bend connector and this simply pushes into the wiper blade connector, and depending on the style of clip, it will either clip into place or lock into place. The image shown on the left, is of a connector that will lock into place.
This style of connector is found more commonly on the older models of cars, with newer models being fitted with a Specific Fit Connector.
Below are 2 examples of wiper blades. They are both hooked style connectors, however the one on the left is more common and more recognised. But the blade on the right, is the same fitment, but the blade style is slightly different, this type of blade is known as an Aero Flat Wiper Blade.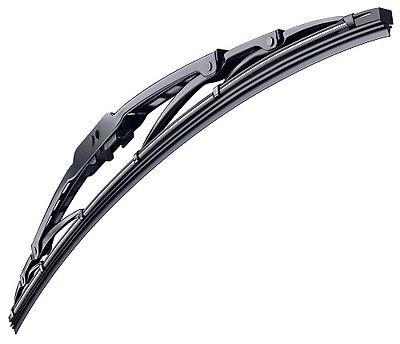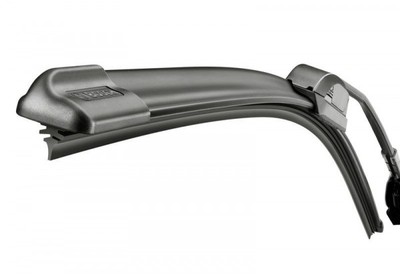 These are considered an upgrade from the metal blade and that is because of the way the blade performs.
The flat and elegant spring strips of replace the usual links and pivots of conventional wiper blades in to a joint free, aerodynamic design incorporating a spoiler that provides a uniform contact pressure along the entire length of the blade to deliver a more consistent, high quality wipe.
Specific Fit Wiper Blades;
Continuing on from the Aero Blade, most newer cars have a specific fit wiper arm. This means that they come standard with an Aero Flat wiper blade and just by looking at the windscreen you are able to see the difference.
There are several types of connectors available and below shows the differences.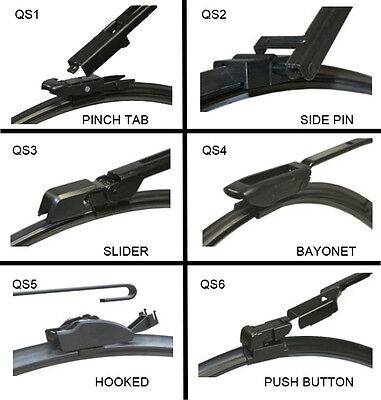 QS1 - Pinch Tab
QS2 - Side Pin
QS3 - Slider
QS4 - Bayonet
QS5 - Hooked
QS6 - Push Button
Different Sizes;
There are so many different windscreens on cars now, that almost every car has a different combination. For example, a large family car is more than likely going to have a lot longer wipers then a smaller car. So once you have found out what fitment you require, the best thing to do, is to simply measure the length of the blades that are currently fitted to your car. Once you know the sizes and fitments, then it will be a lot easier to work out what blades are suitable for you.
It's extremely important to make sure that the wiper lengths are correct; If your wipers are too long, then they will hit each other, or they'll go over the edge of your car. If they're too small, then they will miss some of the windscreen which could mean you are unable to see out of the window.