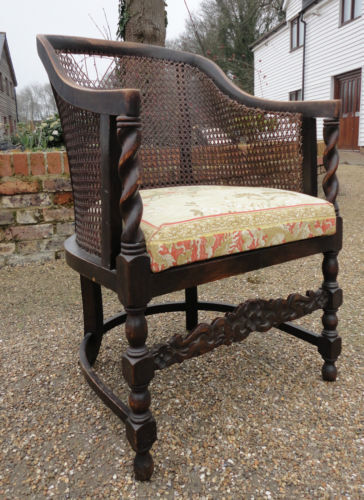 Antique chairs are a popular collector's item. Antique chairs have been typically handcrafted from quality materials, are rich with historical significance, and tend to hold and often increase in value over time. Beautiful accent pieces, antique chairs are a great investment that adds style and sophistication to any décor.
The designs and functions of different types of antique chairs tend to follow the popular styles and patterns throughout history. Many antique chairs feature intricate hand-styled detailing that contributes to their desirability and market value.
As a result of the wide range of types, styles, and designs, purchasing antique chairs can be a daunting process. Research and a deeper understanding of the different pieces available can go a long way to making buying an antique chair an easier process.
History of Antique Chairs
Historically, chairs were a symbol of power and status and were used only by nobility such as kings and lords or members of the church such as bishops. Common people were resigned to sitting on benches and stools until around the sixteenth century. Chairs were handcrafted out of solid wood and featured styles reflective of the times. Many of the designs reflected foreign influences, especially from France and Italy.
With the advent of the Renaissance period, chairs became more widely available to those with the means to purchase them. In 1830s chairs moved away from handcrafting and became factory produced; although still designed to reflect the style of the period. The industrial revolution saw the mass production of chairs, making them widely available to all.
Discover Antique Chairs
Antique chairs refer to chairs that are 100 years and older, as opposed to vintage chairs that also feature older designs and styles. Across every era of time, antique chairs reflected the current styles and trends. From lavish and ornate, sophisticated and graceful, to functional and utilitarian, there is a style of antique chair that will complement just about any décor.
Antique chairs feature a variety of different characteristics that make them so appealing. Detailed carving, scrolling, and even beading and needlepoint were used to create intricate designs and patterns that reflect the different periods in which they were created. Hand-crafted from solid wood such as oak, mahogany and walnut, antique chairs can be considered are well-made works of art.
Parts of Chairs
| | |
| --- | --- |
| Part | Description |
| Foot | Located at the bottom of the chair. Sometimes styled in an ornamental design. |
| Legs | Four supports attached to the seat of the chair that provides support. |
| Joints | Join chair rails to chair legs. |
| Stretchers | Cross pieces that join the chair legs together |
| Apron | Support strips that run from the legs to the seat |
| Seat | Sitting surface of the chair |
| Armrest | Arm support located on either side of the seat at elbow height |
| Backrest | Support behind the seat where the user can lean |
Types Antique Chairs
The following table outlines some of the more recognised styles of antique chairs.
Type

Features

Example

Bergère

Upholstered armchair with closed sides

Typical of Rococo styles

Developed in France around 1725

Chippendale, Haig and Co. beech bergère (1772)

Chaise Longue

A style of daybed armchair with an elongated cushioned seat to allow user to stretch out

Typical of Regency stlyes

Created in France around early 18th century

Louis XV carved gilt-wood chaise lounge (1875-1925)

Corner Chair

An arm chair with a diagonally placed square seat

Developed in the early 18th century

Great for corner placement

George I Walnut Roundabout Corner Chair (1720)

Fauteuil

Open-sided upholstered armchair

Graceful, ornate style

Develop around 1600s in France

Louis XV-style Fauteuil (1900)

Gondola Chair

Concave back with sloping sides and splayed saber back legs

Typical of Neo-Classical, Regency and Greek Revival styles

Originated 1760s France

Venetian Giltwood Gondola Chair (Nineteenth cent.)

Hitchcock Chair

Rectilinear silhouette with round legs and stencil motifs

Neoclassical style

Mass produced

Originated around 1818

Hitchcock Chair (1830)

Morris Chair

High armchair with an adjustable reclining back and back cushion

Arts and Crafts style typically with slated sides

Originated around 1869

Stickley Morris Chair (1901)

Slipper Chair

Low armless upholstered chair with high back and wide seat

Usually sits 15 inches off the ground

Eighteenth century

Queen Anne Slipper Chair (early 18th century)

Windsor Chair

Wood chair with thin, turned spindles on back and sides

Originated around 1710

Windsor Armchair (1790-1810)
Styles of Antique Chairs
The following list outlines some of the periods and popular styles of antique chairs.
| | |
| --- | --- |
| Style | Description |
| Queen Anne Style | Crafted out of walnut and walnut veneers, these chairs feature slender profiles with curved lines, cabriole legs, and lavish styling. |
| | Typically crafted out of oak and mahogany, these chairs feature turned or square-legs and conservative styling without carving or scrolling. |
| Sheraton | Often made from tigerwood, rosewood, tulipwood and satinwood, these chairs offered graceful style with delicate patterns and decorations. Sheraton chairs typically featured turned and tapered legs. |
| | Mahogany and Virginia red walnut were popular choices for Chippendale chairs. Many chairs featured carved patterns, intricate backs often in cupid's bow shape, and cabriole legs. |
| Hepplewhite | These chairs were often crafted from mahogany, featuring chair backs with heart or shield shapes, slender profiles, and straight legs. |
| | This period featured chairs typically made from rosewood, zebrawood veneers, and mahogany with designs influenced by Greek and Roman and neoclassical style. |
Factors to Consider When Buying Antique Chairs
1. Condition - Look for worn spots on the feet, armrests, seat and upholstery. Some general wearing and scratching is to be expected and part of the historical charm. Be careful of chairs in heavy need of restoration, as this could decrease the value of the chair.
2. Joints - Make sure joints are glued and not fastened by nails and screws. Interlocking dovetail joints were used in the late 1600s and very early 1700s. In the 1860s Charles Knapp invented the Knapp joint, also known as scallop and dowel, pin and scallop, or half-moon.
3. Quality - Look for solid, well-made items that reflect quality of craftsmanship and are made with durable, solid materials. High quality leather will have feature intricate patterns and unique detailing.
4. Size and Style - Ensure the chair will work within the intended space as antique chairs come in all shapes and sizes. Antique chairs also come in a variety of styles and patterns. Ensure the style works well with existing décor.
5. Manufacturer - Well-known and more familiar brands of antique chairs are easier to authenticate.
6. Age - Antique chairs are considered to be over 100 years in age, while slightly newer chairs are considered vintage.
How to Care for Antique Chairs
The following precautions can help preserve antique chairs and keep them looking their best.
1. Don't place antique chairs near sources of heat as it may shrink and loosen joints and inlays.
2. Don't place antique chairs in direct sunlight
3. Do maintain consistent humidity levels.
4. Don't clean antique dining chairs with furniture oils that can degrade the original finish.
5. Don't use silicone-based polishes on antique chairs.
6. Do use a paste wax to keep and maintain the look of antique chairs.
7. Do dust chairs regularly with a soft cloth.
Popular Antique Chair Makers
* Thomas Chippendale (1718-1779)
* John Linnell (1729-1796)
* William Kent (1686-1748)
* Thomas Sheraton (1751-1806
* George Hepplewhite (1727-1789)
* Matthias Lock
* Henry Copland
Finding Antique Chairs on eBay
Once you determine the type of antique chair you want to purchase, visit the Antiques portal on eBay, and then click on the 'Chairs' category and start searching item listings. The Categories list on the left-hand side of the eBay page helps to narrow the search.
Searching for Antique Chairs on eBay
Search eBay listing titles for specific words when shopping for antique chairs. For example, to find Antique Bergere Chairs, type 'Antique Bergere Chair' into the search box, and then click the Advanced button to customise the results. Also visit eBay's Search Tips page for more advice on searching for antique chairs with keywords. If you can't find the exact antique chair you want, try shopping eBay Stores.
Conclusion
Antique chairs add grace and charm to any home. Spending the time to research different styles and designs are a great way to find pieces that match existing tastes and décor. Before buying antique chairs, it is important to consider the condition of the chair, the age, the quality, and the size to help make the purchasing process easier. Once you have collected this information, you can buy antique chairs safely and securely on eBay.