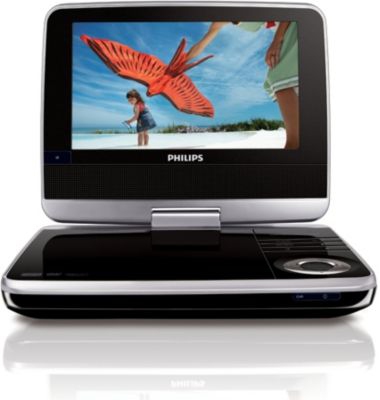 A road trip is a great way to spend time together while seeing the sights or travelling to a new destination. The joy of the trip can be blunted by the plaintive cry of kids with nothing to do: "Are we there yet?" Even when the destination is reached, boredom can set in quickly on a rainy day. Enter the kid-friendly portable DVD player.. With their ability to entertain children of every age for hours, these rugged, colourful devices are a boon to families who have exhausted all other entertainment options.
Several kinds of portable DVD players appropriate for kids are available from brick-and-mortar stores and online sources. Additionally, the online auction website eBay offers an ever-changing selection of portable DVD players for children. When shopping, buyers should research age-appropriate features and determine the primary use of the DVD player. After identifying the important features and capabilities of these portable devices, buyers can select a DVD player that suits their needs.
Types of Kids' Portable DVD Players
Several kinds of portable DVD players are suitable for children. Some are stand-alone devices kids can carry around with them in a backpack or bookbag. Others can be adapted for use in an automobile, by using a case or strap to hang the device over a seat back.
The table below summarises the primary features and specifications of several portable DVD players. As with any consumer electronics product, players are continually upgraded, and new offerings are regularly released. Consumers should perform further research to ensure the player offers the capabilities and features they seek.
Brand/ Model

Screen Size (cm)

Screen Type

Disc Types

Features

Weight

Dimensions (in cm)

Coby TFDVD7009

18

TFT LCD

CD/-R/RW

DVD/-RW/+RW

JPG

MP3

Anti-skip

Headphone jack

Parental control

Remote control

0.9 kg

15.7 x 20 x 4.1

Disney Cars

C7100PD

18

TFT LCD

CD/-R/RW

DVD/+R/

-R/+RW/

-RW

On-screen display

Built-in stereo

speakers

Headphone jacks

Car/power

adapter

Remote control

1.0 kg

24.1 x 21.2 x 8.9

Disney Princess

P7100PD

18

LCD

CD/-R/RW

DVD/+RW/-R

Built-in stereo speakers

Headphone jacks

Car/power adapter

Remote control

0.95 kg

22.8 x 20 x 5.6

Fisher-Price Kid-Tough N6049

8.1

TFT

CD

DVD

Built-in speakers

Headphone jack

1.5 kg

22.9 x 21.6 x 5.7

Goodmans PDV310

8.1

TFT LCD

CD

DVD

MP3

Picture CD

WMA

Built-in speakers

Car mounting kit

Remote control

SD/MMC card

USB 2.0 port

0.8 kg

17.4 x 24.3 x 4.6
The chart above includes only a sampling of the available portable DVD players for kids.. This summary is intended to be a guideline, and it is important that shoppers confirm each player's features and technical specifications with the seller before completing a purchase.
Considerations when Choosing Kids' Portable DVD Players
The sheer variety of DVD players on the market is dizzying. To narrow the choices to a manageable few, the major selection criteria are listed below. Factors include usage life, screen type and size, and cost. Buyers should keep these things in mind when selecting a player for a child.
Usage Life
One of the most important considerations when selecting a portable DVD player is the age and capabilities of the child. For toddlers, a sturdy, inexpensive player is the best choice. Kids' DVD players are subject to being dropped, scratched, and spilled upon, so it makes sense for a young child to have a basic player. DVD players for this age range may feature replaceable parts, such as a battery case cover. However, in many cases, it may be more time- and cost-effective to replace the unit rather than to repair it.
Children aged seven to nine are increasingly able to care for a DVD player properly, so it is appropriate that they be given a device that is more than simply a toy. As time passes, children grow into devices that are more complex and offer more features.
It is important to identify how the player is to be used. If its primary purpose is as a travel player, a smaller, more portable device is a good choice. Features like a carrying handle, shoulder strap, extended battery life, power adapter, dual audio jacks, and a carrying case all make a DVD easier to carry around. If the player is for use within the home, a generous screen size may be more important. Other features, such as a wall adapter and TV and game console hookups are also a plus.
Cost
As with all electronic products, the price of the device usually increases with its size, capabilities, and component quality. Buyers shopping for a budget-friendly portable DVD player should identify and focus on must-have features and avoid those that are not required. That way, buyers need not pay for options they may never use. The good news about pricing is that the increasing prevalence of Blu-Ray players has caused the prices of standard DVD players to drop.
Screen Type and Size
Consumers should choose a DVD player with a sufficient screen size; a diagonal of 18 to 23 cm is ideal. Smaller screens make movie watching more difficult, while larger screens increase the weight and overall size of the player.
Most DVD players feature a TFT LCD screen with a bright, backlit display. LCD screens are generally forgiving of daily wear and tear. Some let users tilt or swivel the screen for the most convenient and comfortable viewing. Swivel screen players are more suitable for older children, who can treat the player gently. Likewise, rugged players with fewer moving parts are better suited for younger children, who have not yet learned to be always careful.
If more than one child plans to view programmes at the same time, a player equipped with two screens is a good choice. Also suitable for use in a vehicle, a dual-screen DVD player allows each child to watch in comfort and peace. Another option for car viewing is a player with a generous screen size that can be securely strapped between the seats, providing a central viewing point. Because these in-car DVD players are generally handled by adults or older kids, they do not need to be as rugged as the carry-along DVD players designed for younger children.
Size
An important consideration when choosing a portable DVD player is the age of the child. If the player is to be used by a toddler or kindergartner, a lightweight player with a small footprint is a good choice. Portable DVD players range between 0.45 and 2.8 kg, although players that weigh no more than 1.4 kg are easier for young children to carry. Portable players typically measure between 10 cm to 30.5 cm in length. Units larger than that are difficult to manage while travelling.
Battery Life
Most portable DVD players designed for kids have a rechargeable battery pack with a life of two hours, or enough for one full-length movie. A player with a battery life of about four hours is a good choice for extended entertainment capability. A second charged battery pack enables kids to watch additional movies without having to wait for the batteries to be recharged.
A power adapter for the car is an essential item for long road trips, providing an unlimited amount of playing time. Likewise, a power adapter for the home or office lets viewers connect the player to a wall outlet and preserve battery life. Another way to save battery life and extend the device's playing time is to adjust the screen brightness; a bright display uses more battery power than a dimmed screen.
Audio Accessories
While DVD players for kids usually have integrated speakers of some kind, their audio quality is not very good. Buyers should seek a DVD player that can connect to external speakers for better sound quality and clarity.
Many DVD players come with headphone, letting the child watch DVD in privacy, and saving adults from having to hear the same programmes over and over again. For DVD players without dual headphone jacks, a Y-adapter is an option that lets two kids plug headphones into one player.
It is important that adults monitor their children's headphone use to make sure the volume is not too high. Volume should be less than 110 dB to avoid a risk of hearing loss. If others in the room can hear audio emanating from the headphones while the child is listening, the volume is too high. Some DVD players feature dB limiters that restrict maximum volume, so that children's ears are protected even when no adults are nearby to supervise.
Portability
A protective carrying case with a handle and shoulder strap is a useful accessory, enabling easy transport while travelling. The case should have some padding to guard against impact damage, and it should have sufficient storage for accessories such as headphones, DVDs, Y-adapters, batteries, and power adapters. Some DVD bags are designed to be draped over the car seat, providing a stable way for a child to watch without having to hold the player and risk dropping it should he or she fall asleep.
Another consideration is whether the DVD player can be connected to a computer monitor or television for viewing on a larger screen. This capability is helpful while travelling, allowing kids to watch a favourite movie in a hotel room or a host's home.
Ergonomics
A kid-friendly portable DVD player should have controls that are easy for young children to use. Children who are just developing fine motor skills need devices with sturdy buttons and switches with indentations for little fingers. Additionally, the operational controls should be clearly identified; these include the controls for play, rewind, fast forward, and pause, as well as controls to insert and eject the DVD, screen brightness, and volume control. This type of design prolongs the life of the player and does not discourage children by being too complex. Children with more refined motor skills can manage DVD players with smaller, less robust controls.
A sturdy remote control is another important accessory to consider when choosing a player for children; it extends the life of the controls and allows hands-free control of the device.
The carrying handle should be narrow enough for little hands to carry, and it should be moulded to accommodate small fingers. A DVD player for a small child should also include a shoulder strap, to protect the player in the event the child lets go of the handle. DVD players with more conventional handles are suitable for older children, who have greater strength, muscle control, and sense of responsibility.
Other Capabilities
Depending on whether the player is for use solely with commercially produced DVDs or with DVDs created on a home computer, it is important to verify the kinds of discs a player can read. Some players play Blu-Ray discs, DVD-R discs, audio CDs, picture CDs, and MP3 discs. Others also feature SD card slots, and include the ability to connect with a cable or satellite television box. Other capabilities include radio reception, connectivity to video game consoles, and HDMI outputs to connect with a high-definition television.
Finding Kids' Portable DVD Players on eBay
After you have researched portable DVD players that suit your needs, you should browse the DVD player listings on eBay. Your search can begin on any eBay page; simply enter "kids portable DVD player&" into the search bar. To narrow your search, enter more specific keywords, such as the brand name, model number, or any features you require. You may also filter results by item condition (whether new or used), maximum price, and seller's distance from your home. To search for devices listed by sellers within a specific distance, type in your postcode and click on the maximum radius. eBay's search returns only sellers located within that imaginary circle. Contact the seller to see if he or she is amenable to a local pickup.
At the bottom of the results page, eBay also suggests related items, such as kid-friendly headphones, carrying cases, and Y-jacks.
It is important that you become familiar with the seller's policies, delivery charges, and accepted payment methods. You should also read the feedback left for them by previous customers. Sellers with a lot of positive feedback are more likely to provide you with a satisfactory transaction than are sellers with negative buyer responses. Once you have made a purchase, it is vital that you maintain regular communication with the seller to assure a smooth transaction.
Conclusion
A sturdy, easy-to-use portable DVD player is a great way to keep kids entertained while on the go or during long weekends at home. If the child needs a small, lightweight DVD player, there are a lot of fun, colourful, and rugged devices from which to choose. To give kids a mobile theatre experience, choose a single- or dual-screen DVD player that can be attached to the seat back of your automobile. The use of a car power adapter means viewing time is limited only by the length of the trip or the child's ability to stay awake.
While child-friendly DVD players can also be found in toy stores and consumer electronics stores, eBay offers a huge variety of new listings on a continual basis. After researching the seller's feedback ratings and history, policies, and delivery charges, the consumer can use the eBay online marketplace to select just the right DVD player for a child.